Composer: Sri Tallapaka Annamacharya (Annamayya అన్నమయ్య), May 9, 1408 – February 23, 1503 was born to Narayana Suri and Lakkamamba in Tallapaka, a village in current day Kadapa district of Andhra Pradesh. More….
Keerthana No. 240 ; Volume No. 4
Copper Sheet No. 341
Pallavi: Neevanti Daivalu Veri (నీవంటి దైవాలు వేరీ)
Ragam: Kousi
Language: Telugu (తెలుగు)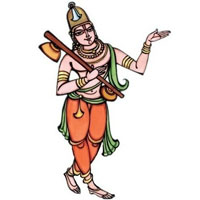 Recitals
Neevanti Daivalu Veri | నీవంటి దైవాలు వేరీ
Album: Private | Voice: G. Bala Krishna Prasad

Awaiting Contributions.
This Kriti was originally composed in Telugu. Other languages are for your convenience.
Pallavi
nIvaMTi daivAlu vErI nikhilalOkamulaMdu
yIvala nAvala eMdu neMchi chUDa mAkunu
Charanams
1.tagili nImOmu chakkadanameMchi chUchitimA
tagina maruni ganna taMDrivi nIvu
agapaDDa nIguNamulavi yeMchi chUchitimA
nigiDi kaLyANaguNanidhivanI Srutulu
2.guTTu nI peddatanamu kulameMChi chUchitimA
aTTe brahma kulamu nIyaMdu buTTenu
daTTapu nI panulavartana meMchi chUchitimA
muTTi sarwarakshakatwamuna velasitivi
3.beDidamaina nIbirudeMchi chIchitimA
vaDi SaraNAgatavatsalu(Davu
kaDagi SrI vEMkaTESa kaMTimi nI mahimalu
baDi ninnE sEviMchi bratikimidivO
.

We will update this page , once we find comprehensive meaning. Feel free to contribute if you know.
.