Composer: Sri Tallapaka Annamacharya (Annamayya అన్నమయ్య), May 9, 1408 – February 23, 1503 was born to Narayana Suri and Lakkamamba in Tallapaka, a village in current day Kadapa district of Andhra Pradesh. More….
Keerthana No. 444 ; Volume No. 2
Copper Sheet No. 188
Pallavi: Neeve Sesinacheta (నీవే సేసినచేత)
Ragam: Gundakriya
Language: Telugu (తెలుగు)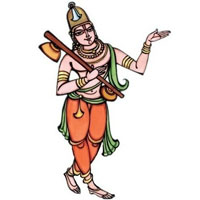 Recitals

Awaiting Contributions.

Awaiting Contributions.
This Kriti was originally composed in Telugu. Other languages are for your convenience.
Pallavi
|| nIvE sEsinacEta nIvE cEkonakuMTiMtE | yIvala nIsommu nIkE iyya siggayyInayyA ||
Charanams
|| Alu biDDala gani yaTu danamaganiki | sIlAna samarpaNa sEyavalenaTanayyA |
tAlimi buNyAlu sEsi daivamA nE nIku | yElIla buNyAlu sEsi daivamA nE nIku ||
|| aMkela gannakoDu kaTu damataMDrikini | teMki nE nIvADa nani telupagavalenaTanayyA |
laMke nAlOpalanunna lakShmISa nE nIku | poMkapu nI baMTa nanna bunaruktayyI nayyA ||
|| tananIDa yuddhamulO dAnE yaTu cUci | sanivaDi vUrakE BramayavalenaTayyA |
anuguSrIvEMkaTESa AtumalOnunna ninnu | gani mani SaraNaMTi gaDa bUjiMcanElanayyA ||
.

We will update this page , once we find comprehensive meaning. Feel free to contribute if you know.
.