Composer: Sri Tallapaka Annamacharya (Annamayya అన్నమయ్య) , May 9, 1408 – February 23, 1503 was born to Narayana Suri and Lakkamamba in Tallapaka, a village in current day Kadapa district of Andhra Pradesh. More….
Keerthana No. 54
Copper Sheet No. 8
Pallavi: Nikadhamratamu (నీకధామృతము)
Ragam: Bhoopalam
Language: Telugu (తెలుగు)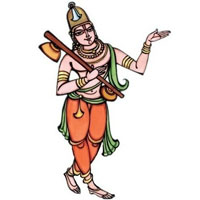 Recitals
Awaiting Contributions.
…
Awaiting Contributions.
[audio: audio-instrumental-file-name.mp3].
This Kriti was originally composed in Telugu. Other languages are for your convenience.
పల్లవి
నీకధామృతము నిరతనేవన నాకు
చేకోనుట సకలసం నేవనం బటుగాన
చరణములు
1.ఇదియె మంత్రరాజము నాకు నేప్రోద్దు
నిదియె వేదసమ్హితపఠము
యిదియెబహుశాస్త్ర మెల్లఁ జదువుట నాకు
నిదియె సంధ్య నా కిదియ జప మటుగాన
2.నిదియె బ్రహ్మవిద్యోపదేశము
నిదియె దుఃఖవిరహితమార్గము
యిదియె భవరోగహితభేషజము నాకు
నిదియె వుపనిషద్వాక్యపద్ధితిగాన
3.యిదియె దానఫల మీఁజాలినది నాకు
యిదియె తలఁపఁబరహితకర్మము
యిదియె తిరువేంకటెశ నేసంస్మరణ
మిదియె యిదియె ఎన్ని యును నటుగాన
.
Pallavi
nIkadhAmRtamu niratanEvana nAku
chEkOnuTa sakalasam nEvanam baTugAna
Charanams
1.idiye mamtrarAjamu nAku nEprOddu
nidiye vEdasamhitapaThamu
yidiyebahuSAstra mella@m jaduvuTa nAku
nidiye smdhya nA kidiya japa maTugAna
2.nidiye brahmavidyOpadESamu
nidiye du@hkhavirahitamArgamu
yidiye bhavarOgahitabhEshajamu nAku
nidiye vupanishadvAkyapaddhitigAna
3.yidiye dAnaphala mI@mjAlinadi nAku
yidiye tala@mpa@mbarahitakarmamu
yidiye tiruvEmkaTeSa nEsamsmaraNa
midiye yidiye enni yunu naTugAna
.

We will update this page , once we find comprehensive meaning. Feel free to contribute if you know.
.