Composer: Sri Tallapaka Annamacharya (Annamayya అన్నమయ్య) , May 9, 1408 – February 23, 1503 was born to Narayana Suri and Lakkamamba in Tallapaka, a village in current day Kadapa district of Andhra Pradesh. More….
Keerthana No. 436 ; Volume No. 1
Copper Sheet No. 89
Pallavi: Nikkinci Garnamulu (నిక్కించీ గర్ణములు)
Ragam: Naata
Language: Telugu (తెలుగు)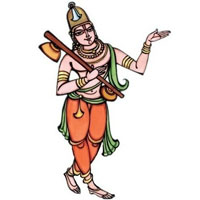 Recitals

Awaiting Contributions.

Awaiting Contributions.
This Kriti was originally composed in Telugu. Other languages are for your convenience.
Pallavi
|| nikkiMcI garNamulu mAnisimekamu | nikkapugaruNatO mAnisimekamu ||
Charanams
|| koMDa tanaku gaddegA gOri kUcuMDina dadE | niMDurAjasamuna mAnisimekamu |
gaMDumIri dAnavunikaMDalu cekkucu nUrpu | niMDiMcI nAkasamu mAnisimekamu ||
|| karamuluvEyiMTA gaikoni yAyudhamulu | nirati jaLipiMcI mAnisimekamu |
suralanu nasurala jUcicUci meccimecci | nerapIni navvulu mAnisimekamu ||
|| yekkiMci toDamIda niMdiratO mElamADI | nikkapugAgiTanu mAnisimekamu |
akkaDa SrIvEMkaTAdri nahObalamunaMdu | nekkoni mammElenu mAnisimekamu ||


We will update this page , once we find comprehensive meaning. Feel free to contribute if you know.