Composer: Sri Tallapaka Annamacharya (Annamayya అన్నమయ్య), May 9, 1408 – February 23, 1503 was born to Narayana Suri and Lakkamamba in Tallapaka, a village in current day Kadapa district of Andhra Pradesh. More….
Keerthana No. 342 ; Volume No. 5
Copper Sheet No. 88
Pallavi: Nilu Nilu Daggaraku (నిలు నిలు దగ్గరకు)
Ragam: Vasantavaraali
Language: Telugu (తెలుగు)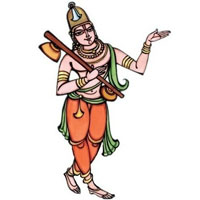 Recitals

Awaiting Contributions.

Awaiting Contributions.
This Kriti was originally composed in Telugu. Other languages are for your convenience.
Pallavi
nilu nilu daggaraku nIyAna nIku
valachitinani mAvArellanagarA ||
Charanams
1.vaddu vaddu koMDalalO vAriki mAkiMtEsi
pedda pedda mutyAla pErulinnEsi
addamu chUchide mAku naMtakaMTe siggayyIni
gaddari mAcheMchuvArugani nannu nagarA ||
2.chAlu jAlu baMgAru sarupaNuluMgarAlu
nIlapugaMTasarulu nIkE uMDanI
mUlanuMDE vArugAka mutyAlacheragula
chElaMgaTTu konna nannu cheMchetalu nagarA ||


We will update this page , once we find comprehensive meaning. Feel free to contribute if you know.