Composer: Sri Tallapaka Annamacharya (Annamayya అన్నమయ్య) , May 9, 1408 – February 23, 1503 was born to Narayana Suri and Lakkamamba in Tallapaka, a village in current day Kadapa district of Andhra Pradesh. More….
Keerthana No. 338
Copper Sheet No. 758
Pallavi: Niluputaddamulona (నిలుపుటద్దములోన)
Ragam: Sankarabharanam
Language: Telugu (తెలుగు)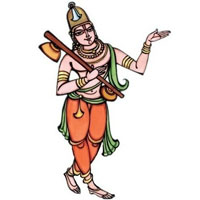 Recitals
Awaiting Contributions.
…
Awaiting Contributions.
[audio: audio-instrumental-file-name.mp3].
This Kriti was originally composed in Telugu. Other languages are for your convenience.
Pallavi
నిలుపుటద్దములోన నీడనల్లదివో కంటె
చలివాసె దనకేలే సటకాడు క్రుస్ఃణుడు ||
Charanams
1.యెఅగనట్టె విచ్చేసి యిదెనామలగు మీద
నొఇగి వెనకవంక నున్నవాడు
మఇ చెలులు నవ్వితే మానుమని సన్నసేసీ
మఅగులింకా నేలే మాయాకాడు క్రుష్ణుడు ||
2.మాటలాడక నావద్ద మంచము నాకోటిమీద
యేటవెట్టుకొని మమ్ము నెలయించీని
పాటించి లంచము లిచ్చీ పంజరము చిలుకకు
తూటరి యీవిద్దెలే దొమ్మికాడు క్రుష్ణుడు ||
.
Pallavi
nilupuTaddamulOna nIDanalladivO kaMTe
chalivAse danakElE saTakADu krusHNuDu ||
Charanams
1.yeRaganaTTe vichchEsi yidenAmalagu mIda
noRigi venakavaMka nunnavADu
maRi chelulu navvitE mAnumani sannasEsI
maRaguliMkA nElE mAyAkADu kruShNuDu ||
2.mATalADaka nAvadda maMchamu nAkOTimIda
yETaveTTukoni mammu nelayiMchIni
pATiMchi laMchamu lichchI paMjaramu chilukaku
tUTari yIviddelE dommikADu kruShNuDu ||
.

We will update this page , once we find comprehensive meaning. Feel free to contribute if you know.
.