Composer: Sri Tallapaka Annamacharya (Annamayya అన్నమయ్య), May 9, 1408 – February 23, 1503 was born to Narayana Suri and Lakkamamba in Tallapaka, a village in current day Kadapa district of Andhra Pradesh. More….
Keerthana No. 139 ; Volume No. 2
Copper Sheet No. 134
Pallavi: Ninnu Nannu Nenchukoni (నిన్నూ నన్నూ నెంచుకోని)
Ragam: Gundakriya
Language: Telugu (తెలుగు)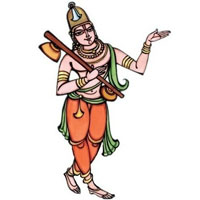 Recitals

Awaiting Contributions.

Awaiting Contributions.
This Kriti was originally composed in Telugu. Other languages are for your convenience.
Pallavi
|| ninnU nannU neMcukOninEramigAka | panninasUryunikAMti pratisUryuDaunA ||
Charanams
|| jaladhilOpalimInu jaladhi dA naunA | jalamulAdhAramainajaMtuvugAka |
nelavai nIlOnivADa nIvE nE naudunA | polasi nIyyAdharuvubomma niMtEkAka ||
|| rAjuvadda nunna baMTu rAjE tA naunA | rAjasapucanavariracanE kAka |
sAjamai ninnu golici sarigadde nuMdunA | vOjatO ninnu sEviMci vuMdu niMtEkAka ||
|| muttepujippalanIru munniTivale nuMDunA | muttemulai balisi lO monapugAka |
nittepuSrIvEMkaTESa nISaraNAgatulamu | mottapulOkulamA muktulamugAka ||
.

We will update this page , once we find comprehensive meaning. Feel free to contribute if you know.
.