Composer: Sri Tallapaka Annamacharya (Annamayya అన్నమయ్య) , May 9, 1408 – February 23, 1503 was born to Narayana Suri and Lakkamamba in Tallapaka, a village in current day Kadapa district of Andhra Pradesh. More….
Keerthana No. 75
Copper Sheet No. 263
Pallavi: Niti nadumadicite (నీటి నడుమడిచితే)
Ragam: Reeti goula
Language: Telugu (తెలుగు)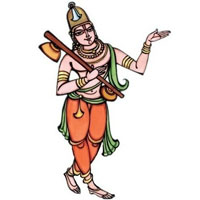 Recitals
Awaiting Contributions.
…
Awaiting Contributions.
[audio: audio-instrumental-file-name.mp3].
This Kriti was originally composed in Telugu. Other languages are for your convenience.
Pallavi
|| నీటి నడుమడిచితే నేడు రెండౌనా | యేటికింక గొంకేవు యింతి జేకోవయ్యా ||
Charanams
|| వాసుల జందురులోనె వడిగందు గుద్దుగాక | కాసే వెన్నెలలోన గందు గలదా |
ఆసల మోమున గోపమటు నీపై జల్లెగాక | యీ సతికి మతిగోప మింతయిన నున్నదా ||
|| కొలనిలో కలువల కొట్టగొన వాడివాక | అలరు బరిమళము లవియూ వాడె |
సొలసి చూచిన యింతి చూపులె వాడిగాక | నలువంక గన్నులలో నవ్వులవాడా ||
|| అంది నారికేళపు గాయకు బైనె గట్టిగాక | కందువలోనూ నట్టె గట్టియయ్యీనా |
పొందిన శ్రీ వేంకటేశ పొలతిపై గుట్టుగాక | గొందినె కూడిన యింతి గుణము కఠినమా ||
.
Pallavi
|| nITi naDumaDicitE nEDu reMDaunA | yETikiMka goMkEvu yiMti jEkOvayyA ||
Charanams
|| vAsula jaMdurulOne vaDigaMdu guddugAka | kAsE vennelalOna gaMdu galadA |
Asala mOmuna gOpamaTu nIpai jallegAka | yI satiki matigOpa miMtayina nunnadA ||
|| kolanilO kaluvala koTTagona vADivAka | alaru barimaLamu laviyU vADe |
solasi cUcina yiMti cUpule vADigAka | naluvaMka gannulalO navvulavADA ||
|| aMdi nArikELapu gAyaku baine gaTTigAka | kaMduvalOnU naTTe gaTTiyayyInA |
poMdina SrI vEMkaTESa polatipai guTTugAka | goMdine kUDina yiMti guNamu kaThinamA ||
.

We will update this page , once we find comprehensive meaning. Feel free to contribute if you know.
.