Composer: Sri Tallapaka Annamacharya (Annamayya అన్నమయ్య), May 9, 1408 – February 23, 1503 was born to Narayana Suri and Lakkamamba in Tallapaka, a village in current day Kadapa district of Andhra Pradesh. More….
Keerthana No. 82 ; Volume No. 2
Copper Sheet No. 114
Pallavi: Nityapuja Livivo (నిత్యపూజ లివివో)
Ragam: Maalavi Gowla
Language: Telugu (తెలుగు)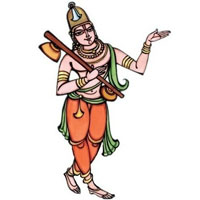 Recitals

Awaiting Contributions.

Awaiting Contributions.
This Kriti was originally composed in Telugu. Other languages are for your convenience.
Pallavi
|| nitya pUjalivivO nEricina nOhO | pratyakShamainaTTi paramAtmuniki ||
Charanams
|| tanuvE guDiyaTa talayE SiKaramaTa | penuhRudayamE hari pIThamaTa |
kanogona cUpulE GanadIpamu laTa | tanalOpali yaMtaryAmikini ||
|| palukE maMtramaTa pADainanAlikE | kalakalamanu piDi GaMTayaTa |
naluvaina ruculE naivEdyamulaTa | talapulOpala nunna daivamunaku ||
|| gamana cEShTalE yaMgaraMga gatiyaTa | tamigala jIvuDE dAsuDaTA |
amarina vUrpulE yAlavaTTamu laTa | kramamutO SrI vEMkaTarAyanikivi ||
.

We will update this page , once we find comprehensive meaning. Feel free to contribute if you know.
.