Composer: Sri Tallapaka Annamacharya (Annamayya అన్నమయ్య), May 9, 1408 – February 23, 1503 was born to Narayana Suri and Lakkamamba in Tallapaka, a village in current day Kadapa district of Andhra Pradesh. More….
Keerthana No. 78 ; Volume No. 4
Copper Sheet No. 314
Pallavi: Nityasukhaananda (నిత్యసుఖానంద)
Ragam: Lalitha
Language: Telugu (తెలుగు)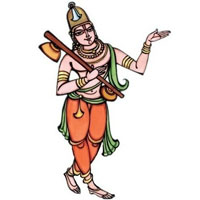 Recitals
Nityasukhaananda | నిత్యసుఖానంద
Album: Private | Voice: Dwaram Lakshmi

Awaiting Contributions.

This Kriti was originally composed in Telugu. Other languages are for your convenience.
Pallavi
nitya sukhAnaMda mide nI dAsyamu
satyamu lEni sukhAlu chAlu jAlunayya ||
Charanams
1.kannu chUpula sukhamu nI chakkani rUpe
yennaga vInula sukhamide nIpEru
panni nAluka sukhamu pAdapu nI tulasi
vunna sukhamula teruvoDa baDamayyA ||
2.tanuvu tODi sukhamu tagu nI kaiMkaryamu
manasulO sukhamu nI maMchi dhyAnamu
panivi nI yUrpu sukhamu pAdapadmamu vAsana
yenayani pera sukhamEni sEsEnayyA ||
3.puTTugukella sukhamu pollulEni nI bhakti
toTTi kALLa sukhamu pAtura lADuTa
jaTTi SrIvEMkaTeSa mAchanavOli chennuDavai
voTTukoni mammElitivOhO mElayyA ||
.

We will update this page , once we find comprehensive meaning. Feel free to contribute if you know.
.