Composer: Sri Tallapaka Annamacharya (Annamayya అన్నమయ్య) , May 9, 1408 – February 23, 1503 was born to Narayana Suri and Lakkamamba in Tallapaka, a village in current day Kadapa district of Andhra Pradesh. More….
Keerthana No. 49
Copper Sheet No. 8
Pallavi: O Yamma (ఓ యమ్మా)
Ragam: Aahiri
Language: Telugu (తెలుగు)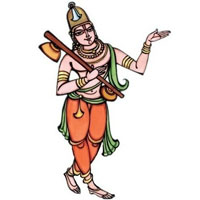 Recitals
Awaiting Contributions.
…
Awaiting Contributions.
[audio: audio-instrumental-file-name.mp3].
This Kriti was originally composed in Telugu. Other languages are for your convenience.
పల్లవి
ఓ యమ్మా వినరో యమ్మా
మాయలాడి మానిని
చరణములు
1.ఈ యింతికి విభుడిచ్చినా చన-
వేయెదా బోవదిదిగదే
రాయచ నడపుల రాజసమ్మున
పాయంపు రమణుని బాయదు
2.సారె సటములు సందడింపుచు
జారీ బయ్యొద సరుగనా
దూరి రమణుని దొలకు గన్నుల
నీరు నించదు నులుపరే
3.అంకించి పిలిచినప్పుడా తిరు-
వేంకటేశ్వరు వెరపున
బొంకు లేని యట్టి పొందు చేకొని
పంకజానన పైకొనె
.
Pallavi
O yammA vinarO yammA
mAyalADi mAnini
Charanams
1.I yimtiki viBuDiccinA cana-
vEyedA bOvadidigadE
rAyaca naDapula rAjasammuna
pAyampu ramaNuni bAyadu
2.sAre saTamulu samdaDimpucu
jArI bayyoda saruganA
dUri ramaNuni dolaku gannula
nIru nimcadu nuluparE
3.amkimci pilicinappuDA tiru-
vEmkaTESvaru verapuna
bomku lEni yaTTi pomdu cEkoni
pamkajAnana paikone
.

We will update this page , once we find comprehensive meaning. Feel free to contribute if you know.
.