Composer: Sri Tallapaka Annamacharya (Annamayya అన్నమయ్య) , May 9, 1408 – February 23, 1503 was born to Narayana Suri and Lakkamamba in Tallapaka, a village in current day Kadapa district of Andhra Pradesh. More….
Keerthana No. 298
Copper Sheet No. 151
Pallavi: Okatikokatiguda (ఒకటికొకటిగూడ)
Ragam: Sankarabharanam
Language: Telugu (తెలుగు)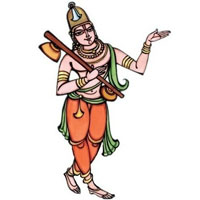 Recitals
Awaiting Contributions.
…
This Kriti was originally composed in Telugu. Other languages are for your convenience.
Pallavi
ఒకటికొకటిగూడ దోయమ్మ నీయందే
సకలము నెటువలె సంతసేసితివే ||
Charanams
1.తానకు నీ కుచాలు దంతికుంభల బోలితే
యీ నడుము సింహమునేల పోలెనే
అనివట్టి నీ కన్ను లంబుజాల బోలితేను
అననము చందురుని నదియేల పోలెనే ||
2.అతివ నీచేతులు బిసాంగముల బోలితేను
యితవై నడపు హంసనేల పోలెనే
చతురత నాసికము సంపెంగ జోలితేను
తతి నీకురులు తుమ్మెదలనేల పోలెనే ||
3.నేవళపు నీయారు నీలాహి బోలితేను
యీవల మేను మెరుపునేల పోలెనే
శ్రీ వేంకటేశు మొవి చిన్ని కెంపులంతించి
ఆవేళ దంతాలు వజ్రాలై యెట్టువోలెనే ||
.
pallavi
okaTikokaTigUDa dOyamma nIyaMdE
sakalamu neTuvale saMtasEsitivE ||
Charanams
1.tAnaku nI kuchAlu daMtikuMbhala bOlitE
yI naDumu siMhamunEla pOlenE
anivaTTi nI kannu laMbujAla bOlitEnu
ananamu chaMduruni nadiyEla pOlenE ||
2.ativa nIchEtulu bisAMgamula bOlitEnu
yitavai naDapu haMsanEla pOlenE
chaturata nAsikamu saMpeMga jOlitEnu
tati nIkurulu tummedalanEla pOlenE ||
3.nEvaLapu nIyAru nIlAhi bOlitEnu
yIvala mEnu merupunEla pOlenE
SrI vEMkaTESu movi chinni keMpulaMtiMchi
AvELa daMtAlu vajrAlai yeTTuvOlenE ||
.

We will update this page , once we find comprehensive meaning. Feel free to contribute if you know.
.