Composer: Muttukumaraswamy (मुत्तुकुमर स्वम्य) popularly known as Muthuswamy Dikshithar (முத்துஸ்வாமி தீக்ஷிதர் – ముత్తుస్వామీ డిక్షితర్), (March 24, 1775 – October 21, 1835) was born in Tiruvarur (of Thanjavur district of Tamil Nadu) to a Tamil Iyer Brahmin couple Ramaswami Dikshitar and Subbamma, as the eldest son. He also had two younger brothers Baluswami, Chinnaswami and a sister Balambal.Chidambaranatha Yogi was his guru. More…

Raagam: Malahari
Taalam: Rupakam
Diety: Vinayaka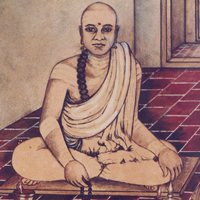 .
Recitals
Album: Unknown | Voice: M.Santhanam
Album: Unknown | Voice: R.K.Srikantan

Awaiting Contributions.

We believe this kriti was originally composed in sanskrit. Other languages are for your convenience.
పంచ మాతంగ ముఖ – రాగం మలహరి – తాళం రూపకమ్
పల్లవి
పంచ మాతంగ ముఖ గణ పతినా
పరిపాలితోऽహం సుముఖేన శ్రీ
అనుపల్లవి
పంచ భూతాత్మక ప్రపంచోదయాది కరణ
(మధ్యమ కాల సాహిత్యమ్)
విరించి హరి రుద్ర నుతేన పంచ వక్త్ర శివ సుతేన
చరణమ్
వరదాభయ పాశ సృణి కపాల దంత –
మోదక ముద్గరాక్ష మాలా కరేణ
కమలా పుర విహారేణ
పురుహూతాద్యఖిల దేవ పూజిత విఘ్నేశ్వరేణ
(మధ్యమ కాల సాహిత్యమ్)
వర గురు గుహ సోదరేణ సురుచిర లంబోదరేణ
కరుణార్ద్ర గౌర-తరేణ కలి మల హరణ చతురేణ
variations:
చరణమ్ –
కరుణార్ద్ర – కరుణాంగ
హరణ చతురేణ – హరణ తరేణ
.
பஞ்ச மாதங்க முக – ராகம் மலஹரி – தாளம் ரூபகம்
பல்லவி
பஞ்ச மாதங்க முக கண பதினா
பரிபாலிதோஹம் ஸுமுகேன ஸ்ரீ
அனுபல்லவி
பஞ்ச பூதாத்மக ப்ரபஞ்சோதயாதி கரண
(மத்4யம கால ஸாஹித்யம்)
விரிஞ்சி ஹரி ருத்ர நுதேன பஞ்ச வக்த்ர ஸிவ ஸுதேன
சரணம்
வரதாபய பாஸ ஸ்ருணி கபால தந்த –
மோதக முத்கராக்ஷ மாலா கரேண
கமலா புர விஹாரேண
புருஹூதாத்யகில தேவ பூஜித விக்னேஸ்வரேண
(மத்4யம கால ஸாஹித்யம்)
வர குரு குஹ ஸோதரேண ஸுருசிர லம்போதரேண
கருணார்த்ர கௌர-தரேண கலி மல ஹரண சதுரேண
variations:
சரணம் –
கருணார்த்ர – கருணாங்க
ஹரண சதுரேண – ஹரண தரேண
.
ಪಂಚ ಮಾತಂಗ ಮುಖ – ರಾಗಂ ಮಲಹರಿ – ತಾಳಂ ರೂಪಕಮ್
ಪಲ್ಲವಿ
ಪಂಚ ಮಾತಂಗ ಮುಖ ಗಣ ಪತಿನಾ
ಪರಿಪಾಲಿತೋऽಹಂ ಸುಮುಖೇನ ಶ್ರೀ
ಅನುಪಲ್ಲವಿ
ಪಂಚ ಭೂತಾತ್ಮಕ ಪ್ರಪಂಚೋದಯಾದಿ ಕರಣ
(ಮಧ್ಯಮ ಕಾಲ ಸಾಹಿತ್ಯಮ್)
ವಿರಿಂಚಿ ಹರಿ ರುದ್ರ ನುತೇನ ಪಂಚ ವಕ್ತ್ರ ಶಿವ ಸುತೇನ
ಚರಣಮ್
ವರದಾಭಯ ಪಾಶ ಸೃಣಿ ಕಪಾಲ ದಂತ –
ಮೋದಕ ಮುದ್ಗರಾಕ್ಷ ಮಾಲಾ ಕರೇಣ
ಕಮಲಾ ಪುರ ವಿಹಾರೇಣ
ಪುರುಹೂತಾದ್ಯಖಿಲ ದೇವ ಪೂಜಿತ ವಿಘ್ನೇಶ್ವರೇಣ
(ಮಧ್ಯಮ ಕಾಲ ಸಾಹಿತ್ಯಮ್)
ವರ ಗುರು ಗುಹ ಸೋದರೇಣ ಸುರುಚಿರ ಲಂಬೋದರೇಣ
ಕರುಣಾರ್ದ್ರ ಗೌರ-ತರೇಣ ಕಲಿ ಮಲ ಹರಣ ಚತುರೇಣ
variations:
]
ಚರಣಮ್ –
ಕರುಣಾರ್ದ್ರ – ಕರುಣಾಂಗ
ಹರಣ ಚತುರೇಣ – ಹರಣ ತರೇಣ
.
पञ्च मातङ्ग मुख – रागं मलहरि – ताळं रूपकम्
पल्लवि
पञ्च मातङ्ग मुख गण पतिना
परिपालितोऽहं सुमुखेन श्री
अनुपल्लवि
पञ्च भूतात्मक प्रपञ्चोदयादि करण
(मध्यम काल साहित्यम्)
विरिञ्चि हरि रुद्र नुतेन पञ्च वक्त्र शिव सुतेन
चरणम्
वरदाभय पाश सृणि कपाल दन्त –
मोदक मुद्गराक्ष माला करेण
कमला पुर विहारेण
पुरुहूताद्यखिल देव पूजित विघ्नेश्वरेण
(मध्यम काल साहित्यम्)
वर गुरु गुह सोदरेण सुरुचिर लम्बोदरेण
करुणार्द्र गौर-तरेण कलि मल हरण चतुरेण
variations:
चरणम् –
करुणार्द्र – करुणाङ्ग
हरण चतुरेण – हरण तरेण
.
pallavi
panca mAtanga mukha gaNa patinA
paripAlitO(a)haM sumukhEna SrI
anupallavi
panca bhUtAtmaka prapancOdayAdi karaNa
(madhyama kAla sAhityam)
virinci hari rudra nutEna panca vaktra Siva sutEna
caraNam
varadAbhaya pASa sRNi kapAla danta –
mOdaka mudgarAksha mAlA karENa
kamalA pura vihArENa
puruhUtAdyakhila dEva pUjita vighnESvarENa
(madhyama kAla sAhityam)
vara guru guha sOdarENa surucira lambOdarENa
karuNArdra gaura-tarENa kali mala haraNa caturENa
variations:
caraNam –
karuNArdra – karuNAnga
haraNa caturENa – haraNa tarENa
.
പഞ്ച മാതങ്ഗ മുഖ – രാഗം മലഹരി – താളം രൂപകമ്
പല്ലവി
പഞ്ച മാതങ്ഗ മുഖ ഗണ പതിനാ
പരിപാലിതോऽഹം സുമുഖേന ശ്രീ
അനുപല്ലവി
പഞ്ച ഭൂതാത്മക പ്രപഞ്ചോദയാദി കരണ
(മധ്യമ കാല സാഹിത്യമ്)
വിരിഞ്ചി ഹരി രുദ്ര നുതേന പഞ്ച വക്ത്ര ശിവ സുതേന
ചരണമ്
വരദാഭയ പാശ സൃണി കപാല ദന്ത –
മോദക മുദ്ഗരാക്ഷ മാലാ കരേണ
കമലാ പുര വിഹാരേണ
പുരുഹൂതാദ്യഖില ദേവ പൂജിത വിഘ്നേശ്വരേണ
(മധ്യമ കാല സാഹിത്യമ്)
വര ഗുരു ഗുഹ സോദരേണ സുരുചിര ലമ്ബോദരേണ
കരുണാര്ദ്ര ഗൌര-തരേണ കലി മല ഹരണ ചതുരേണ
variations:
ചരണമ് –
കരുണാര്ദ്ര – കരുണാങ്ഗ
ഹരണ ചതുരേണ – ഹരണ തരേണ
.
Pallavi :
I am protected by the 5-faced elephant headed Lord of the Ganas, by the pleasant one.
Anupallavi :
The primordial cause of the universe which was formed out of the 5 elements, the one worshipped by Brahma, Vishnu and Shiva and one who is the son of the 5-headed Shiva.
Charanam :
The one who has the varada and abhaya mudra,the noose,the goad, a skull, a tusk, a modaka, mallet and rosary in his hands, the one dwelling in Kamalapura, the remover of obstacles worshipped by Indra and other devas, the brother of the great guruguha; the beautiful pot-bellied one, the one who is the very form of grace, the one respected by all, the one who removes the evils of kali.
.