Composer: Sri Tallapaka Annamacharya (Annamayya అన్నమయ్య) , May 9, 1408 – February 23, 1503 was born to Narayana Suri and Lakkamamba in Tallapaka, a village in current day Kadapa district of Andhra Pradesh. More….
Keerthana No.182
Copper Sheet No. 141
Pallavi:Patella Nokkacho (పాటెల్లా నొక్కచో)
Ragam: Ramakriya
Language: Telugu (తెలుగు)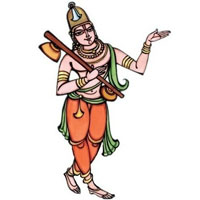 Recitals
Awaiting Contributions.
…
Awaiting Contributions.
[audio: audio-instrumental-file-name.mp3].
This Kriti was originally composed in Telugu. Other languages are for your convenience.
Pallavi
||పాటెల్లా నొక్కచో నుండు; భాగ్య మొక్కచోనుండు
యీటు వెట్టి పెద్దతనా లెంచబనిలేదు ||
Charanams
|| సరవి గలకాలము జదువుచుండు నొకడు
గరిమ నీ క్రుప నిన్ను గను నొకడు
ధర బ్రయాసముతోడ దపముసేయు నొకడు
శరణుచొచ్చి నీకు జనవరౌ నొకడు ||
|| వొక్కడు మోపుమోచు నొక్కడు గొలువు సేయు
వొక్కడు పొగడీ త్యాగ మూరకే యందు
వొక్క డాచారము సేయు నొక్కడూ మోక్షముగను
యెక్కడా నీకల్పన సేయవచ్చును ||
|| భావించ నటుగాన ఫలమెల్లా నీ మూలము
యేవలనైనా నీవు యిచ్చితేగద్దు
జీవులు నిన్నెఋఅగక చీకటి దవ్వగనేల
శ్రీవేంకటేశ్వర నిన్ను సేవించేదే నేరుపు||
.
Pallavi
|| pATellA nokkachO nuMDu; bhAgya mokkacOnuMDu
yITu veTTi peddatanA leMcabanilEdu ||
Charanams
||saravi galakAlamu jaduvucuMDu nokaDu
garima nI krupa ninnu ganu nokaDu
dhara brayAsamutODa dapamusEyu nokaDu
SaraNucochchi nIku janavarou nokaDu ||
||vokkaDu mOpumOcu nokkaDu goluvu sEyu
vokkaDu pogaDI tyAga mUrakE yaMdu
vokka DAcAramu sEyu nokkaDU mOkshamuganu
yekkaDA nIkalpana sEyavachchunu ||
||bhAviMcha naTugAna phalamellA nI mUlamu
yEvalanainA nIvu yichchitEgaddu
jIvulu ninneRagaka chIkaTi davvaganEla
SrIvEMkaTESvara ninnu sEviMchEdE nErupu ||
.

We will update this page , once we find comprehensive meaning. Feel free to contribute if you know.
.