Composer: Muttukumaraswamy (முத்துகுமாரச்வாமி) popularly known as Muthuswamy Dikshithar (முத்துஸ்வாமி தீக்ஷிதர் – ముత్తుస్వామీ డిక్షితర్), (March 24, 1775 – October 21, 1835) was born in Tiruvarur (of Thanjavur district of Tamil Nadu) to a Tamil Iyer Brahmin couple Ramaswami Dikshitar and Subbamma, as the eldest son. He also had two younger brothers Baluswami, Chinnaswami and a sister Balambal.Chidambaranatha Yogi was his guru. More…
Raagam: Chala Naata
Taalam: Jhanpa
Diety: Anjaneya Krithis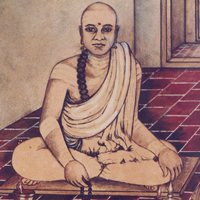 .
Recitals
Album: Unknown | Voice: Sundaram Rajam
Album: Unknown | Voice: Maharajapuram Santhanam

Awaiting Contributions.

We believe this kriti was originally composed in sanskrit. Other languages are for your convenience.
పల్లవి
పవనాత్మజాగచ్ఛ పరి-పూర్ణ స్వచ్ఛ
పరమాత్మ పుచ్ఛ పాహి మాం జయ జయ
అనుపల్లవి
నవ వ్యాకరణ నిపుణ నవ విధాంతఃకరణ
శివ రామ హరి కృష్ణ శ్రీ గురు గుహ స్మరణ
చరణము
కపట వానర వేష కావ్య నాటక తోష
కపి యూథ పరిపోష కమనీయ భాష
అపగతాఖిల దోష హత రాక్షసాశేష
ఉపనిషత్పద ఘోష ఉదిత మిత్ర ద్వేష
(మధ్యమ కాల సాహిత్యమ్)
అభి-రూప మణి భూష రిపు జయ బల విశేష
జప సమాధ్యభిలాష అపరిమిత సంతోష
variations
చలనాట – నాట
జయ జయ – జయ జయ నవ నవ నవ జయ జయ
యూథ – యోధ
అపగతాఖిల – అపహతాఖిల
.
பல்லவி
பவனாத்மஜாக3ச்ச2 பரி-பூர்ண ஸ்வச்ச2
பரமாத்ம புச்ச2 பாஹி மாம் ஜய ஜய
அனுபல்லவி
நவ வ்யாகரண நிபுண நவ விதா4ந்த:கரண
ஸி1வ ராம ஹரி க்ரு2ஷ்ண ஸ்ரீ கு3ரு கு3ஹ ஸ்மரண
சரணம்
கபட வானர வேஷ காவ்ய நாடக தோஷ
கபி யூத2 பரிபோஷ கமனீய பா4ஷ
அபக3தாகி2ல தோ3ஷ ஹத ராக்ஷஸாஸே1ஷ
உபனிஷத்பத3 கோ4ஷ உதி3த மித்ர த்3வேஷ
(மத்4யம கால ஸாஹித்யம்)
அபி4-ரூப மணி பூ4ஷ ரிபு ஜய ப3ல விஸே1ஷ
ஜப ஸமாத்4யபி4லாஷ அபரிமித ஸந்தோஷ
variations
சலனாட – நாட
ஜய ஜய – ஜய ஜய நவ நவ நவ ஜய ஜய
யூத2 – யோத4
அபக3தாகி2ல – அபஹதாகி2ல
.
ಪಲ್ಲವಿ
ಪವನಾತ್ಮಜಾಗಚ್ಛ ಪರಿ-ಪೂರ್ಣ ಸ್ವಚ್ಛ
ಪರಮಾತ್ಮ ಪುಚ್ಛ ಪಾಹಿ ಮಾಂ ಜಯ ಜಯ
ಅನುಪಲ್ಲವಿ
ನವ ವ್ಯಾಕರಣ ನಿಪುಣ ನವ ವಿಧಾಂತಃಕರಣ
ಶಿವ ರಾಮ ಹರಿ ಕೃಷ್ಣ ಶ್ರೀ ಗುರು ಗುಹ ಸ್ಮರಣ
ಚರಣಮ್
ಕಪಟ ವಾನರ ವೇಷ ಕಾವ್ಯ ನಾಟಕ ತೋಷ
ಕಪಿ ಯೂಥ ಪರಿಪೋಷ ಕಮನೀಯ ಭಾಷ
ಅಪಗತಾಖಿಲ ದೋಷ ಹತ ರಾಕ್ಷಸಾಶೇಷ
ಉಪನಿಷತ್ಪದ ಘೋಷ ಉದಿತ ಮಿತ್ರ ದ್ವೇಷ
(ಮಧ್ಯಮ ಕಾಲ ಸಾಹಿತ್ಯಮ್)
ಅಭಿ-ರೂಪ ಮಣಿ ಭೂಷ ರಿಪು ಜಯ ಬಲ ವಿಶೇಷ
ಜಪ ಸಮಾಧ್ಯಭಿಲಾಷ ಅಪರಿಮಿತ ಸಂತೋಷ
variations
ಚಲನಾಟ – ನಾಟ
ಜಯ ಜಯ – ಜಯ ಜಯ ನವ ನವ ನವ ಜಯ ಜಯ
ಯೂಥ – ಯೋಧ
ಅಪಗತಾಖಿಲ – ಅಪಹತಾಖಿಲ
.
पल्लवि
पवनात्मजागच्छ परि-पूर्ण स्वच्छ
परमात्म पुच्छ पाहि मां जय जय
अनुपल्लवि
नव व्याकरण निपुण नव विधान्तःकरण
शिव राम हरि कृष्ण श्री गुरु गुह स्मरण
चरणम्
कपट वानर वेष काव्य नाटक तोष
कपि यूथ परिपोष कमनीय भाष
अपगताखिल दोष हत राक्षसाशेष
उपनिषत्पद घोष उदित मित्र द्वेष
(मध्यम काल साहित्यम्)
अभि-रूप मणि भूष रिपु जय बल विशेष
जप समाध्यभिलाष अपरिमित सन्तोष
variations
चलनाट – नाट
जय जय – जय जय नव नव नव जय जय
यूथ – योध
अपगताखिल – अपहताखिल
.
pallavi
pavanAtmajAgaccha pari-pUrNa svaccha
paramAtma puccha pAhi mAM jaya jaya
anupallavi
nava vyAkaraNa nipuNa nava vidhAntaHkaraNa
Siva rAma hari kRshNa SrI guru guha smaraNa
caraNam
kapaTa vAnara vEsha kAvya nATaka tOsha
kapi yUtha paripOsha kamanIya bhAsha
apagatAkhila dOsha hata rAkshasASEsha
upanishatpada ghOsha udita mitra dvEsha
(madhyama kAla sAhityam)
abhi-rUpa maNi bhUsha ripu jaya bala viSEsha
japa samAdhyabhilAsha aparimita santOsha
variations
calanATa – nATa
jaya jaya – jaya jaya nava nava nava jaya jaya
yUtha – yOdha
apagatAkhila – apahatAkhila
.
പല്ലവി
പവനാത്മജാഗച്ഛ പരി-പൂര്ണ സ്വച്ഛ
പരമാത്മ പുച്ഛ പാഹി മാം ജയ ജയ
അനുപല്ലവി
നവ വ്യാകരണ നിപുണ നവ വിധാന്തഃകരണ
ശിവ രാമ ഹരി കൃഷ്ണ ശ്രീ ഗുരു ഗുഹ സ്മരണ
ചരണമ്
കപട വാനര വേഷ കാവ്യ നാടക തോഷ
കപി യൂഥ പരിപോഷ കമനീയ ഭാഷ
അപഗതാഖില ദോഷ ഹത രാക്ഷസാശേഷ
ഉപനിഷത്പദ ഘോഷ ഉദിത മിത്ര ദ്വേഷ
(മധ്യമ കാല സാഹിത്യമ്)
അഭി-രൂപ മണി ഭൂഷ രിപു ജയ ബല വിശേഷ
ജപ സമാധ്യഭിലാഷ അപരിമിത സന്തോഷ
variations
ചലനാട – നാട
ജയ ജയ – ജയ ജയ നവ നവ നവ ജയ ജയ
യൂഥ – യോധ
അപഗതാഖില – അപഹതാഖില
.
Pallavi
Come O son of Vayu! the complete one.the one who is pure,the form of the supreme soul,Protect me! May you be victorious.
Anupallavi
The one who is an expert in the 9 grammars,the one that has the 9 anatahkaranas, the one that is praised by Shiva,Rama,Hari,Krishna,Lakshmi and guruguha.
Charanam
The one who has the form of a clever monkey, the one who is pleased by literature and dramatics, the one who saved the vanara soldiers in the battle , the one that speaks sweetly,the one who removes all wrongs,the one that is hailed in the words of the upanishads,the one who was an enemy of the rising sun,the one that wears ornaments, the one that gives the power of victory over enemies,the one who likes japa and samadhi, and the one who is happy.
.