Composer: Sri Tallapaka Annamacharya (Annamayya అన్నమయ్య) , May 9, 1408 – February 23, 1503 was born to Narayana Suri and Lakkamamba in Tallapaka, a village in current day Kadapa district of Andhra Pradesh. More….
Keerthana No. 309
Copper Sheet No. 353
Pallavi: Pedayaubalapu (పెదయౌబళపు)
Ragam: Bhallati
Language: Telugu (తెలుగు)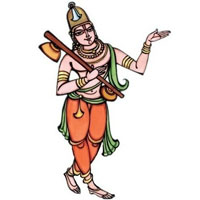 Recitals
Awaiting Contributions.
…
Awaiting Contributions.
[audio: audio-instrumental-file-name.mp3].
This Kriti was originally composed in Telugu. Other languages are for your convenience.
Pallavi
పెదయౌబళపు కొండ పెరిగీనిదే
వదలకకొలిచితే వరములిచ్చీని
Charanams
1.పదివేలశిరసుల పలునరసింహము
గుదిగొన్న చేతుల గురుతైనది
ఎదుటపాదాలు కన్నులెన్నైన కలిగినది
యిది బ్రహ్మాండపుగుహ నిరవైనది
2.ఘనశంఖచక్రాదుల కైదువలతోనున్నది
మొనసి రాకాసి మొకములగొట్టేది
కనకపుదైత్యుని కడుపుచించినది
తనునమ్మిన ప్రహ్లాదుదాపును దండైనది
3.శ్రీవనిత తొడమీద జేకొని నిలిపినది
దేవతలు గొలువ గద్దెపై నున్నది
శ్రీవేంకటాద్రియందుఁజెలగి భోగించేది
భావించి చూచితేను పరబ్రహ్మమైనది
.
Pallavi
pedayaubaLapu koMDa perigInidE
vadalakakolichitE varamulichchIni
Charanams
1.padivElaSirasula palunarasiMhamu
gudigonna chEtula gurutainadi
eduTapAdAlu kannulennaina kaliginadi
yidi brahmAMDapuguha niravainadi
2.ghanaSaMkhachakrAdula kaiduvalatOnunnadi
monasi rAkAsi mokamulagoTTEdi
kanakapudaityuni kaDupuchiMchinadi
tanunammina prahlAdudApunu daMDainadi
3.SrIvanita toDamIda jEkoni nilipinadi
dEvatalu goluva gaddepai nunnadi
SrIvEMkaTAdriyaMdu@Mjelagi bhOgiMchEdi
bhAviMchi chUchitEnu parabrahmamainadi
.

We will update this page , once we find comprehensive meaning. Feel free to contribute if you know.
.