Composer: Muttukumaraswamy (मुत्तुकुमर स्वम्य) popularly known as Muthuswamy Dikshithar (முத்துஸ்வாமி தீக்ஷிதர் – ముత్తుస్వామీ డిక్షితర్), (March 24, 1775 – October 21, 1835)was born in Tiruvarur (of Thanjavur district of Tamil Nadu) to a Tamil Iyer Brahmin couple Ramaswami Dikshitar and Subbamma, as the eldest son. He also had two younger brothers Baluswami, Chinnaswami and a sister Balambal.Chidambaranatha Yogi was his guru. More…

Raagam: Mohanam
Taalam: Adi
Diety: Vinayaka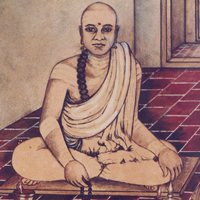 .
Recitals
Album: Unknown | Voice: Suganda Kalamegham
Album: Unknown | Voice: Maharajapuram Santhanam

Awaiting Contributions.

We believe this kriti was originally composed in sanskrit. Other languages are for your convenience.
రక్త గణ పతిమ్ – రాగం మోహనమ్ – తాళం ఆది
పల్లవి
రక్త గణ పతిమ్ భజేऽహం
రత్న సింహాసన పతిం సుర పతిమ్
అనుపల్లవి
రక్తాంబర ధరం రాగ ద్వేషాది హరం
పార్వతీ ప్రియ-కరం మోహన-కరమ్
చరణమ్
పరశు రామ క్షేత్ర ప్రభావం
పాయసాన్న హోమాది విభావం
పంచ కృత్యాతీత స్వభావం
భక్త జనాది సమూహ వైభవమ్
(మధ్యమ కాల సాహిత్యమ్)
సకల కార్యార్థ సిద్ధిదం స్థిరం
వామ దేవాది పూజితం వరం
వారిజ భవ వందిత వల్లభేశం
గురు గుహ నుతం పరమ శివ సుతమ్
variations:
అనుపల్లవి –
రాగ ద్వేషాది హరం – రాగ ద్వేష హరం
చరణమ్
స్వభావం – ప్రభావం
స్థిరం – వరం – పరం
వరం – పరం
.
ரக்த கண பதிம் – ராகம் மோஹனம் – தாளம் ஆதி
பல்லவி
ரக்த கண பதிம் பஜேஹம்
ரத்ன ஸிம்ஹாஸன பதிம் ஸுர பதிம்
அனுபல்லவி
ரக்தாம்பர தரம் ராக த்வேஷாதி ஹரம்
பார்வதீ ப்ரிய-கரம் மோஹன-கரம்
சரணம்
பரஸு ராம க்ஷேத்ர ப்ரபாவம்
பாயஸான்ன ஹோமாதி விபாவம்
பஞ்ச க்ருத்யாதீத ஸ்வபாவம்
பக்த ஜனாதி ஸமூஹ வைபவம்
(மத்யம கால ஸாஹித்யம்)
ஸகல கார்யார்த ஸித்திதம் ஸ்திரம்
வாம தேவாதி பூஜிதம் வரம்
வாரிஜ பவ வந்தித வல்லபேஸம்
குரு குஹ நுதம் பரம ஸிவ ஸுதம்
variations –
அனுபல்லவி –
ராக த்வேஷாதி ஹரம் – ராக த்3வேஷ ஹரம்
சரணம்
ஸ்வபாவம் – ப்ரபாவம்
ஸ்திரம் – வரம் – பரம்
வரம் – பரம்
.
ರಕ್ತ ಗಣ ಪತಿಮ್ – ರಾಗಂ ಮೋಹನಮ್ – ತಾಳಂ ಆದಿ
ಪಲ್ಲವಿ
ರಕ್ತ ಗಣ ಪತಿಮ್ ಭಜೇऽಹಂ
ರತ್ನ ಸಿಂಹಾಸನ ಪತಿಂ ಸುರ ಪತಿಮ್
ಅನುಪಲ್ಲವಿ
ರಕ್ತಾಂಬರ ಧರಂ ರಾಗ ದ್ವೇಷಾದಿ ಹರಂ
ಪಾರ್ವತೀ ಪ್ರಿಯ-ಕರಂ ಮೋಹನ-ಕರಮ್
ಚರಣಮ್
ಪರಶು ರಾಮ ಕ್ಷೇತ್ರ ಪ್ರಭಾವಂ
ಪಾಯಸಾನ್ನ ಹೋಮಾದಿ ವಿಭಾವಂ
ಪಂಚ ಕೃತ್ಯಾತೀತ ಸ್ವಭಾವಂ
ಭಕ್ತ ಜನಾದಿ ಸಮೂಹ ವೈಭವಮ್
(ಮಧ್ಯಮ ಕಾಲ ಸಾಹಿತ್ಯಮ್)
ಸಕಲ ಕಾರ್ಯಾರ್ಥ ಸಿದ್ಧಿದಂ ಸ್ಥಿರಂ
ವಾಮ ದೇವಾದಿ ಪೂಜಿತಂ ವರಂ
ವಾರಿಜ ಭವ ವಂದಿತ ವಲ್ಲಭೇಶಂ
ಗುರು ಗುಹ ನುತಂ ಪರಮ ಶಿವ ಸುತಮ್
variations:
ಅನುಪಲ್ಲವಿ –
ರಾಗ ದ್ವೇಷಾದಿ ಹರಂ – ರಾಗ ದ್ವೇಷ ಹರಂ
ಚರಣಮ್
ಸ್ವಭಾವಂ – ಪ್ರಭಾವಂ
ಸ್ಥಿರಂ – ವರಂ – ಪರಂ
ವರಂ – ಪರಂ
.
रक्त गण पतिम् – रागं मोहनम् – ताळं आदि
पल्लवि
रक्त गण पतिम् भजेऽहं
रत्न सिंहासन पतिं सुर पतिम्
अनुपल्लवि
रक्ताम्बर धरं राग द्वेषादि हरं
पार्वती प्रिय-करं मोहन-करम्
चरणम्
परशु राम क्षेत्र प्रभावं
पायसान्न होमादि विभावं
पञ्च कृत्यातीत स्वभावं
भक्त जनादि समूह वैभवम्
(मध्यम काल साहित्यम्)
सकल कार्यार्थ सिद्धिदं स्थिरं
वाम देवादि पूजितं वरं
वारिज भव वन्दित वल्लभेशं
गुरु गुह नुतं परम शिव सुतम्
variations:
अनुपल्लवि –
राग द्वेषादि हरं – राग द्वेष हरं
चरणम्
स्वभावं – प्रभावं
स्थिरं – वरं – परं
वरं – परं
.
pallavi
rakta gaNa patim bhajE(a)haM
ratna siMhAsana patiM sura patim
anupallavi
raktAmbara dharaM rAga dvEshAdi haraM
pArvatI priya-karaM mOhana-karam
caraNam
paraSu rAma kshEtra prabhAvaM
pAyasAnna hOmAdi vibhAvaM
panca kRtyAtIta svabhAvaM
bhakta janAdi samUha vaibhavam
(madhyama kAla sAhityam)
sakala kAryArtha siddhidaM sthiraM
vAma dEvAdi pUjitaM varaM
vArija bhava vandita vallabhESaM
guru guha nutaM parama Siva sutam
variations:
anupallavi –
rAga dvEshAdi haraM – rAga dvEsha haraM
caraNam
svabhAvaM – prabhAvaM
sthiraM – varaM – paraM
varaM – paraM
.
രക്ത ഗണ പതിമ് – രാഗം മോഹനമ് – താളം ആദി
പല്ലവി
രക്ത ഗണ പതിമ് ഭജേऽഹം
രത്ന സിംഹാസന പതിം സുര പതിമ്
അനുപല്ലവി
രക്താമ്ബര ധരം രാഗ ദ്വേഷാദി ഹരം
പാര്വതീ പ്രിയ-കരം മോഹന-കരമ്
ചരണമ്
പരശു രാമ ക്ഷേത്ര പ്രഭാവം
പായസാന്ന ഹോമാദി വിഭാവം
പഞ്ച കൃത്യാതീത സ്വഭാവം
ഭക്ത ജനാദി സമൂഹ വൈഭവമ്
(മധ്യമ കാല സാഹിത്യമ്)
സകല കാര്യാര്ഥ സിദ്ധിദം സ്ഥിരം
വാമ ദേവാദി പൂജിതം വരം
വാരിജ ഭവ വന്ദിത വല്ലഭേശം
ഗുരു ഗുഹ നുതം പരമ ശിവ സുതമ്
variations:
അനുപല്ലവി –
രാഗ ദ്വേഷാദി ഹരം – രാഗ ദ്വേഷ ഹരം
ചരണമ്
സ്വഭാവം – പ്രഭാവം
സ്ഥിരം – വരം – പരം
വരം – പരം
.
Pallavi:
I worship RaktaGanapati , the one who is seated on a bejewelled throne, the Lord of the Devas.
Anupallavi:
The one who wears red-coloured clothing,the one free of desires and anger,the one dear to Parvati,the one who is captivating.
Charanam:
The one who glorifies Parashurama kshetra 1,the one who is worshipped with rice cooked in milk(payasam) and sacrifices, the one who is beyond the 5-folds acts of creation, sustenance, grace,veiling and desctuction2, the one celebrated by crowds of devotees, the one who fulfils all desires, the eternal one, the revered Lord of Vallabha worshipped by sages like vamadeva,the one praised by guruguha; the son of Shiva.
.