Composer: Sri Tallapaka Annamacharya (Annamayya అన్నమయ్య) , May 9, 1408 – February 23, 1503 was born to Narayana Suri and Lakkamamba in Tallapaka, a village in current day Kadapa district of Andhra Pradesh. More….
Keerthana No. 392
Copper Sheet No. 81
Pallavi: Rama ramachandra raghava (రామ రామచంద్ర రాఘవా)
Ragam: varali
Language: Telugu (తెలుగు)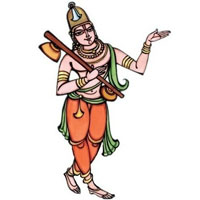 Recitals
Rama ramachandra raghava | రామ రామచంద్ర రాఘవా
Album: Private | Voice: Unknown
Awaiting Contributions.
[audio: audio-instrumental-file-name.mp3].
This Kriti was originally composed in Telugu. Other languages are for your convenience.
Pallavi
రామ రామచంద్ర రాఘవా రాజీవలోనరాఘవా
సౌమిత్రిభరత శతృఘ్నులతోడ జయమందు దశరథరాఘవా
Charanams
1.శిరసు కూకటుల రాఘవా చిన్నారిపొన్నారి రాఘవా
గరిమ నావయసున తాటకి జంపిన కౌసల్యనందన రాఘవా
అరిదియజ్ఞము గాచు రాఘవా యట్టె హరునివిల్లు విరిచిన రాఘవా
సిరులతో జనకుని యింట జానకి జెలగి పెండ్లాడినరాఘవా
2.మలయు నయోధ్యా రాఘవా మాయామృగాంతక రాఘవా
చెలగి చుప్పనాతి గర్వ మడచి దైత్యసేనల జంపిన రాఘవా
సొలసి వాలిజంపి రాఘవా దండి సుగ్రీవునేలిన రాఘవా
జలధి బంధించిన రాఘవా లంకసంహరించిన రాఘవా
3.దేవతలు చూడ రాఘవా దేవేంద్రు రథమెక్కి రాఘవా
రావణాదులను జంపి విభీషణురాజ్యమేలించిన రాఘవా
వేవేగ మరలి రాఘవా వచ్చి విజయ పట్టమేలి రాఘవా
శ్రీవేంకటగిరిమీద నభయములు చెలగి మాకిచ్చిన రాఘవా
.
Pallavi
rAma rAmachaMdra rAghavA rAjIvalOnarAghavA
saumitribharata SatRghnulatODa jayamaMdu daSaratharAghavA
Charanams
1.Sirasu kUkaTula rAghavA chinnAriponnAri rAghavA
garima nAvayasuna tATaki jaMpina kausalyanaMdana rAghavA
aridiyaj~namu gAchu rAghavA yaTTe harunivillu virichina rAghavA
sirulatO janakuni yiMTa jAnaki jelagi peMDlADinarAghavA
2.malayu nayOdhyA rAghavA mAyAmRgAMtaka rAghaVA
chelagi chuppanAti garwa maDachi daityasEnala jaMpina rAghaVA
solasi vAlijaMpi rAghavA daMDi sugrIvunElina rAghavA
jaladhi baMdhiMchina rAghavA laMkasaMhariMchina rAghavA
3.dEvatalu chUDa rAghavA dEvEMdru rathamekki rAghavA
rAvaNAdulanu jaMpi vibhIshaNurAjyamEliMchina rAghavA
vEvEga marali rAghavA vachchi vijaya paTTamEli rAghavA
SrIvEMkaTagirimIda nabhayamulu chelagi mAkichchina rAghavA
.

We will update this page , once we find comprehensive meaning. Feel free to contribute if you know.
.