Composer: Muttukumaraswamy (முத்துகுமாரச்வாமி) popularly known as Muthuswamy Dikshithar (முத்துஸ்வாமி தீக்ஷிதர் – ముత్తుస్వామీ డిక్షితర్), (March 24, 1775 – October 21, 1835) was born in Tiruvarur (of Thanjavur district of Tamil Nadu) to a Tamil Iyer Brahmin couple Ramaswami Dikshitar and Subbamma, as the eldest son. He also had two younger brothers Baluswami, Chinnaswami and a sister Balambal.Chidambaranatha Yogi was his guru. More…
Raagam: Dhanyasi
Taalam: Khanda Caapu
Diety: Sri Rama Chandra Vibhakti Krithis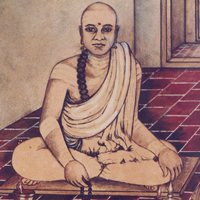 .
Recitals
Album: Unknown | Voice: Raji Gopalakrishnan

Awaiting Contributions.

We believe this kriti was originally composed in sanskrit. Other languages are for your convenience.
పల్లవి
రామ చంద్రాదన్యం న జానేऽహం
శ్రీ హరి హరాత్మ రూపిణో
సమష్టి చరణం
కామ జనకాత్ కఠిన సుభాహు మారీచ –
ఖర దూషణాది మద హరణాంతక రూపిణో
(మధ్యమ కాల సాహిత్యం)
సమస్త సుర సన్నుత శర చాప పాణినో
సరస గురు గుహ సంగీత తత్వ బోధినో
variations
రూపిణో – రూపిణః
పాణినో – పాణినః
బోధినో – బోధినః
.
பல்லவி
ராம சந்த்3ராத3ன்யம் ந ஜானேऽஹம்
ஸ்ரீ ஹரி ஹராத்ம ரூபிணோ
ஸமஷ்டி சரணம்
காம ஜனகாத் கடி2ன ஸுபா4ஹு மாரீச –
க2ர தூ3ஷணாதி3 மத3 ஹரணாந்தக ரூபிணோ
(மத்4யம கால ஸாஹித்யம்)
ஸமஸ்த ஸுர ஸன்னுத ஸ1ர சாப பாணினோ
ஸரஸ கு3ரு கு3ஹ ஸங்கீ3த தத்வ போ3தி4னோ
variations
ரூபிணோ – ரூபிண:
பாணினோ – பாணின:
போ3தி4னோ – போ3தி4ன:
.
ಪಲ್ಲವಿ
ರಾಮ ಚಂದ್ರಾದನ್ಯಂ ನ ಜಾನೇऽಹಂ
ಶ್ರೀ ಹರಿ ಹರಾತ್ಮ ರೂಪಿಣೋ
ಸಮಷ್ಟಿ ಚರಣಂ
ಕಾಮ ಜನಕಾತ್ ಕಠಿನ ಸುಭಾಹು ಮಾರೀಚ –
ಖರ ದೂಷಣಾದಿ ಮದ ಹರಣಾಂತಕ ರೂಪಿಣೋ
(ಮಧ್ಯಮ ಕಾಲ ಸಾಹಿತ್ಯಂ)
ಸಮಸ್ತ ಸುರ ಸನ್ನುತ ಶರ ಚಾಪ ಪಾಣಿನೋ
ಸರಸ ಗುರು ಗುಹ ಸಂಗೀತ ತತ್ವ ಬೋಧಿನೋ
variations
ರೂಪಿಣೋ – ರೂಪಿಣಃ
ಪಾಣಿನೋ – ಪಾಣಿನಃ
ಬೋಧಿನೋ – ಬೋಧಿನಃ
.
पल्लवि
राम चन्द्रादन्यं न जानेऽहं
श्री हरि हरात्म रूपिणो
समष्टि चरणम्
काम जनकात् कठिन सुभाहु मारीच –
खर दूषणादि मद हरणान्तक रूपिणो
(मध्यम काल साहित्यम्)
समस्त सुर सन्नुत शर चाप पाणिनो
सरस गुरु गुह सङ्गीत तत्व बोधिनो
variations
रूपिणो – रूपिणः
पाणिनो – पाणिनः
बोधिनो – बोधिनः
.
pallavi
rAma candrAdanyaM na jAnE(a)haM
SrI hari harAtma rUpiNO
samashTi caraNam
kAma janakAt kaThina subhAhu mArIca –
khara dUshaNAdi mada haraNAntaka rUpiNO
(madhyama kAla sAhityam)
samasta sura sannuta Sara cApa pANinO
sarasa guru guha sangIta tatva bOdhinO
variations
rUpiNO – rUpiNaH
pANinO – pANinaH
bOdhinO – bOdhinaH
.
പല്ലവി
രാമ ചന്ദ്രാദന്യം ന ജാനേऽഹം
ശ്രീ ഹരി ഹരാത്മ രൂപിണോ
സമഷ്ടി ചരണമ്
കാമ ജനകാത് കഠിന സുഭാഹു മാരീച –
ഖര ദൂഷണാദി മദ ഹരണാന്തക രൂപിണോ
(മധ്യമ കാല സാഹിത്യമ്)
സമസ്ത സുര സന്നുത ശര ചാപ പാണിനോ
സരസ ഗുരു ഗുഹ സങ്ഗീത തത്വ ബോധിനോ
variations
രൂപിണോ – രൂപിണഃ
പാണിനോ – പാണിനഃ
ബോധിനോ – ബോധിനഃ
.
Pallavi
I worship Shrirama, the best of the Raghus, the younger brother on Indra(in His incarnation as Vamana)
Anupallavi
bhUmijA nAyakaM bhukti mukti dAyakaM
nAma kIrtana tArakaM nara varaM gata mAyikam
Charanam
sAkEta nagarE nivasantaM
sAmrAjya prada hanumantaM
rAkEndu vadanaM bhagavantaM
ramaNIya kalyANa guNavantaM
(madhyama kAla sAhityam)
kAkutsthaM dhImantaM
kamalAkshaM SrImantaM
nAkESa nutaM anantaM
nara guru guha viharantam
.