Composer: Muttukumaraswamy (முத்துகுமாரச்வாமி) popularly known as Muthuswamy Dikshithar (முத்துஸ்வாமி தீக்ஷிதர் – ముత్తుస్వామీ డిక్షితర్), (March 24, 1775 – October 21, 1835) was born in Tiruvarur (of Thanjavur district of Tamil Nadu) to a Tamil Iyer Brahmin couple Ramaswami Dikshitar and Subbamma, as the eldest son. He also had two younger brothers Baluswami, Chinnaswami and a sister Balambal.Chidambaranatha Yogi was his guru. More…
Raagam: Thodi
Taalam: Misra Caapu
Diety: Sri Rama Chandra Vibhakti Krithis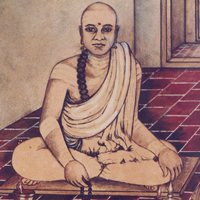 .
Recitals
Album: Unknown | Voice: B.V.Ramana,B.V.Lakshman

Awaiting Contributions.

We believe this kriti was originally composed in sanskrit. Other languages are for your convenience.
పల్లవి
రామ చంద్రాయ నమస్తే రాజీవ లోచనాయ వరాయ
అనుపల్లవి
సామ గాన లోలాయ సాధు జనాది పాలాయ
(మధ్యమ కాల సాహిత్యం)
కోమళ-తర గురు గుహ నుతాయ
కోటి మార లావణ్యాయ
చరణం
దశరథ రాజ కుమారాయ
దండకారణ్య విహారాయ
కౌశిక కృత మఖ రక్షకాయ
కనక మణి మాలా ధరాయ
(మధ్యమ కాల సాహిత్యం)
దశ గ్రీవ ప్రాణ హరాయ
దాస విభీషణ పాలకాయ
కుశ లవ సీతా సమేతాయ
కపి బృందాది మనోహరాయ
variations
పాలాయ – వందితాయ
నుతాయ – ముదాయ
దశరథ రాజ కుమారాయ – దశరథ కుమారాయ
.
பல்லவி
ராம சந்த்3ராய நமஸ்தே ராஜீவ லோசனாய வராய
அனுபல்லவி
ஸாம கா3ன லோலாய ஸாது4 ஜனாதி3 பாலாய
(மத்4யம கால ஸாஹித்யம்)
கோமள-தர கு3ரு கு3ஹ நுதாய
கோடி மார லாவண்யாய
சரணம்
த3ஸ1ரத2 ராஜ குமாராய
த3ண்ட3காரண்ய விஹாராய
கௌஸி1க க்ரு2த மக2 ரக்ஷகாய
கனக மணி மாலா த4ராய
(மத்4யம கால ஸாஹித்யம்)
த3ஸ1 க்3ரீவ ப்ராண ஹராய
தா3ஸ விபீ4ஷண பாலகாய
குஸ1 லவ ஸீதா ஸமேதாய
கபி ப்3ரு2ந்தா3தி3 மனோஹராய
variations
பாலாய – வந்தி3தாய
நுதாய – முதா3ய
த3ஸ1ரத2 ராஜ குமாராய – த3ஸ1ரத2 குமாராய
.
ಪಲ್ಲವಿ
ರಾಮ ಚಂದ್ರಾಯ ನಮಸ್ತೇ ರಾಜೀವ ಲೋಚನಾಯ ವರಾಯ
ಅನುಪಲ್ಲವಿ
ಸಾಮ ಗಾನ ಲೋಲಾಯ ಸಾಧು ಜನಾದಿ ಪಾಲಾಯ
(ಮಧ್ಯಮ ಕಾಲ ಸಾಹಿತ್ಯಂ)
ಕೋಮಳ-ತರ ಗುರು ಗುಹ ನುತಾಯ
ಕೋಟಿ ಮಾರ ಲಾವಣ್ಯಾಯ
ಚರಣಂ
ದಶರಥ ರಾಜ ಕುಮಾರಾಯ
ದಂಡಕಾರಣ್ಯ ವಿಹಾರಾಯ
ಕೌಶಿಕ ಕೃತ ಮಖ ರಕ್ಷಕಾಯ
ಕನಕ ಮಣಿ ಮಾಲಾ ಧರಾಯ
(ಮಧ್ಯಮ ಕಾಲ ಸಾಹಿತ್ಯಂ)
ದಶ ಗ್ರೀವ ಪ್ರಾಣ ಹರಾಯ
ದಾಸ ವಿಭೀಷಣ ಪಾಲಕಾಯ
ಕುಶ ಲವ ಸೀತಾ ಸಮೇತಾಯ
ಕಪಿ ಬೃಂದಾದಿ ಮನೋಹರಾಯ
variations
ಪಾಲಾಯ – ವಂದಿತಾಯ
ನುತಾಯ – ಮುದಾಯ
ದಶರಥ ರಾಜ ಕುಮಾರಾಯ – ದಶರಥ ಕುಮಾರಾಯ
.
पल्लवि
राम चन्द्राय नमस्ते राजीव लोचनाय वराय
अनुपल्लवि
साम गान लोलाय साधु जनादि पालाय
(मध्यम काल साहित्यम्)
कोमळ-तर गुरु गुह नुताय
कोटि मार लावण्याय
चरणम्
दशरथ राज कुमाराय
दण्डकारण्य विहाराय
कौशिक कृत मख रक्षकाय
कनक मणि माला धराय
(मध्यम काल साहित्यम्)
दश ग्रीव प्राण हराय
दास विभीषण पालकाय
कुश लव सीता समेताय
कपि बृन्दादि मनोहराय
variations
पालाय – वन्दिताय
नुताय – मुदाय
दशरथ राज कुमाराय – दशरथ कुमाराय
.
pallavi
rAma candrAya namastE rAjIva lOcanAya varAya
anupallavi
sAma gAna lOlAya sAdhu janAdi pAlAya
(madhyama kAla sAhityam)
kOmaLa-tara guru guha nutAya
kOTi mAra lAvaNyAya
caraNam
daSaratha rAja kumArAya
daNDakAraNya vihArAya
kauSika kRta makha rakshakAya
kanaka maNi mAlA dharAya
(madhyama kAla sAhityam)
daSa grIva prANa harAya
dAsa vibhIshaNa pAlakAya
kuSa lava sItA samEtAya
kapi bRndAdi manOharAya
variations
pAlAya – vanditAya
nutAya – mudAya
daSaratha rAja kumArAya – daSaratha kumArAya
.
പല്ലവി
രാമ ചന്ദ്രായ നമസ്തേ രാജീവ ലോചനായ വരായ
അനുപല്ലവി
സാമ ഗാന ലോലായ സാധു ജനാദി പാലായ
(മധ്യമ കാല സാഹിത്യമ്)
കോമള-തര ഗുരു ഗുഹ നുതായ
കോടി മാര ലാവണ്യായ
ചരണമ്
ദശരഥ രാജ കുമാരായ
ദണ്ഡകാരണ്യ വിഹാരായ
കൌശിക കൃത മഖ രക്ഷകായ
കനക മണി മാലാ ധരായ
(മധ്യമ കാല സാഹിത്യമ്)
ദശ ഗ്രീവ പ്രാണ ഹരായ
ദാസ വിഭീഷണ പാലകായ
കുശ ലവ സീതാ സമേതായ
കപി ബൃന്ദാദി മനോഹരായ
variations
പാലായ – വന്ദിതായ
നുതായ – മുദായ
ദശരഥ രാജ കുമാരായ – ദശരഥ കുമാരായ
.
Pallavi
Prostrations to Shrirama, the lotus-eyed, the revered one.
Anupallavi
(Prostrations To Him) who adores the chanting of Sama-veda, who protects good people, who is praised by the most gentle Guruguha, who is as handsome as crores of cupids.
Charanam
(Prostrations To Him) who is the son of King Dasharatha, who dwelt in the Dandaka forest;who is the saviour of the sacrifice of Vishwamitra, who wears golden, gem-studded necklaces; Who took the life of the ten-headed Ravana, and protected the Vibhishana, His servant.who is flanked by Sita and sons Kusha and Lava, who captivated the hearts of the Vanara hordes
.