Composer: Muttukumaraswamy (मुत्तुकुमर स्वम्य) popularly known as Muthuswamy Dikshithar (முத்துஸ்வாமி தீக்ஷிதர் – ముత్తుస్వామీ డిక్షితర్), (March 24, 1775 – October 21, 1835) was born in Tiruvarur (of Thanjavur district of Tamil Nadu) to a Tamil Iyer Brahmin couple Ramaswami Dikshitar and Subbamma, as the eldest son. He also had two younger brothers Baluswami, Chinnaswami and a sister Balambal.Chidambaranatha Yogi was his guru. More…

Raagam: Yamunakalyan
Taalam: Adi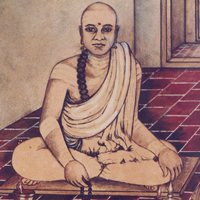 .
Recitals
Album: Unknown | Voice: B.V.Ramana, B.V.Lakshman

Awaiting Contributions.

We believe this kriti was originally composed in sanskrit. Other languages are for your convenience.
రామే భరత పాలిత – రాగం జ్యోతి – తాళం ఖండ చాపు
పల్లవి
రామే భరత పాలిత రాజ్యమర్పయామి
(మధ్యమ కాల సాహిత్యమ్)
రాజాధి-రాజ పూజిత చరణం నమామి
సమష్టి చరణమ్
అమరేశాది సకల దేవతా మోదనే
అంతరంగ గురు గుహానంద మృదు గదనే
(మధ్యమ కాల సాహిత్యమ్)
సమస్త ముని గణ సాధు జనాది వందనే
సానంద యుత సీతా మనోహర మదనే
.
ராமே பரத பாலித – ராகம் ஜ்யோதி – தாளம் கண்ட சாபு
பல்லவி
ராமே பரத பாலித ராஜ்யமர்பயாமி
(மத்யம கால ஸாஹித்யம்)
ராஜாதி-ராஜ பூஜித சரணம் நமாமி
ஸமஷ்டி சரணம்
அமரேஸாதி ஸகல தேவதா மோதனே
அந்தரங்க குரு குஹானந்த ம்ருது
க3தனே
(மத்யம கால ஸாஹித்யம்)
ஸமஸ்த முனி கண ஸாது ஜனாதி வந்தனே
ஸானந்த யுத ஸீதா மனோஹர மதனே
.
ರಾಮೇ ಭರತ ಪಾಲಿತ – ರಾಗಂ ಜ್ಯೋತಿ – ತಾಳಂ ಖಂಡ ಚಾಪು
ಪಲ್ಲವಿ
ರಾಮೇ ಭರತ ಪಾಲಿತ ರಾಜ್ಯಮರ್ಪಯಾಮಿ
(ಮಧ್ಯಮ ಕಾಲ ಸಾಹಿತ್ಯಮ್)
ರಾಜಾಧಿ-ರಾಜ ಪೂಜಿತ ಚರಣಂ ನಮಾಮಿ
ಸಮಷ್ಟಿ ಚರಣಮ್
ಅಮರೇಶಾದಿ ಸಕಲ ದೇವತಾ ಮೋದನೇ
ಅಂತರಂಗ ಗುರು ಗುಹಾನಂದ ಮೃದು ಗದನೇ
(ಮಧ್ಯಮ ಕಾಲ ಸಾಹಿತ್ಯಮ್)
ಸಮಸ್ತ ಮುನಿ ಗಣ ಸಾಧು ಜನಾದಿ ವಂದನೇ
ಸಾನಂದ ಯುತ ಸೀತಾ ಮನೋಹರ ಮದನೇ
.
रामे भरत पालित – रागं ज्योति – ताळं खण्ड चापु
पल्लवि
रामे भरत पालित राज्यमर्पयामि
(मध्यम काल साहित्यम्)
राजाधि-राज पूजित चरणं नमामि
समष्टि चरणम्
अमरेशादि सकल देवता मोदने
अन्तरङ्ग गुरु गुहानन्द मृदु गदने
(मध्यम काल साहित्यम्)
समस्त मुनि गण साधु जनादि वन्दने
सानन्द युत सीता मनोहर मदने
.
pallavi
rAmE bharata pAlita rAjyamarpayAmi
(madhyama kAla sAhityam)
rAjAdhi-rAja pUjita caraNaM namAmi
samashTi caraNam
amarESAdi sakala dEvatA mOdanE
antaranga guru guhAnanda mRdu gadanE
(madhyama kAla sAhityam)
samasta muni gaNa sAdhu janAdi vandanE
sAnanda yuta sItA manOhara madanE
.
രാമേ ഭരത പാലിത – രാഗം ജ്യോതി – താളം ഖണ്ഡ
ചാപു
പല്ലവി
രാമേ ഭരത പാലിത രാജ്യമര്പയാമി
(മധ്യമ കാല സാഹിത്യമ്)
രാജാധി-രാജ പൂജിത ചരണം നമാമി
സമഷ്ടി ചരണമ്
അമരേശാദി സകല ദേവതാ മോദനേ
അന്തരങ്ഗ ഗുരു ഗുഹാനന്ദ മൃദു ഗദനേ
(മധ്യമ കാല സാഹിത്യമ്)
സമസ്ത മുനി ഗണ സാധു ജനാദി വന്ദനേ
സാനന്ദ യുത സീതാ മനോഹര മദനേ
.
Pallavi :
I surrender unto Rama the kingdom of bhakti which Bharata had cherished.I bow to His feet that are worshipped by great emperors
Samashti Charanam:
He pleases Indra and all other Devas . His soft speech causes great joy to Guruguha who is His intimate friend. All the Rishis and good people salute him. He captivates the blissful Sita's heart with His beauty.
.