Composer: Sri Tallapaka Annamacharya (Annamayya అన్నమయ్య) , May 9, 1408 – February 23, 1503 was born to Narayana Suri and Lakkamamba in Tallapaka, a village in current day Kadapa district of Andhra Pradesh. More….
Keerthana No. 503
Copper Sheet No. 1886
Pallavi: Ramuditadu lokabhiramuditadu (రాముడీతడు లోకాభిరాముడీతడు)
Ragam: Ramakriya
Language: Telugu (తెలుగు)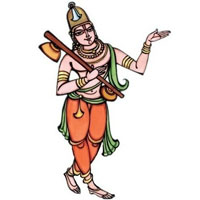 Recitals
Awaiting Contributions.
…
Awaiting Contributions.
[audio: audio-instrumental-file-name.mp3].
This Kriti was originally composed in Telugu. Other languages are for your convenience.
Pallavi
రాముడీతడు లోకాభిరాముడీతడు
కామించిన విభీషణు( గాచినవాడీతడు
Charanams
1.శ్రీదైవారినయట్టి సీతారాముడీతడు
కోదండ దీక్షా గురుడీతడు
మోదమున నబ్ధి యమ్ముమొనకు తెచ్చె నీతడు
పాదుకొని సుగ్రీవు పగ దీర్చె నీతడు
2.ఘోర రావణుని తలగుండు గండడీతడు
వీరాఢి వీరుడైన విష్ణుడీతడు
చేరి యయోధ్యాపతియై చెల్గినవాడీతడు
ఆరూఢి మునుల కభయమ్ము లిచ్చె నీతడు
3.తగ నందరి పాలిటి తారకబ్రహ్మమీతడు
నిగమములు నుతించే నిత్యుడీతడు
జగములో శ్రీవేంకటేశ్వరుడైనవాడీతడు
పగటున లోకమెల్లా పాలించె నీతడు
.
Pallavi
rAmuDItaDu lOkAbhirAmuDItaDu
kAmiMchina vibhIshaNu( gAchinavADItaDu
Charanams
1.SrIdaivArinayaTTi sItArAmuDItaDu
kOdaMDa dIkshA guruDItaDu
mOdamuna nabdhi yammumonaku techche nItaDu
pAdukoni sugrIvu paga dIrche nItaDu
2.ghOra rAvaNuni talaguMDu gaMDaDItaDu
vIrADhi vIruDaina vishNuDItaDu
chEri yayOdhyApatiyai chelginavADItaDu
ArUDhi munula kabhayammu lichche nItaDu
3.taga naMdari pAliTi tArakabrahmamItaDu
nigamamulu nutiMchE nityuDItaDu
jagamulO SrIvEMkaTESwaruDainavADItaDu
pagaTuna lOkamellA pAliMche nItaDu
.

We will update this page , once we find comprehensive meaning. Feel free to contribute if you know.
.