Composer: Sri Tallapaka Annamacharya (Annamayya అన్నమయ్య) , May 9, 1408 – February 23, 1503 was born to Narayana Suri and Lakkamamba in Tallapaka, a village in current day Kadapa district of Andhra Pradesh. More….
Keerthana No. 119
Copper Sheet No. 120
Pallavi: Rasikuda tirupati (రసికుడ తిరుపతి)
Ragam: Ramakriya
Language: Telugu (తెలుగు)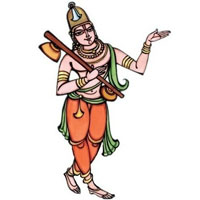 Recitals
Awaiting Contributions.
…
Awaiting Contributions.
[audio: audio-instrumental-file-name.mp3].
This Kriti was originally composed in Telugu. Other languages are for your convenience.
Pallavi
|| రసికుడ తిరుపతి రఘువీరా | కొసరుగాదు నాలోని కూరిములు గాని ||
Charanams
|| వెలయ నీ విరిచిన విల్లువంటిది గాదు | విలసిల్ల నాబొమ్మల విండ్లు గాని |
చెలగి తపసుచేసీ చిత్రకూటగిరి గాదు | గిలుకొట్టు నా కుచగిరులు గాని ||
|| మేటివైన నీవు వేసిన మొకము చూపు గాదు | సూటి దప్పని నా కనుచూపులు గాని |
గాటమై నీవు సేతువుగట్టిన జలధి గాదు | చాటున నా చెమటల జలధులు గాని ||
|| తగ నీవు గెలచిన దనుజ యుద్ధము గాదు | దగతోడి నా మదన యుద్ధము గాని |
నగు శ్రీ వేంకటేశ కనకసతి పొందు గాదు | పొగడే సీతనైన నా పొందులు గాని ||
.
Pallavi
|| rasikuDa tirupati raGuvIrA | kosarugAdu nAlOni kUrimulu gAni ||
Charanams
|| velaya nI viricina villuvaMTidi gAdu | vilasilla nAbommala viMDlu gAni |
celagi tapasucEsI citrakUTagiri gAdu | gilukoTTu nA kucagirulu gAni ||
|| mETivaina nIvu vEsina mokamu cUpu gAdu | sUTi dappani nA kanucUpulu gAni |
gATamai nIvu sEtuvugaTTina jaladhi gAdu | cATuna nA cemaTala jaladhulu gAni ||
|| taga nIvu gelacina danuja yuddhamu gAdu | dagatODi nA madana yuddhamu gAni |
nagu SrI vEMkaTESa kanakasati poMdu gAdu | pogaDE sItanaina nA poMdulu gAni ||
.

We will update this page , once we find comprehensive meaning. Feel free to contribute if you know.
.