Composer: Muttukumaraswamy (முத்துகுமாரச்வாமி) popularly known as Muthuswamy Dikshithar (முத்துஸ்வாமி தீக்ஷிதர் – ముత్తుస్వామీ డిక్షితర్), (March 24, 1775 – October 21, 1835) was born in Tiruvarur (of Thanjavur district of Tamil Nadu) to a Tamil Iyer Brahmin couple Ramaswami Dikshitar and Subbamma, as the eldest son. He also had two younger brothers Baluswami, Chinnaswami and a sister Balambal.Chidambaranatha Yogi was his guru. More…

Raagam: Chamaram
Taalam: Rupakam
Diety: Abhayamba navavarana Krithis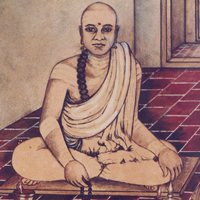 .
Recitals
Album: Unknown | Voice: Kalpakam Swaminathan
Album: Unknown | Voice: T.N.Bala
Album: Unknown | Voice: Nisha P. Rajagopal
Album: Unknown | Voice: Sudha Raghunathan

Awaiting Contributions.

We believe this kriti was originally composed in sanskrit. Other languages are for your convenience.
పల్లవి
సదాశ్రయే అభయాంబికే సన్నిధేహి
సదాశ్రయే త్వామంబికే భద్రం దేహి
అనుపల్లవి
చిదాశ్రయే చిదంబర చంద్రికే ఏహి
చిదాశ్రయే శివ మంచకే నత వారాహి
ముదాశ్రయే భుక్తి ముక్తి ప్రద మార్గం బ్రూహి
(మధ్యమ కాల సాహిత్యం)
ముదాశ్రయే మాయాధీనం దీనం మాం పాహి
చరణం
గౌరి మాయూర నాథ మోహన-కర శక్తే
శౌరీశ విధీంద్రాది సన్నుత పరా-శక్తే
నారీమణ్యాద్యర్చిత నాద బిందు యుక్తే
శారీరకాది విద్యా సిద్ధాంత యుక్తే
భేరీ మద్దళ వీణా వాదనానురక్తే
సూరి జనోపాసిత చరణ నళిన యుక్తే
వాణీ మా కర ధృత చామర సేవాసక్తే
దూరీ కృత దురిత వేద శాస్త్రాది ప్రసక్తే
(మధ్యమ కాల సాహిత్యం)
వారీశాది లోక పాల నుత గురు గుహ భక్తే
దారిద్ర్య దుఃఖ భంజన-కర శంకరావిభక్తే
శుక సనకాది దేవతా సేవితే పర దేవతే
వారిజ ముఖి వరదాభయ హస్తే నమో నమస్తే
variations
చామరం – షణ్ముఖ ప్రియా
నత వారాహి – నవ వారాహి
శౌరీశ – శౌరి
సూరి జనోపాసిత – సూరీ జనోపాసిత
దూరీ కృత – దలీ కృత
ప్రసక్తే – ప్రయుక్తే
.
பல்லவி
ஸதா3ஸ்1ரயே அப4யாம்பி3கே ஸன்னிதே4ஹி
ஸதா3ஸ்1ரயே த்வாமம்பி3கே ப4த்3ரம் தே3ஹி
அனுபல்லவி
சிதா3ஸ்1ரயே சித3ம்ப3ர சந்த்3ரிகே ஏஹி
சிதா3ஸ்1ரயே ஸி1வ மஞ்சகே நத வாராஹி
முதா3ஸ்1ரயே பு4க்தி முக்தி ப்ரத3 மார்க3ம் ப்3ரூஹி
(மத்4யம கால ஸாஹித்யம்)
முதா3ஸ்1ரயே மாயாதீ4னம் தீ3னம் மாம் பாஹி
சரணம்
கௌ3ரி மாயூர நாத2 மோஹன-கர ஸ1க்தே
ஸௌ1ரீஸ1 விதீ4ந்த்3ராதி3 ஸன்னுத பரா-ஸ1க்தே
நாரீமண்யாத்3யர்சித நாத3 பி3ந்து3 யுக்தே
ஸா1ரீரகாதி3 வித்3யா ஸித்3தா4ந்த யுக்தே
பே4ரீ மத்3த3ள வீணா வாத3னானுரக்தே
ஸூரி ஜனோபாஸித சரண நளின யுக்தே
வாணீ மா கர த்4ரு2த சாமர ஸேவாஸக்தே
தூ3ரீ க்ரு2த து3ரித வேத3 ஸா1ஸ்த்ராதி3 ப்ரஸக்தே
(மத்4யம கால ஸாஹித்யம்)
வாரீஸா1தி3 லோக பால நுத கு3ரு கு3ஹ ப4க்தே
தா3ரித்3ர்ய து3:க2 ப4ஞ்ஜன-கர ஸ1ங்கராவிப4க்தே
ஸு1க ஸனகாதி3 தே3வதா ஸேவிதே பர தே3வதே
வாரிஜ முகி2 வரதா3ப4ய ஹஸ்தே நமோ நமஸ்தே
variations
சாமரம் – ஷண்முக2 ப்ரியா
நத வாராஹி – நவ வாராஹி
ஸௌ1ரீஸ1 – ஸௌ1ரி
ஸூரி ஜனோபாஸித – ஸூரீ ஜனோபாஸித
தூ3ரீ க்ரு2த – த3லீ க்ரு2த
ப்ரஸக்தே – ப்ரயுக்தே
.
ಪಲ್ಲವಿ
ಸದಾಶ್ರಯೇ ಅಭಯಾಂಬಿಕೇ ಸನ್ನಿಧೇಹಿ
ಸದಾಶ್ರಯೇ ತ್ವಾಮಂಬಿಕೇ ಭದ್ರಂ ದೇಹಿ
ಅನುಪಲ್ಲವಿ
ಚಿದಾಶ್ರಯೇ ಚಿದಂಬರ ಚಂದ್ರಿಕೇ ಏಹಿ
ಚಿದಾಶ್ರಯೇ ಶಿವ ಮಂಚಕೇ ನತ ವಾರಾಹಿ
ಮುದಾಶ್ರಯೇ ಭುಕ್ತಿ ಮುಕ್ತಿ ಪ್ರದ ಮಾರ್ಗಂ ಬ್ರೂಹಿ
(ಮಧ್ಯಮ ಕಾಲ ಸಾಹಿತ್ಯಂ)
ಮುದಾಶ್ರಯೇ ಮಾಯಾಧೀನಂ ದೀನಂ ಮಾಂ ಪಾಹಿ
ಚರಣಂ
ಗೌರಿ ಮಾಯೂರ ನಾಥ ಮೋಹನ-ಕರ ಶಕ್ತೇ
ಶೌರೀಶ ವಿಧೀಂದ್ರಾದಿ ಸನ್ನುತ ಪರಾ-ಶಕ್ತೇ
ನಾರೀಮಣ್ಯಾದ್ಯರ್ಚಿತ ನಾದ ಬಿಂದು ಯುಕ್ತೇ
ಶಾರೀರಕಾದಿ ವಿದ್ಯಾ ಸಿದ್ಧಾಂತ ಯುಕ್ತೇ
ಭೇರೀ ಮದ್ದಳ ವೀಣಾ ವಾದನಾನುರಕ್ತೇ
ಸೂರಿ ಜನೋಪಾಸಿತ ಚರಣ ನಳಿನ ಯುಕ್ತೇ
ವಾಣೀ ಮಾ ಕರ ಧೃತ ಚಾಮರ ಸೇವಾಸಕ್ತೇ
ದೂರೀ ಕೃತ ದುರಿತ ವೇದ ಶಾಸ್ತ್ರಾದಿ ಪ್ರಸಕ್ತೇ
(ಮಧ್ಯಮ ಕಾಲ ಸಾಹಿತ್ಯಂ)
ವಾರೀಶಾದಿ ಲೋಕ ಪಾಲ ನುತ ಗುರು ಗುಹ ಭಕ್ತೇ
ದಾರಿದ್ರ್ಯ ದುಃಖ ಭಂಜನ-ಕರ ಶಂಕರಾವಿಭಕ್ತೇ
ಶುಕ ಸನಕಾದಿ ದೇವತಾ ಸೇವಿತೇ ಪರ ದೇವತೇ
ವಾರಿಜ ಮುಖಿ ವರದಾಭಯ ಹಸ್ತೇ ನಮೋ ನಮಸ್ತೇ
variations
ಚಾಮರಂ – ಷಣ್ಮುಖ ಪ್ರಿಯಾ
ನತ ವಾರಾಹಿ – ನವ ವಾರಾಹಿ
ಶೌರೀಶ – ಶೌರಿ
ಸೂರಿ ಜನೋಪಾಸಿತ – ಸೂರೀ ಜನೋಪಾಸಿತ
ದೂರೀ ಕೃತ – ದಲೀ ಕೃತ
ಪ್ರಸಕ್ತೇ – ಪ್ರಯುಕ್ತೇ
.
पल्लवि
सदाश्रये अभयाम्बिके सन्निधेहि
सदाश्रये त्वामम्बिके भद्रं देहि
अनुपल्लवि
चिदाश्रये चिदम्बर चन्द्रिके एहि
चिदाश्रये शिव मञ्चके नत वाराहि
मुदाश्रये भुक्ति मुक्ति प्रद मार्गं ब्रूहि
(मध्यम काल साहित्यम्)
मुदाश्रये मायाधीनं दीनं मां पाहि
चरणम्
गौरि मायूर नाथ मोहन-कर शक्ते
शौरीश विधीन्द्रादि सन्नुत परा-शक्ते
नारीमण्याद्यर्चित नाद बिन्दु युक्ते
शारीरकादि विद्या सिद्धान्त युक्ते
भेरी मद्दळ वीणा वादनानुरक्ते
सूरि जनोपासित चरण नळिन युक्ते
वाणी मा कर धृत चामर सेवासक्ते
दूरी कृत दुरित वेद शास्त्रादि प्रसक्ते
(मध्यम काल साहित्यम्)
वारीशादि लोक पाल नुत गुरु गुह भक्ते
दारिद्र्य दुःख भञ्जन-कर शङ्कराविभक्ते
शुक सनकादि देवता सेविते पर देवते
वारिज मुखि वरदाभय हस्ते नमो नमस्ते
variations
चामरम् – षण्मुख प्रिया
नत वाराहि – नव वाराहि
शौरीश – शौरि
सूरि जनोपासित – सूरी जनोपासित
दूरी कृत – दली कृत
प्रसक्ते – प्रयुक्ते
.
pallavi
sadASrayE abhayAmbikE sannidhEhi
sadASrayE tvAmambikE bhadraM dEhi
anupallavi
cidASrayE cidambara candrikE Ehi
cidASrayE Siva mancakE nata vArAhi
mudASrayE bhukti mukti prada mArgaM brUhi
(madhyama kAla sAhityam)
mudASrayE mAyAdhInaM dInaM mAM pAhi
caraNam
gauri mAyUra nAtha mOhana-kara SaktE
SaurISa vidhIndrAdi sannuta parA-SaktE
nArImaNyAdyarcita nAda bindu yuktE
SArIrakAdi vidyA siddhAnta yuktE
bhErI maddaLa vINA vAdanAnuraktE
sUri janOpAsita caraNa naLina yuktE
vANI mA kara dhRta cAmara sEvAsaktE
dUrI kRta durita vEda SAstrAdi prasaktE
(madhyama kAla sAhityam)
vArISAdi lOka pAla nuta guru guha bhaktE
dAridrya duHkha bhanjana-kara SankarAvibhaktE
Suka sanakAdi dEvatA sEvitE para dEvatE
vArija mukhi varadAbhaya hastE namO namastE
variations
cAmaram – shaNmukha priyA
nata vArAhi – nava vArAhi
SaurISa – Sauri
sUri janOpAsita – sUrI janOpAsita
dUrI kRta – dalI kRta
prasaktE – prayuktE
.
പല്ലവി
സദാശ്രയേ അഭയാമ്ബികേ സന്നിധേഹി
സദാശ്രയേ ത്വാമമ്ബികേ ഭദ്രം ദേഹി
അനുപല്ലവി
ചിദാശ്രയേ ചിദമ്ബര ചന്ദ്രികേ ഏഹി
ചിദാശ്രയേ ശിവ മഞ്ചകേ നത വാരാഹി
മുദാശ്രയേ ഭുക്തി മുക്തി പ്രദ മാര്ഗം ബ്രൂഹി
(മധ്യമ കാല സാഹിത്യമ്)
മുദാശ്രയേ മായാധീനം ദീനം മാം പാഹി
ചരണമ്
ഗൌരി മായൂര നാഥ മോഹന-കര ശക്തേ
ശൌരീശ വിധീന്ദ്രാദി സന്നുത പരാ-ശക്തേ
നാരീമണ്യാദ്യര്ചിത നാദ ബിന്ദു യുക്തേ
ശാരീരകാദി വിദ്യാ സിദ്ധാന്ത യുക്തേ
ഭേരീ മദ്ദള വീണാ വാദനാനുരക്തേ
സൂരി ജനോപാസിത ചരണ നളിന യുക്തേ
വാണീ മാ കര ധൃത ചാമര സേവാസക്തേ
ദൂരീ കൃത ദുരിത വേദ ശാസ്ത്രാദി പ്രസക്തേ
(മധ്യമ കാല സാഹിത്യമ്)
വാരീശാദി ലോക പാല നുത ഗുരു ഗുഹ ഭക്തേ
ദാരിദ്ര്യ ദുഃഖ ഭഞ്ജന-കര ശങ്കരാവിഭക്തേ
ശുക സനകാദി ദേവതാ സേവിതേ പര ദേവതേ
വാരിജ മുഖി വരദാഭയ ഹസ്തേ നമോ നമസ്തേ
variations
ചാമരമ് – ഷണ്മുഖ പ്രിയാ
നത വാരാഹി – നവ വാരാഹി
ശൌരീശ – ശൌരി
സൂരി ജനോപാസിത – സൂരീ ജനോപാസിത
ദൂരീ കൃത – ദലീ കൃത
പ്രസക്തേ – പ്രയുക്തേ
.
Pallavi
Abhayaambika I forever bow to you.You who are the destination of all the goodness.Appear before me and provide me with auspiciousness.
Anupallavi
You are the dwelling place of intelligence as Chit.You shine forth like the moon in the space of cit.Please come.You dwell in Chit or knowledge.You rest on the seat that is Shiva.You are worshipped by Vaarahi. You are the provider of bliss.Show me the path of liberation and enjoyment .I approach you with happiness. Save me,helpless and caught up in ignorance .
Charanam
Oh gowrI!! You are shakti, the one who delights the mind of mAyUranAtha.You are the parAshakti worshipped by vishnu,brahma and indra.You are worshipped by women and are in the primordial form of naada bindhu. You are the embodiment of divine knowledge and shAriraka specified in the scriptures, the end result of all siddhis. You love the music of instruments like bheri,vINa and maddala.Your lotus-like feet are worshipped by the devas. Saraswathi and lakshmi are doing the chaamara upachaara for you.You acquire fame as you removed the troubles of the vedas.you are worshipped by dikpaalakas like varuna.You have shankara for a companion who removes sorrows like daaridrya.You are worshipped by shuka ,sanaka and you are the one with the lotus face and you bear the abhaya and varadha mudras.I prostrate before you.I prostrate before you.
.