Composer: Sri Tallapaka Annamacharya (Annamayya అన్నమయ్య) , May 9, 1408 – February 23, 1503 was born to Narayana Suri and Lakkamamba in Tallapaka, a village in current day Kadapa district of Andhra Pradesh. More….
Keerthana No.209
Copper Sheet No. 835
Pallavi:Sagamu Manisi Rupu (సగము మానిసి రూపు )
Ragam: Nata
Language: Telugu (తెలుగు)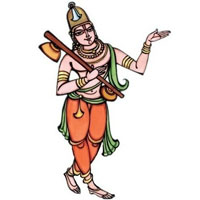 Recitals
Awaiting Contributions.
…
Awaiting Contributions.
[audio: audio-instrumental-file-name.mp3].
This Kriti was originally composed in Telugu. Other languages are for your convenience.
Pallavi
సగము మానిసి రూపు సగము మెగము రూపు
అగణిత ప్రతాపుడు అహోబలేశుడు
Charanams
గద్దెమీద గూచున్నాడు కంబములో బుట్టినాడు
కొద్దిమీర గడునవ్వుకొంటా నున్నాడు
వొద్దనె శ్రీసతిచన్నులొరయచు నున్నవాడు
అద్దివో చూడరమ్మ అహోబలేశుడు
పెనుమీసాలవాడు పెదపెదగోళ్ళవాడు
ఘనునిగా ప్రహ్లాదుని గాచుకున్నాడు
మనసిచ్చిన సురలతో మాటలాడుచున్నవాడు
అనుపమతేజుడమ్మ అహోబలేశుడు
వేవేలు చేతులవాడు వెన్నెలచాయలవాడు
భావించి కొల్చినవారి పాలిటివాడు
శ్రీవేంకటగిరిమీద జేరి భవనాశిదండ-
నావల నీవల మించె నహోబలేశుడు
.
Pallavi
sagamu mAnisi rUpu sagamu megamu rUpu
agaNita pratApuDu ahObalESuDu
Charanams
gaddemIda gUchunnADu kaMbamulO buTTinADu
koddimIra gaDunavvukoMTA nunnADu
voddane SrIsatichannulorayuchu nunnavADu
addivO chUDaramma ahObalESuDu
penumIsAlavADu pedapedagOLLavADu
ghanunigA prahlAduni gAchukunnADu
manasichchina suralatO mATalADuchunnavADu
anupamatEjuDamma ahObalESuDu
vEvElu chEtulavADu vennelachAyalavADu
bhAviMchi kolchinavAri pAliTivADu
SrIvEMkaTagirimIda jEri bhavanASidaMDa-
nAvala nIvala miMche nahObalESuDu
.

We will update this page , once we find comprehensive meaning. Feel free to contribute if you know.
.