Composer: Sri Tallapaka Annamacharya (Annamayya అన్నమయ్య) , May 9, 1408 – February 23, 1503 was born to Narayana Suri and Lakkamamba in Tallapaka, a village in current day Kadapa district of Andhra Pradesh. More….
Keerthana No.10
Copper Sheet No. 2
Pallavi:Sahaja Vaishnavaachaara (సహజ వైష్ణవాచార)
Ragam: Samantham
Language: Telugu (తెలుగు)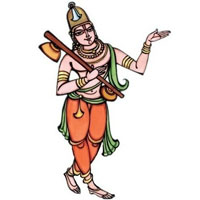 Recitals
Awaiting Contributions.
…
Awaiting Contributions.
[audio: audio-instrumental-file-name.mp3].
This Kriti was originally composed in Telugu. Other languages are for your convenience.
Pallavi
సహజ వైష్ణవాచారవర్తనుల
సహవాసమే మాసంధ్య
Charanams
అతిశయముగ శ్రీహరి సంకీర్తన
సతతంబును మాసంధ్య
మతి రామానుజమతమే మాకును
చతురత మెరసిన సంధ్య
పరమభాగవత పదసేవనయే
సరవి నెన్న మాసంధ్య
సిరివరు మహిమలు చెలువొందగ
వేసరక వినుటె మాసంధ్య
మంతుకెక్క తిరుమంత్ర పఠనమే
సంతతమును మాసంధ్య
కంతుగురుడు వేంకటగిరిరాయని
సంతర్పణమే మాసంధ్య
.
Pallavi
sahaja vaishNavaachaaravartanula
sahavaasamae maasaMdhya
Charanams
atiSayamuga Sreehari saMkeertana
satataMbunu maasaMdhya
mati raamaanujamatamae maakunu
chaturata merasina saMdhya
paramabhaagavata padasaevanayae
saravi nenna maasaMdhya
sirivaru mahimalu cheluvoMdaga
vaesaraka vinuTe maasaMdhya
maMtukekka tirumaMtra paThanamae
saMtatamunu maasaMdhya
kaMtuguruDu vaeMkaTagiriraayani
saMtarpaNamae maasaMdhya
.

We will update this page , once we find comprehensive meaning. Feel free to contribute if you know.
.