Composer: Muttukumaraswamy (முத்துகுமாரச்வாமி) popularly known as Muthuswamy Dikshithar (முத்துஸ்வாமி தீக்ஷிதர் – ముత్తుస్వామీ డిక్షితర్), (March 24, 1775 – October 21, 1835) was born in Tiruvarur (of Thanjavur district of Tamil Nadu) to a Tamil Iyer Brahmin couple Ramaswami Dikshitar and Subbamma, as the eldest son. He also had two younger brothers Baluswami, Chinnaswami and a sister Balambal.Chidambaranatha Yogi was his guru. More…
Raagam: Khamas
Taalam: Rupakam
Diety: Sri Krishna Krithis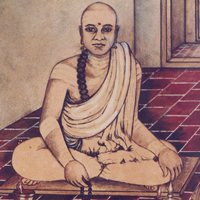 .
Recitals
Album: Unknown | Voice: D.K.Pattammal
Album: Unknown | Voice: Vasundara Rajagopal

Awaiting Contributions.

We believe this kriti was originally composed in sanskrit. Other languages are for your convenience.
పల్లవి
సంతాన గోపాల కృష్ణం ఉపాస్మహే శ్రీ
అనుపల్లవి
సంతాన సౌభాగ్య వితరణ నిపుణ-తరం
(మధ్యమ కాల సాహిత్యం)
సంతతం సద్గురు గుహ సన్నుతం సారస కరం
చరణం
శ్రీ రుక్మిణీ సత్య భామా సమేతం
అర్జున ప్రేమాస్పదం ఆశ్రిత జన ఫలదం
(మధ్యమ కాల సాహిత్యం)
నర్తన మురళీ ధరం నత శుక సనక నారదం
నీరజాసనాది నుతం నీల మేఘ జిత గాత్రం
.
பல்லவி
ஸந்தான கோ3பால க்ரு2ஷ்ணம் உபாஸ்மஹே ஸ்ரீ
அனுபல்லவி
ஸந்தான ஸௌபா4க்3ய விதரண நிபுண-தரம்
(மத்4யம கால ஸாஹித்யம்)
ஸந்ததம் ஸத்3-கு3ரு கு3ஹ ஸன்னுதம் ஸாரஸ கரம்
சரணம்
ஸ்ரீ ருக்மிணீ ஸத்ய பா4மா ஸமேதம்
அர்ஜுன ப்ரேமாஸ்பத3ம் ஆஸ்1ரித ஜன ப2லத3ம்
(மத்4யம கால ஸாஹித்யம்)
நர்தன முரளீ த4ரம் நத ஸு1க ஸனக நாரத3ம்
நீரஜாஸனாதி3 நுதம் நீல மேக4 ஜித கா3த்ரம்
.
ಪಲ್ಲವಿ
ಸಂತಾನ ಗೋಪಾಲ ಕೃಷ್ಣಂ ಉಪಾಸ್ಮಹೇ ಶ್ರೀ
ಅನುಪಲ್ಲವಿ
ಸಂತಾನ ಸೌಭಾಗ್ಯ ವಿತರಣ ನಿಪುಣ-ತರಂ
(ಮಧ್ಯಮ ಕಾಲ ಸಾಹಿತ್ಯಂ)
ಸಂತತಂ ಸದ್ಗುರು ಗುಹ ಸನ್ನುತಂ ಸಾರಸ ಕರಂ
ಚರಣಂ
ಶ್ರೀ ರುಕ್ಮಿಣೀ ಸತ್ಯ ಭಾಮಾ ಸಮೇತಂ
ಅರ್ಜುನ ಪ್ರೇಮಾಸ್ಪದಂ ಆಶ್ರಿತ ಜನ ಫಲದಂ
(ಮಧ್ಯಮ ಕಾಲ ಸಾಹಿತ್ಯಂ)
ನರ್ತನ ಮುರಳೀ ಧರಂ ನತ ಶುಕ ಸನಕ ನಾರದಂ
ನೀರಜಾಸನಾದಿ ನುತಂ ನೀಲ ಮೇಘ ಜಿತ ಗಾತ್ರಂ
.
पल्लवि
सन्तान गोपाल कृष्णं उपास्महे श्री
अनुपल्लवि
सन्तान सौभाग्य वितरण निपुण-तरं
(मध्यम काल साहित्यम्)
सन्ततं सद्गुरु गुह सन्नुतं सारस करम्
चरणम्
श्री रुक्मिणी सत्य भामा समेतं
अर्जुन प्रेमास्पदं आश्रित जन फलदम्
(मध्यम काल साहित्यम्)
नर्तन मुरळी धरं नत शुक सनक नारदं
नीरजासनादि नुतं नील मेघ जित गात्रम्
.
pallavi
santAna gOpAla kRshNaM upAsmahE SrI
anupallavi
santAna saubhAgya vitaraNa nipuNa-taraM
(madhyama kAla sAhityam)
santataM sadguru guha sannutaM sArasa karam
caraNam
SrI rukmiNI satya bhAmA samEtaM
arjuna prEmAspadaM ASrita jana phaladam
(madhyama kAla sAhityam)
nartana muraLI dharaM nata Suka sanaka nAradaM
nIrajAsanAdi nutaM nIla mEgha jita gAtram
.
പല്ലവി
സന്താന ഗോപാല കൃഷ്ണം ഉപാസ്മഹേ ശ്രീ
അനുപല്ലവി
സന്താന സൌഭാഗ്യ വിതരണ നിപുണ-തരം
(മധ്യമ കാല സാഹിത്യമ്)
സന്തതം സദ്ഗുരു ഗുഹ സന്നുതം സാരസ കരമ്
ചരണമ്
ശ്രീ രുക്മിണീ സത്യ ഭാമാ സമേതം
അര്ജുന പ്രേമാസ്പദം ആശ്രിത ജന ഫലദമ്
(മധ്യമ കാല സാഹിത്യമ്)
നര്തന മുരളീ ധരം നത ശുക സനക നാരദം
നീരജാസനാദി നുതം നീല മേഘ ജിത ഗാത്രമ്
.
Pallavi
I worship Santana Gopala krishna; the granter of progeny
Anupallavi
the one skilled in bestowing wealth and health; the one always praised by guruguha; the one with lotus like hands
Charanam
the consort of Rukmini and Sathya bhama; the one dear to Arjuna; the one who grants desires of devotees; the dancing one playing the flute; the one worshipped by shuka, sanaka & narada; the one adored by Brahma – who is seated on a lotus; the one who surpasses the rain cloud in beauty
.