Composer: Muttukumaraswamy (முத்துகுமாரச்வாமி) popularly known as Muthuswamy Dikshithar (முத்துஸ்வாமி தீக்ஷிதர் – ముత్తుస్వామీ డిక్షితర్), (March 24, 1775 – October 21, 1835) was born in Tiruvarur (of Thanjavur district of Tamil Nadu) to a Tamil Iyer Brahmin couple Ramaswami Dikshitar and Subbamma, as the eldest son. He also had two younger brothers Baluswami, Chinnaswami and a sister Balambal.Chidambaranatha Yogi was his guru. More…
Raagam: Chaya Gaula
Taalam: Misra Caapu
Diety: Saraswati Devi krithis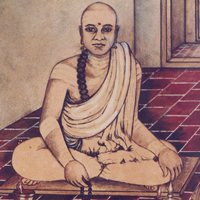 .
Recitals
Album: Unknown | Voice: B.V.Ramana, B.V.Lakshman

Awaiting Contributions.

We believe this kriti was originally composed in sanskrit. Other languages are for your convenience.
పల్లవి
సరస్వత్యా భగవత్యా సంరక్షితోऽహం
ఛాయా గౌర-తరయా వరయా శ్రీ
అనుపల్లవి
విరించి ప్రాణ నాయికయా వీణా వాదనోత్సుకయా
సరస సంగీత సాహిత్య స్తన ద్వయయా పరాద్వయయా
చరణము
చతుఃషష్టి కలాత్మికయా సమస్త వర్ణాత్మికయా
శ్రిత జన పాలకయా సేవక భూపాలకయా
శ్రుతి ప్రతిపాదితయా శుభ్ర వస్త్రావృతయా
నతేంద్రాద్యఖిల దేవతయానంద గురు గుహ సు-సేవితయా
(మధ్యమ కాల సాహిత్యం)
రతి రమా గిరిజార్చితయా రత్నాభరణాలంకృతయా
మతి మజ్జిహ్వాగ్ర స్థితయా మంగళ ప్రదయా సదయయా
variations
మిశ్ర చాపు – త్రిపుట
శుభ్ర – శుభ
.
பல்லவி
ஸரஸ்வத்யா ப4க3வத்யா ஸம்ரக்ஷிதோऽஹம்
சா2யா கௌ3ர-தரயா வரயா ஸ்ரீ
அனுபல்லவி
விரிஞ்சி ப்ராண நாயிகயா வீணா வாத3னோத்ஸுகயா
ஸரஸ ஸங்கீ3த ஸாஹித்ய ஸ்தன த்3வயயா பராத்3வயயா
சரணம்
சது:ஷஷ்டி கலாத்மிகயா ஸமஸ்த வர்ணாத்மிகயா
ஸ்1ரித ஜன பாலகயா ஸேவக பூ4பாலகயா
ஸ்1ருதி ப்ரதிபாதி3தயா ஸு1ப்4ர வஸ்த்ராவ்ரு2தயா
நதேந்த்3ராத்3யகி2ல தே3வதயானந்த3 கு3ரு கு3ஹ ஸு-ஸேவிதயா
(மத்4யம கால ஸாஹித்யம்)
ரதி ரமா கி3ரிஜார்சிதயா ரத்னாப4ரணாலங்க்ரு2தயா
மதி மஜ்ஜிஹ்வாக்3ர ஸ்தி2தயா மங்க3ள ப்ரத3யா ஸத3யயா
variations
மிஸ்1ர சாபு – த்ரிபுட
ஸு1ப்4ர – ஸு1ப4
.
ಪಲ್ಲವಿ
ಸರಸ್ವತ್ಯಾ ಭಗವತ್ಯಾ ಸಂರಕ್ಷಿತೋऽಹಂ
ಛಾಯಾ ಗೌರ-ತರಯಾ ವರಯಾ ಶ್ರೀ
ಅನುಪಲ್ಲವಿ
ವಿರಿಂಚಿ ಪ್ರಾಣ ನಾಯಿಕಯಾ ವೀಣಾ ವಾದನೋತ್ಸುಕಯಾ
ಸರಸ ಸಂಗೀತ ಸಾಹಿತ್ಯ ಸ್ತನ ದ್ವಯಯಾ ಪರಾದ್ವಯಯಾ
ಚರಣಂ
ಚತುಃಷಷ್ಟಿ ಕಲಾತ್ಮಿಕಯಾ ಸಮಸ್ತ ವರ್ಣಾತ್ಮಿಕಯಾ
ಶ್ರಿತ ಜನ ಪಾಲಕಯಾ ಸೇವಕ ಭೂಪಾಲಕಯಾ
ಶ್ರುತಿ ಪ್ರತಿಪಾದಿತಯಾ ಶುಭ್ರ ವಸ್ತ್ರಾವೃತಯಾ
ನತೇಂದ್ರಾದ್ಯಖಿಲ ದೇವತಯಾನಂದ ಗುರು ಗುಹ ಸು-ಸೇವಿತಯಾ
(ಮಧ್ಯಮ ಕಾಲ ಸಾಹಿತ್ಯಂ)
ರತಿ ರಮಾ ಗಿರಿಜಾರ್ಚಿತಯಾ ರತ್ನಾಭರಣಾಲಂಕೃತಯಾ
ಮತಿ ಮಜ್ಜಿಹ್ವಾಗ್ರ ಸ್ಥಿತಯಾ ಮಂಗಳ ಪ್ರದಯಾ ಸದಯಯಾ
variations
ಮಿಶ್ರ ಚಾಪು – ತ್ರಿಪುಟ
ಶುಭ್ರ – ಶುಭ
.
पल्लवि
सरस्वत्या भगवत्या संरक्षितोऽहं
छाया गौर-तरया वरया श्री
अनुपल्लवि
विरिञ्चि प्राण नायिकया वीणा वादनोत्सुकया
सरस सङ्गीत साहित्य स्तन द्वयया पराद्वयया
चरणम्
चतुःषष्टि कलात्मिकया समस्त वर्णात्मिकया
श्रित जन पालकया सेवक भूपालकया
श्रुति प्रतिपादितया शुभ्र वस्त्रावृतया
नतेन्द्राद्यखिल देवतयानन्द गुरु गुह सु-सेवितया
(मध्यम काल साहित्यम्)
रति रमा गिरिजार्चितया रत्नाभरणालंकृतया
मति मज्जिह्वाग्र स्थितया मङ्गळ प्रदया सदयया
variations
मिश्र चापु – त्रिपुट
शुभ्र – शुभ
.
pallavi
sarasvatyA bhagavatyA saMrakshitO(a)haM
chAyA gaura-tarayA varayA SrI
anupallavi
virinci prANa nAyikayA vINA vAdanOtsukayA
sarasa sangIta sAhitya stana dvayayA parAdvayayA
caraNam
catuHshashTi kalAtmikayA samasta varNAtmikayA
Srita jana pAlakayA sEvaka bhUpAlakayA
Sruti pratipAditayA Subhra vastrAvRtayA
natEndrAdyakhila dEvatayAnanda guru guha su-sEvitayA
(madhyama kAla sAhityam)
rati ramA girijArcitayA ratnAbharaNAlaMkRtayA
mati majjihvAgra sthitayA mangaLa pradayA sadayayA
variations
miSra cApu – tripuTa
Subhra – Subha
.
പല്ലവി
സരസ്വത്യാ ഭഗവത്യാ സംരക്ഷിതോऽഹം
ഛായാ ഗൌര-തരയാ വരയാ ശ്രീ
അനുപല്ലവി
വിരിഞ്ചി പ്രാണ നായികയാ വീണാ വാദനോത്സുകയാ
സരസ സങ്ഗീത സാഹിത്യ സ്തന ദ്വയയാ പരാദ്വയയാ
ചരണമ്
ചതുഃഷഷ്ടി കലാത്മികയാ സമസ്ത വര്ണാത്മികയാ
ശ്രിത ജന പാലകയാ സേവക ഭൂപാലകയാ
ശ്രുതി പ്രതിപാദിതയാ ശുഭ്ര വസ്ത്രാവൃതയാ
നതേന്ദ്രാദ്യഖില ദേവതയാനന്ദ ഗുരു ഗുഹ സു-സേവിതയാ
(മധ്യമ കാല സാഹിത്യമ്)
രതി രമാ ഗിരിജാര്ചിതയാ രത്നാഭരണാലങ്കൃതയാ
മതി മജ്ജിഹ്വാഗ്ര സ്ഥിതയാ മങ്ഗള പ്രദയാ സദയയാ
variations
മിശ്ര ചാപു – ത്രിപുട
ശുഭ്ര – ശുഭ
.
Pallavi
Protect me sarasvati ! chayatarangini.! The form of all arts; the dispeller of all difficulties; The captivator of Brahma; the blemishless one .
Charanam
the lotus faced one worshipped by Indra and others, The one adored by the intelligent and the one who gives bliss to the noble minds; the one who has the excellent quality of bestowing knowledge to Vishnu and Shiva – rider of the bull; Ganesha – the elephant faced and guruguha
.