Composer: Sri Tallapaka Annamacharya (Annamayya అన్నమయ్య) , May 9, 1408 – February 23, 1503 was born to Narayana Suri and Lakkamamba in Tallapaka, a village in current day Kadapa district of Andhra Pradesh. More….
Keerthana No.249
Copper Sheet No.842
Pallavi:Sare Ninnalamelmamga (సారె నిన్నలమేల్మంగ)
Ragam: Bouli
Language: Telugu (తెలుగు)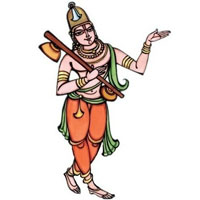 Recitals
Awaiting Contributions.
…
Awaiting Contributions.
[audio: audio-instrumental-file-name.mp3].
This Kriti was originally composed in Telugu. Other languages are for your convenience.
Pallavi
|| సారె నిన్నలమేల్మంగ జవ్వనమునను | చేరి యవధరింతు విచ్చేవయ్య జాజర ||
Charanams
|| వసంతకాలము వచ్చె వనితమోవి ఇగిర్చె | కొనరె యెలుగులను కోవిలగూసె |
ముసరీ జూపుల తేంట్లు మోతుగై వలపు పూచె | రసికత నాడుదువు రావయ్య జాజర ||
|| పున్నమ వెన్నెలగాసె కన్నుగలువలు విచ్చె | పిన్నలై జెమటలను జాలువారె బన్నీరు ||
సన్నపు జెమటలను జలువారె బన్నీరు | చెన్నుమీర నాడుదు విచ్చేయవయ్య జాజర ||
|| మరుడు విల్లందుకొనె మచ్చికలు గూడజేసె | పొరిపొరి సిగ్గులచే పుప్పొడిరాలె |
ఇరవై శ్రీవేంకటేశ యీకె నిట్టె గూడుతివి | సరుగ మీమీద మీరె చల్లరయ్య జాజర ||
.
Pallavi
|| sAre ninnalamElmaMga javvanamunanu | cEri yavadhariMtu viccEvayya jAjara ||
Charanams
|| vasaMtakAlamu vacce vanitamOvi igirce | konare yelugulanu kOvilagUse |
musarI jUpula tEMTlu mOtugai valapu pUce | rasikata nADuduvu rAvayya jAjara ||
|| punnama vennelagAse kannugaluvalu vicce | pinnalai jemaTalanu jAluvAre bannIru ||
sannapu jemaTalanu jaluvAre bannIru | cennumIra nADudu viccEyavayya jAjara ||
|| maruDu villaMdukone maccikalu gUDajEse | poripori siggulacE puppoDirAle |
iravai SrIvEMkaTESa yIke niTTe gUDutivi | saruga mImIda mIre callarayya jAjara ||
.

We will update this page , once we find comprehensive meaning. Feel free to contribute if you know.
.