Composer: Sri Tallapaka Annamacharya (Annamayya అన్నమయ్య) , May 9, 1408 – February 23, 1503 was born to Narayana Suri and Lakkamamba in Tallapaka, a village in current day Kadapa district of Andhra Pradesh. More….
Keerthana No.510
Copper Sheet No.1085
Pallavi:Sareku Nanapettaku (సారెకు నానపెట్టకు)
Ragam: Salanga nata
Language: Telugu (తెలుగు)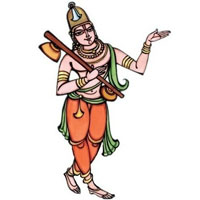 Recitals
Awaiting Contributions.
…
Awaiting Contributions.
[audio: audio-instrumental-file-name.mp3].
This Kriti was originally composed in Telugu. Other languages are for your convenience.
Pallavi
|| సారెకు నానపెట్టకు సంగతిగాదు
మారుమాట నేనేర మర్మమింతేగాని ||
Charanams
|| చిత్తమెట్టున్నదో నీకు సిగ్గువడుందాన నేను
అత్తి నీవూనాపె గూడినది చూచితి
యిత్తల మగవాడవు యేమైనా ఆమరు నీకు
రుత్తనవ్వే వచ్చీ నాకు రోసమేమీ లేదు ||
.
Pallavi
|| sAreku nAnapeTTaku saMgatigAdu
mArumATa nEnEra marmamiMtEgAni ||
Charanams
|| chittameTTunnadO nIku sigguvaDuMdAna nEnu
atti nIvUnApe gUDinadi chUchiti
yittala magavADavu yEmainA Amaru nIku
ruttanavvE vachchI nAku rOsamEmI lEdu ||
.

We will update this page , once we find comprehensive meaning. Feel free to contribute if you know.
.