Composer: Sri Tallapaka Annamacharya (Annamayya అన్నమయ్య) , May 9, 1408 – February 23, 1503 was born to Narayana Suri and Lakkamamba in Tallapaka, a village in current day Kadapa district of Andhra Pradesh. More….
Keerthana No.168
Copper Sheet No. 30
Pallavi:Saresare vinnavimca (సారెసారె విన్నవించఁ)
Ragam: Saamamtam
Language: Telugu (తెలుగు)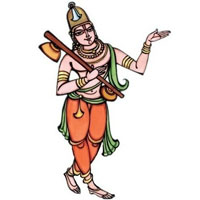 Recitals
Awaiting Contributions.
…
This Kriti was originally composed in Telugu. Other languages are for your convenience.
పల్లవి
సారెసారె విన్నవించఁ జాలమిఁక నీవు
దారిదప్పఁ దిరిగేవు తగవా వోరి
చరణములు
1.చెప్పరాదు కడు వలచిన వానివలె నా-
కొప్పలోని సవరము కొంటఁబోయి
అప్పుడే వొక్కతికిచ్చితట వోరి నా-
తప్పగాని నీవల్లఁ దప్పలేదు వోరి
2.కడలేని మోహంబు గలవానివలె నా-
కడితాను చీర నీవు కాసెవోసి
వడిగా నేఁగెదవు యవ్వతికియ్యవలెనో నన్ను
వడిఁబెట్టి యింత నేయవలెనా వోరి
3.ముద్దుల నా వేలనున్న ముద్దుటుంగరము నీవు
వుద్దండానఁ గొంటఁబోతి వోరి
తిద్దలేము నీగుణాలు తిరువేంకటేశ నీవు
వొద్దికతో నన్నుఁబాయకుండరా వోరి
.
Pallavi
sAresAre vinnavimca@m jAlami@mka nIvu
dAridappa@m dirigEvu tagavA vOri
Charanams
1.cepparAdu kaDu valacina vAnivale nA-
koppalOni savaramu komTa@mbOyi
appuDE vokkatikiccitaTa vOri nA-
tappagAni nIvalla@m dappalEdu vOri
2.kaDalEni mOhambu galavAnivale nA-
kaDitAnu cIra nIvu kAsevOsi
vaDigA nE@mgedavu yavvatikiyyavalenO nannu
vaDi@mbeTTi yimta nEyavalenA vOri
3.muddula nA vElanunna mudduTumgaramu nIvu
vuddamDAna@m gomTa@mbOti vOri
tiddalEmu nIguNAlu tiruvEmkaTESa nIvu
voddikatO nannu@mbAyakumDarA vOri
.

We will update this page , once we find comprehensive meaning. Feel free to contribute if you know.
.