Composer: Sri Tallapaka Annamacharya (Annamayya అన్నమయ్య) , May 9, 1408 – February 23, 1503 was born to Narayana Suri and Lakkamamba in Tallapaka, a village in current day Kadapa district of Andhra Pradesh. More….
Keerthana No. 353
Copper Sheet No. pt 1170
Pallavi: Sesa Pettavayya (సేస పెట్టవయ్యా )
Ragam: Bouli
Language: Telugu (తెలుగు)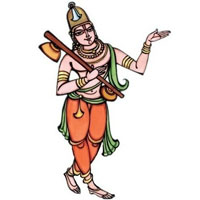 Recitals
Awaiting Contributions.
…
Awaiting Contributions.
[audio: audio-instrumental-file-name.mp3].
This Kriti was originally composed in Telugu. Other languages are for your convenience.
Pallavi
|| సేస పెట్టవయ్యా యిట్టి చెలిమీదను | ఆసలమీకిద్దరికి నన్నిటా నమరును ||
Charanams
|| గ్రక్కన జెట్టవట్టితే కంకణము వంటిదాపె | దక్కి వురమెక్కితేను తాళి వంటిది |
మొక్కలాన దొడ దొక్కితే మొలనూలు వంటిది | అక్కజమై నీకు నాపె నన్నిటా నమరును ||
|| చేరి విన్నవించితే చెవి పోగుల వంటిది | నీరతికి వద్దనుంటే నీడవంటిది |
కోరి పానుపుపై పెండ్లి కూతురు వంటిదేపొద్దు | ఆరీతి ఆపెకు నీకు నన్నిటా నమరును ||
|| పాదాల సేవ సేసితే పావకోళ్ళ వంటిది | సోదించి చూచితేను సొమ్ము వంటిది |
యీదెస శ్రీవేంకటేశ యింతి నీవు గూడితివి | ఆదిగొని నీకు నాపె కన్నిటా నమరును ||
.
Pallavi
|| sEsa peTTavayyA yiTTi celimIdanu | AsalamIkiddariki nanniTA namarunu ||
Charanams
|| grakkana jeTTavaTTitE kaMkaNamu vaMTidApe | dakki vuramekkitEnu tALi vaMTidi |
mokkalAna doDa dokkitE molanUlu vaMTidi | akkajamai nIku nApe nanniTA namarunu ||
|| cEri vinnaviMcitE cevi pOgula vaMTidi | nIratiki vaddanuMTE nIDavaMTidi |
kOri pAnupupai peMDli kUturu vaMTidEpoddu | ArIti Apeku nIku nanniTA namarunu ||
|| pAdAla sEva sEsitE pAvakOLLa vaMTidi | sOdiMci cUcitEnu sommu vaMTidi |
yIdesa SrIvEMkaTESa yiMti nIvu gUDitivi | Adigoni nIku nApe kanniTA namarunu ||
.

We will update this page , once we find comprehensive meaning. Feel free to contribute if you know.
.