Composer: Muttukumaraswamy (मुत्तुकुमर स्वम्य) popularly known as Muthuswamy Dikshithar (முத்துஸ்வாமி தீக்ஷிதர் – ముత్తుస్వామీ డిక్షితర్), (March 24, 1775 – October 21, 1835) was born in Tiruvarur (of Thanjavur district of Tamil Nadu) to a Tamil Iyer Brahmin couple Ramaswami Dikshitar and Subbamma, as the eldest son. He also had two younger brothers Baluswami, Chinnaswami and a sister Balambal.Chidambaranatha Yogi was his guru. More…

Raagam: Camaram
Taalam: Rupakam
Diety: Vinayaka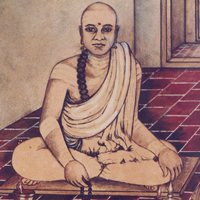 .
Recitals
Album: Unknown | Voice: M.D.Ramanathan
Album: Unknown | Voice: Satur Subramanyam
Album: Unknown | Voice: Dr.Semmangudi, R.Srinivasa Iyer

Awaiting Contributions.

We believe this kriti was originally composed in sanskrit. Other languages are for your convenience.
సిద్ధి వినాయకమ్ – రాగం చామరమ్ – తాళం రూపకమ్
పల్లవి
సిద్ధి వినాయకం అనిశం చింతయామ్యహం
ప్రసిద్ధ గణ నాయకం
విశిష్టార్థ దాయకం వరమ్
అనుపల్లవి
సిద్ధ యక్ష కిన్నరాది సేవితం
అఖిల జగత్ప్రసిద్ధం
మూల పంకజ మధ్యస్థం మోదక హస్తమ్
చరణమ్
భాద్ర పద మాస చతుర్థ్యాం –
బ్రాహ్మణాది పూజితం
పాశాంకుశ ధరం
ఛత్ర చామర పరివీజితమ్
రౌద్ర భావ రహితం
దాస జన హృదయ విరాజితం
రౌహిణేయానుజార్చితం ఈహనా వర్జితమ్
(మధ్యమ కాల సాహిత్యమ్)
అద్రి రాజ సుతాత్మజం
అనంత గురు గుహాగ్రజం
భద్ర ప్రద పదాంబుజం
భాసమాన చతుర్భుజమ్
variations:
చరణమ్ – విరాజితం – విభావితం
.
ஸித்தி வினாயகம் – ராகம் சாமரம் – தாளம் ரூபகம்
பல்லவி
ஸித்தி வினாயகம் அனிஸம் சிந்தயாம்யஹம்
ப்ரஸித்த கண நாயகம்
விஸிஷ்டார்த தாயகம் வரம்
அனுபல்லவி
ஸித்த யக்ஷ கின்னராதி ஸேவிதம்
அகில ஜக3த்ப்ரஸித்தம்
மூல பங்கஜ மத்யஸ்தம் மோதக ஹஸ்தம்
சரணம்
பாத்ர பத மாஸ சதுர்த்யாம் –
ப்ராஹ்மணாதி பூஜிதம்
பாஸாங்குஸ தரம்
சத்ர சாமர பரிவீஜிதம்
ரௌத்ர பாவ ரஹிதம்
தாஸ ஜன ஹ்ருதய விராஜிதம்
ரௌஹிணேயானுஜார்சிதம் ஈஹனா வர்ஜிதம்
(மத்யம கால ஸாஹித்யம்)
அத்ரி ராஜ ஸுதாத்மஜம்
அனந்த குரு குஹாக்3ரஜம்
ப4த்ர ப்ரத பதாம்புஜம்
பா4ஸமான சதுர்பு4ஜம்
variations:
சரணம் – விராஜிதம் – விபாவிதம்
.
ಸಿದ್ಧಿ ವಿನಾಯಕಮ್ – ರಾಗಂ ಚಾಮರಮ್ – ತಾಳಂ ರೂಪಕಮ್
ಪಲ್ಲವಿ
ಸಿದ್ಧಿ ವಿನಾಯಕಂ ಅನಿಶಂ ಚಿಂತಯಾಮ್ಯಹಂ
ಪ್ರಸಿದ್ಧ ಗಣ ನಾಯಕಂ
ವಿಶಿಷ್ಟಾರ್ಥ ದಾಯಕಂ ವರಮ್
ಅನುಪಲ್ಲವಿ
ಸಿದ್ಧ ಯಕ್ಷ ಕಿನ್ನರಾದಿ ಸೇವಿತಂ
ಅಖಿಲ ಜಗತ್ಪ್ರಸಿದ್ಧಂ
ಮೂಲ ಪಂಕಜ ಮಧ್ಯಸ್ಥಂ ಮೋದಕ ಹಸ್ತಮ್
ಚರಣಮ್
ಭಾದ್ರ ಪದ ಮಾಸ ಚತುರ್ಥ್ಯಾಂ –
ಬ್ರಾಹ್ಮಣಾದಿ ಪೂಜಿತಂ
ಪಾಶಾಂಕುಶ ಧರಂ
ಛತ್ರ ಚಾಮರ ಪರಿವೀಜಿತಮ್
ರೌದ್ರ ಭಾವ ರಹಿತಂ
ದಾಸ ಜನ ಹೃದಯ ವಿರಾಜಿತಂ
ರೌಹಿಣೇಯಾನುಜಾರ್ಚಿತಂ ಈಹನಾ ವರ್ಜಿತಮ್
(ಮಧ್ಯಮ ಕಾಲ ಸಾಹಿತ್ಯಮ್)
ಅದ್ರಿ ರಾಜ ಸುತಾತ್ಮಜಂ
ಅನಂತ ಗುರು ಗುಹಾಗ್ರಜಂ
ಭದ್ರ ಪ್ರದ ಪದಾಂಬುಜಂ
ಭಾಸಮಾನ ಚತುರ್ಭುಜಮ್
variations:
ಚರಣಮ್ – ವಿರಾಜಿತಂ – ವಿಭಾವಿತಂ
.
सिद्धि विनायकम् – रागं चामरम् – ताळं रूपकम्
पल्लवि
सिद्धि विनायकं अनिशं चिन्तयाम्यहं
प्रसिद्ध गण नायकं
विशिष्टार्थ दायकं वरम्
अनुपल्लवि
सिद्ध यक्ष किन्नरादि सेवितं
अखिल जगत्प्रसिद्धं
मूल पङ्कज मध्यस्थं मोदक हस्तम्
चरणम्
भाद्र पद मास चतुर्थ्यां –
ब्राह्मणादि पूजितं
पाशाङ्कुश धरं
छत्र चामर परिवीजितम्
रौद्र भाव रहितं
दास जन हृदय विराजितं
रौहिणेयानुजार्चितं ईहना वर्जितम्
(मध्यम काल साहित्यम्)
अद्रि राज सुतात्मजं
अनन्त गुरु गुहाग्रजं
भद्र प्रद पदाम्बुजं
भासमान चतुर्भुजम्
variations –
चरणम् – विराजितं – विभावितं
.
pallavi
siddhi vinAyakaM aniSaM cintayAmyahaM
prasiddha gaNa nAyakaM
viSishTArtha dAyakaM varam
anupallavi
siddha yaksha kinnarAdi sEvitaM
akhila jagatprasiddhaM
mUla pankaja madhyasthaM mOdaka hastam
caraNam
bhAdra pada mAsa caturthyAM –
brAhmaNAdi pUjitaM
pASAnkuSa dharaM
chatra cAmara parivIjitam
raudra bhAva rahitaM
dAsa jana hRdaya virAjitaM
rauhiNEyAnujArcitaM IhanA varjitam
(madhyama kAla sAhityam)
adri rAja sutAtmajaM
ananta guru guhAgrajaM
bhadra prada padAmbujaM
bhAsamAna caturbhujam
variations:
caraNam – virAjitaM – vibhAvitaM
.
സിദ്ധി വിനായകമ് – രാഗം ചാമരമ് – താളം രൂപകമ്
പല്ലവി
സിദ്ധി വിനായകം അനിശം ചിന്തയാമ്യഹം
പ്രസിദ്ധ ഗണ നായകം
വിശിഷ്ടാര്ഥ ദായകം വരമ്
അനുപല്ലവി
സിദ്ധ യക്ഷ കിന്നരാദി സേവിതം
അഖില ജഗത്പ്രസിദ്ധം
മൂല പങ്കജ മധ്യസ്ഥം മോദക ഹസ്തമ്
ചരണമ്
ഭാദ്ര പദ മാസ ചതുര്ഥ്യാം –
ബ്രാഹ്മണാദി പൂജിതം
പാശാങ്കുശ ധരം
ഛത്ര ചാമര പരിവീജിതമ്
രൌദ്ര ഭാവ രഹിതം
ദാസ ജന ഹൃദയ വിരാജിതം
രൌഹിണേയാനുജാര്ചിതം ഈഹനാ വര്ജിതമ്
(മധ്യമ കാല സാഹിത്യമ്)
അദ്രി രാജ സുതാത്മജം
അനന്ത ഗുരു ഗുഹാഗ്രജം
ഭദ്ര പ്രദ പദാമ്ബുജം
ഭാസമാന ചതുര്ഭുജമ്
variations:
ചരണമ് – വിരാജിതം – വിഭാവിതം
.
Pallavi:
I forever think of SiddhiVinayaka, the famous Lord of the ganas, the revered bountiful one.
Anupallavi:
The one worshipped by Siddhas, yakshas and kinnaras1, the world-famous one, the one seated in the midst of the mooladhara lotus2, the one with a modaka in his hand.
Charanam:
The one worshipped by brahmanas on the caturti day of the month of bhadrapada3, the one witha noose and a goad,
the one who is accorded the treatments befitting a king like the catra and the camara4, the one free of anger, the one that dwells in the hearts of the devotees, the one worshipped by Krishna the younger brother of Balarama the son of Rohini5, the son of Parvati , the daughter of the king of mountains, the brother of the eternal guruguha, the lotus-feet that grants auspiciousness, the one with 4-hands.
.