Composer: Sri Tallapaka Annamacharya (Annamayya అన్నమయ్య) , May 9, 1408 – February 23, 1503 was born to Narayana Suri and Lakkamamba in Tallapaka, a village in current day Kadapa district of Andhra Pradesh. More….
Keerthana No. 40
Copper Sheet No. 1607
Pallavi: Siggari Pemdli (సిగ్గరి పెండ్లి )
Ragam: Salanga nata
Language: Telugu (తెలుగు)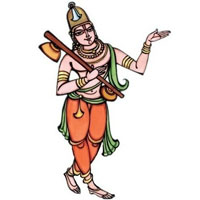 Recitals
Awaiting Contributions.
…
Awaiting Contributions.
[audio: audio-instrumental-file-name.mp3].
This Kriti was originally composed in Telugu. Other languages are for your convenience.
Pallavi
సిగ్గరి పెండ్లి కూతుర సీతమ్మ
దగ్గరి సింగారబొమ్మ తలవంచకమ్మా
Charanam
అల్లనాడే రాఘవుడు హరివిల్లు విరిచెను
యెల్లినేడే పెండ్లాడీ నిదివో నిన్ను
యెల్లగా జనకుడు నిన్నిచ్చీనట వీడె
వెల్లవిరి నీమాట వినవమ్మా
అదె పెండ్లితెర యెత్తి రండనే వశిష్టుడుండి
చదివీ మంత్రాలు సేస చల్లవమ్మా
మొదల రాముని కంటె ముంచి తలంబ్రాలు వోసి
సుదతి యాతని మోము చూడవమ్మా
కంకణదారాలు గట్టి కాలుదొక్కితివి మీరు
పొంకాన బువ్వ మందరో పొత్తుల నమ్మ
వుంకువ వావిలిపాట నుండి శ్రీవేంకటగిరి
తెంకుల నిన్ను గూడి తిరమాయనమ్మా
.
Pallavi
siggari peMDli kUtura sItamma
daggari siMgArabomma talavaMchakammA
Charanam
allanADE rAGhavuDu harivillu virichenu
yellinEDE peMDlADI nidivO ninnu
yellagA janakuDu ninnichchInaTa vIDe
vellaviri nImATa vinavammA
ade peMDlitera yetti raMDanE vaSiShTuDuMDi
chadivI maMtrAlu sEsa challavammA
modala rAmuni kaMTe muMchi talaMbrAlu vOsi
sudati yAtani mOmu chUDavammA
kaMkaNadArAlu gaTTi kAludokkitivi mIru
poMkAna buvva maMdarO pottula namma
vuMkuva vAvilipATa nuMDi SrIvEMkaTagiri
teMkula ninnu gUDi tiramAyanammA
.

We will update this page , once we find comprehensive meaning. Feel free to contribute if you know.
.