Composer: Muttukumaraswamy (முத்துகுமாரச்வாமி) popularly known as Muthuswamy Dikshithar (முத்துஸ்வாமி தீக்ஷிதர் – ముత్తుస్వామీ డిక్షితర్), (March 24, 1775 – October 21, 1835) was born in Tiruvarur (of Thanjavur district of Tamil Nadu) to a Tamil Iyer Brahmin couple Ramaswami Dikshitar and Subbamma, as the eldest son. He also had two younger brothers Baluswami, Chinnaswami and a sister Balambal.Chidambaranatha Yogi was his guru. More…
Raagam: Udaya Ravichandrika
Taalam: Rupakam
Diety: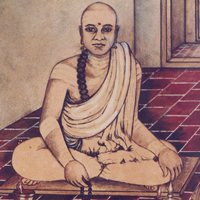 .
Recitals
Album: Unknown | Voice: S.R.Janakiraman
Album: Unknown | Voice: R.Vedavalli

Awaiting Contributions.

We believe this kriti was originally composed in sanskrit. Other languages are for your convenience.
పల్లవి
శ్రీ గురు గుహ మూర్తే చిచ్ఛక్తి స్ఫూర్తే
శిష్య జనావన కీర్తే సుముహూర్తే జయ
అనుపల్లవి
యోగినీ హృదయ ప్రకాశ చిత్త వృత్తే
యుగ-పద్భోగ యోగ ప్రదాన నిపుణ శక్తే
ఆగమ రహస్య తత్వానుసంధాన యుక్తే
ఆనందానురక్తే అతి విరక్తే జయ జయ
చరణం
ఆత్మేశ్వర జీవ భేదావరణ నివృత్తే
ఆశ్రిత శిష్యానుగ్రహ కారణ ప్రవృత్తే
ఆత్మ తత్వాది శోధన సాధన సంపత్తే
ఆరక్త శ్వేత మిశ్ర చరణ ప్రవృత్తే
ఆత్మ కోటి భక్తే అనాది మాయోత్పత్తే
ఆత్మానుభవ సార సంతృప్తే నిర్ముక్తే
(మధ్యమ కాల సాహిత్యం)
ఆత్మోదయ రవి చంద్రికా సందీప్తే
పరమాత్మ శ్రీ చిదానంద నాథ
నమస్తే జయ జయ
variations:
ఉదయ రవి చంద్రికా – శుద్ధ ధన్యాశి
పరమాత్మ – పరమాత్మా
.
பல்லவி:
ஸ்ரீ கு3ரு கு3ஹ மூர்தே சிச்ச2க்தி ஸ்பூ2ர்தே
ஸி1ஷ்ய ஜனாவன கீர்தே ஸுமுஹூர்தே ஜய
அனுபல்லவி:
யோகி3னீ ஹ்ரு2த3ய ப்ரகாஸ1 சித்த வ்ரு2த்தே
யுக3-பத்3போ4க3 யோக3 ப்ரதா3ன நிபுண ஸ1க்தே
ஆக3ம ரஹஸ்ய தத்வானுஸந்தா4ன யுக்தே
ஆனந்தா3னுரக்தே அதி விரக்தே ஜய ஜய
சரணம்:
ஆத்மேஸ்1வர ஜீவ பே4தா3வரண நிவ்ரு2த்தே
ஆஸ்1ரித ஸி1ஷ்யானுக்3ரஹ காரண ப்ரவ்ரு2த்தே
ஆத்ம தத்வாதி3 ஸோ1த4ன ஸாத4ன ஸம்பத்தே
ஆரக்த ஸ்1வேத மிஸ்1ர சரண ப்ரவ்ரு2த்தே
ஆத்ம கோடி ப4க்தே அனாதி3 மாயோத்பத்தே
ஆத்மானுப4வ ஸார ஸந்த்ரு2ப்தே நிர்முக்தே
(மத்4யம கால ஸாஹித்யம்)
ஆத்மோத3ய ரவி சந்த்3ரிகா ஸந்தீ3ப்தே
பரமாத்ம ஸ்ரீ சிதா3னந்த3 நாத2
நமஸ்தே ஜய ஜய
variations:
உத3ய ரவி சந்த்3ரிகா – ஸு1த்3த4 த4ன்யாஸி1
பரமாத்ம – பரமாத்மா
.
ಪಲ್ಲವಿ
ಶ್ರೀ ಗುರು ಗುಹ ಮೂರ್ತೇ ಚಿಚ್ಛಕ್ತಿ ಸ್ಫೂರ್ತೇ
ಶಿಷ್ಯ ಜನಾವನ ಕೀರ್ತೇ ಸುಮುಹೂರ್ತೇ ಜಯ
ಅನುಪಲ್ಲವಿ
ಯೋಗಿನೀ ಹೃದಯ ಪ್ರಕಾಶ ಚಿತ್ತ ವೃತ್ತೇ
ಯುಗ-ಪದ್ಭೋಗ ಯೋಗ ಪ್ರದಾನ ನಿಪುಣ ಶಕ್ತೇ
ಆಗಮ ರಹಸ್ಯ ತತ್ವಾನುಸಂಧಾನ ಯುಕ್ತೇ
ಆನಂದಾನುರಕ್ತೇ ಅತಿ ವಿರಕ್ತೇ ಜಯ ಜಯ
ಚರಣಂ
ಆತ್ಮೇಶ್ವರ ಜೀವ ಭೇದಾವರಣ ನಿವೃತ್ತೇ
ಆಶ್ರಿತ ಶಿಷ್ಯಾನುಗ್ರಹ ಕಾರಣ ಪ್ರವೃತ್ತೇ
ಆತ್ಮ ತತ್ವಾದಿ ಶೋಧನ ಸಾಧನ ಸಂಪತ್ತೇ
ಆರಕ್ತ ಶ್ವೇತ ಮಿಶ್ರ ಚರಣ ಪ್ರವೃತ್ತೇ
ಆತ್ಮ ಕೋಟಿ ಭಕ್ತೇ ಅನಾದಿ ಮಾಯೋತ್ಪತ್ತೇ
ಆತ್ಮಾನುಭವ ಸಾರ ಸಂತೃಪ್ತೇ ನಿರ್ಮುಕ್ತೇ
(ಮಧ್ಯಮ ಕಾಲ ಸಾಹಿತ್ಯಂ)
ಆತ್ಮೋದಯ ರವಿ ಚಂದ್ರಿಕಾ ಸಂದೀಪ್ತೇ
ಪರಮಾತ್ಮ ಶ್ರೀ ಚಿದಾನಂದ ನಾಥ
ನಮಸ್ತೇ ಜಯ ಜಯ
variations:
ಉದಯ ರವಿ ಚಂದ್ರಿಕಾ – ಶುದ್ಧ ಧನ್ಯಾಶಿ
ಪರಮಾತ್ಮ – ಪರಮಾತ್ಮಾ
.
पल्लवि
श्री गुरु गुह मूर्ते चिच्छक्ति स्फूर्ते
शिष्य जनावन कीर्ते सुमुहूर्ते जय
अनुपल्लवि
योगिनी हृदय प्रकाश चित्त वृत्ते
युग-पद्भोग योग प्रदान निपुण शक्ते
आगम रहस्य तत्वानुसन्धान युक्ते
आनन्दानुरक्ते अति विरक्ते जय जय
चरणम्
आत्मेश्वर जीव भेदावरण निवृत्ते
आश्रित शिष्यानुग्रह कारण प्रवृत्ते
आत्म तत्वादि शोधन साधन सम्पत्ते
आरक्त श्वेत मिश्र चरण प्रवृत्ते
आत्म कोटि भक्ते अनादि मायोत्पत्ते
आत्मानुभव सार संतृप्ते निर्मुक्ते
(मध्यम काल साहित्यम्)
आत्मोदय रवि चन्द्रिका संदीप्ते
परमात्म श्री चिदानन्द नाथ
नमस्ते जय जय
variations:
उदय रवि चन्द्रिका – शुद्ध धन्याशि
परमात्म – परमात्मा
.
pallavi
SrI guru guha mUrtE cicchakti sphUrtE
Sishya janAvana kIrtE sumuhUrtE jaya
anupallavi
yOginI hRdaya prakASa citta vRttE
yuga-padbhOga yOga pradAna nipuNa SaktE
Agama rahasya tatvAnusandhAna yuktE
AnandAnuraktE ati viraktE jaya jaya
caraNam
AtmESvara jIva bhEdAvaraNa nivRttE
ASrita SishyAnugraha kAraNa pravRttE
Atma tatvAdi SOdhana sAdhana sampattE
Arakta SvEta miSra caraNa pravRttE
Atma kOTi bhaktE anAdi mAyOtpattE
AtmAnubhava sAra saMtRptE nirmuktE
(madhyama kAla sAhityam)
AtmOdaya ravi candrikA saMdIptE
paramAtma SrI cidAnanda nAtha
namastE jaya jaya
variations:
udaya ravi candrikA – Suddha dhanyASi
paramAtma – paramAtmA
kshEtra – tiruttaNi-1; tiruttaNi-2
.
പല്ലവി
ശ്രീ ഗുരു ഗുഹ മൂര്തേ ചിച്ഛക്തി സ്ഫൂര്തേ
ശിഷ്യ ജനാവന കീര്തേ സുമുഹൂര്തേ ജയ
അനുപല്ലവി
യോഗിനീ ഹൃദയ പ്രകാശ ചിത്ത വൃത്തേ
യുഗ-പദ്ഭോഗ യോഗ പ്രദാന നിപുണ ശക്തേ
ആഗമ രഹസ്യ തത്വാനുസന്ധാന യുക്തേ
ആനന്ദാനുരക്തേ അതി വിരക്തേ ജയ ജയ
ചരണമ്
ആത്മേശ്വര ജീവ ഭേദാവരണ നിവൃത്തേ
ആശ്രിത ശിഷ്യാനുഗ്രഹ കാരണ പ്രവൃത്തേ
ആത്മ തത്വാദി ശോധന സാധന സമ്പത്തേ
ആരക്ത ശ്വേത മിശ്ര ചരണ പ്രവൃത്തേ
ആത്മ കോടി ഭക്തേ അനാദി മായോത്പത്തേ
ആത്മാനുഭവ സാര സംതൃപ്തേ നിര്മുക്തേ
(മധ്യമ കാല സാഹിത്യമ്)
ആത്മോദയ രവി ചന്ദ്രികാ സംദീപ്തേ
പരമാത്മ ശ്രീ ചിദാനന്ദ നാഥ
നമസ്തേ ജയ ജയ
variations:
ഉദയ രവി ചന്ദ്രികാ – ശുദ്ധ ധന്യാശി
പരമാത്മ – പരമാത്മാ
.
Pallavi:
O guruguha murthi! The one with cit shakti.The one who has the glory of protecting his devotees.The auspicious one.Victory unto you.
Anupallavi:
The one who rejoices the minds of the yogini devatas.The power that is skilled in giving enjoyment and austerity.The one known by the secret of the agamas.The one who is of supreme bliss.The one free from bondage.Victory unto thee.
Charanam:
The one who removes the sheath of ignorance that makes one discriminate between the individual soul,and supreme osul.The one whose nature is that of granting grace to devotees.The one who is the means of knowing the knowledge of the self.The one whose feet are red,white and their combined hue.The one with countless devotees.The one who created the beginningless illusion.The one who is pleased with the essence of the experience of the self.The one that is free.
The one who gives light of the atman to the sun and moon.Prostrations unto you,supreme cidnandanatha.Victory unto thee.
kshEtra – tiruttaNi
.