Composer: Muttukumaraswamy (முத்துகுமாரச்வாமி) popularly known as Muthuswamy Dikshithar (முத்துஸ்வாமி தீக்ஷிதர் – ముత్తుస్వామీ డిక్షితర్), (March 24, 1775 – October 21, 1835) was born in Tiruvarur (of Thanjavur district of Tamil Nadu) to a Tamil Iyer Brahmin couple Ramaswami Dikshitar and Subbamma, as the eldest son. He also had two younger brothers Baluswami, Chinnaswami and a sister Balambal.Chidambaranatha Yogi was his guru. More…

Raagam: Bhairavi
Taalam: Jhampa
Diety: Kamalamba Navavarna Kritis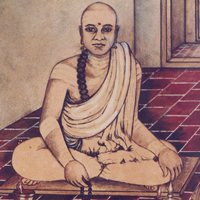 .
Recitals
Album: Unknown | Voice: D.K.Jayaraman

Awaiting Contributions.

We believe this kriti was originally composed in sanskrit. Other languages are for your convenience.
పల్లవి
శ్రీ కమలాంబికాయాః పరం నహిరే రే చిత్త
క్షిత్యాది శివాంత తత్వ స్వరూపిణ్యాః
అనుపల్లవి
శ్రీ కంఠ విష్ణు విరించాది జనయిత్ర్యాః
శివాత్మక విశ్వ కర్త్ర్యాః కారయిత్ర్యాః
(మధ్యమ కాల సాహిత్యం)
శ్రీ-కర బహిర్దశార చక్ర స్థిత్యాః
సేవిత భైరవీ భార్గవీ భారత్యాః
చరణం
నాద-మయ సూక్ష్మ రూప సర్వ సిద్ధి –
ప్రదాది దశ శక్త్యారాధిత మూర్తేః
శ్రోత్రాది దశ కరణాత్మక కుళ –
కౌళికాది బహు విధోపాసిత కీర్తేః
అభేద నిత్య శుద్ధ బుద్ధ ముక్త –
సచ్చిదానంద-మయ పరమాద్వైత స్ఫూర్తేః
ఆది మధ్యాంత రహితాప్రమేయ
గురు గుహ మోదిత సర్వార్థ సాధక పూర్తేః
(మధ్యమ కాల సాహిత్యం)
మూలాది నవాధార వ్యావృత్త దశ ధ్వని –
భేదజ్ఞ యోగి బృంద సంరక్షణ్యాః
అనాది మాయాऽవిద్యా కార్య కారణ వినోద –
కరణ పటు-తర కటాక్ష వీక్షణ్యాః
variations
కమలాంబికాయాః – కమలాంబాయాః
సచ్చిదానంద-మయ పరమాద్వైత – సచ్చిదానంద పరమాద్వైత
సర్వార్థ సాధక పూర్తేః – సర్వార్థ సాధక స్ఫూర్తేః
.
பல்லவி
ஸ்ரீ கமலாம்பி3காயா: பரம் நஹிரே ரே சித்த
க்ஷித்யாதி3 ஸி1வாந்த தத்வ ஸ்வரூபிண்யா:
அனுபல்லவி
ஸ்ரீ கண்ட2 விஷ்ணு விரிஞ்சாதி3 ஜனயித்ர்யா:
ஸி1வாத்மக விஸ்1வ கர்த்ர்யா: காரயித்ர்யா:
(மத்4யம கால ஸாஹித்யம்)
ஸ்ரீ-கர ப3ஹிர்த3ஸா1ர சக்ர ஸ்தி2த்யா:
ஸேவித பை4ரவீ பா4ர்க3வீ பா4ரத்யா:
சரணம்
நாத3-மய ஸூக்ஷ்ம ரூப ஸர்வ ஸித்3தி4 –
ப்ரதா3தி3 த3ஸ1 ஸ1க்த்யாராதி4த மூர்தே:
ஸ்1ரோத்ராதி3 த3ஸ1 கரணாத்மக குள –
கௌளிகாதி3 ப3ஹு விதோ4பாஸித கீர்தே:
அபே4த3 நித்ய ஸு1த்3த4 பு3த்3த4 முக்த –
ஸச்சிதா3னந்த3-மய பரமாத்3வைத ஸ்பூ2ர்தே:
ஆதி3 மத்4யாந்த ரஹிதாப்ரமேய
கு3ரு கு3ஹ மோதி3த ஸர்வார்த2 ஸாத4க பூர்தே:
(மத்4யம கால ஸாஹித்யம்)
மூலாதி3 நவாதா4ர வ்யாவ்ரு2த்த த3ஸ1 த்4வனி –
பே4த3க்3ஞ யோகி3 ப்3ரு2ந்த3 ஸம்ரக்ஷண்யா:
அனாதி3 மாயாऽவித்3யா கார்ய காரண வினோத3 –
கரண படு-தர கடாக்ஷ வீக்ஷண்யா:
variations
கமலாம்பி3காயா: – கமலாம்பா3யா:
ஸச்சிதா3னந்த3-மய பரமாத்3வைத – ஸச்சிதா3னந்த3 பரமாத்3வைத
ஸர்வார்த2 ஸாத4க பூர்தே: – ஸர்வார்த2 ஸாத4க ஸ்பூ2ர்தே:
.
ಪಲ್ಲವಿ
ಶ್ರೀ ಕಮಲಾಂಬಿಕಾಯಾಃ ಪರಂ ನಹಿರೇ ರೇ ಚಿತ್ತ
ಕ್ಷಿತ್ಯಾದಿ ಶಿವಾಂತ ತತ್ವ ಸ್ವರೂಪಿಣ್ಯಾಃ
ಅನುಪಲ್ಲವಿ
ಶ್ರೀ ಕಂಠ ವಿಷ್ಣು ವಿರಿಂಚಾದಿ ಜನಯಿತ್ರ್ಯಾಃ
ಶಿವಾತ್ಮಕ ವಿಶ್ವ ಕರ್ತ್ರ್ಯಾಃ ಕಾರಯಿತ್ರ್ಯಾಃ
(ಮಧ್ಯಮ ಕಾಲ ಸಾಹಿತ್ಯಂ)
ಶ್ರೀ-ಕರ ಬಹಿರ್ದಶಾರ ಚಕ್ರ ಸ್ಥಿತ್ಯಾಃ
ಸೇವಿತ ಭೈರವೀ ಭಾರ್ಗವೀ ಭಾರತ್ಯಾಃ
ಚರಣಂ
ನಾದ-ಮಯ ಸೂಕ್ಷ್ಮ ರೂಪ ಸರ್ವ ಸಿದ್ಧಿ –
ಪ್ರದಾದಿ ದಶ ಶಕ್ತ್ಯಾರಾಧಿತ ಮೂರ್ತೇಃ
ಶ್ರೋತ್ರಾದಿ ದಶ ಕರಣಾತ್ಮಕ ಕುಳ –
ಕೌಳಿಕಾದಿ ಬಹು ವಿಧೋಪಾಸಿತ ಕೀರ್ತೇಃ
ಅಭೇದ ನಿತ್ಯ ಶುದ್ಧ ಬುದ್ಧ ಮುಕ್ತ –
ಸಚ್ಚಿದಾನಂದ-ಮಯ ಪರಮಾದ್ವೈತ ಸ್ಫೂರ್ತೇಃ
ಆದಿ ಮಧ್ಯಾಂತ ರಹಿತಾಪ್ರಮೇಯ
ಗುರು ಗುಹ ಮೋದಿತ ಸರ್ವಾರ್ಥ ಸಾಧಕ ಪೂರ್ತೇಃ
(ಮಧ್ಯಮ ಕಾಲ ಸಾಹಿತ್ಯಂ)
ಮೂಲಾದಿ ನವಾಧಾರ ವ್ಯಾವೃತ್ತ ದಶ ಧ್ವನಿ –
ಭೇದಜ್ಞ ಯೋಗಿ ಬೃಂದ ಸಂರಕ್ಷಣ್ಯಾಃ
ಅನಾದಿ ಮಾಯಾऽವಿದ್ಯಾ ಕಾರ್ಯ ಕಾರಣ ವಿನೋದ –
ಕರಣ ಪಟು-ತರ ಕಟಾಕ್ಷ ವೀಕ್ಷಣ್ಯಾಃ
variations
ಕಮಲಾಂಬಿಕಾಯಾಃ – ಕಮಲಾಂಬಾಯಾಃ
ಸಚ್ಚಿದಾನಂದ-ಮಯ ಪರಮಾದ್ವೈತ – ಸಚ್ಚಿದಾನಂದ ಪರಮಾದ್ವೈತ
ಸರ್ವಾರ್ಥ ಸಾಧಕ ಪೂರ್ತೇಃ – ಸರ್ವಾರ್ಥ ಸಾಧಕ ಸ್ಫೂರ್ತೇಃ
.
पल्लवि
श्री कमलाम्बिकायाः परं नहिरे रे चित्त
क्षित्यादि शिवान्त तत्व स्वरूपिण्याः
अनुपल्लवि
श्री कण्ठ विष्णु विरिञ्चादि जनयित्र्याः
शिवात्मक विश्व कर्त्र्याः कारयित्र्याः
(मध्यम काल साहित्यम्)
श्री-कर बहिर्दशार चक्र स्थित्याः
सेवित भैरवी भार्गवी भारत्याः
चरणम्
नाद-मय सूक्ष्म रूप सर्व सिद्धि –
प्रदादि दश शक्त्याराधित मूर्तेः
श्रोत्रादि दश करणात्मक कुळ –
कौळिकादि बहु विधोपासित कीर्तेः
अभेद नित्य शुद्ध बुद्ध मुक्त –
सच्चिदानन्द-मय परमाद्वैत स्फूर्तेः
आदि मध्यान्त रहिताप्रमेय
गुरु गुह मोदित सर्वार्थ साधक पूर्तेः
(मध्यम काल साहित्यम्)
मूलादि नवाधार व्यावृत्त दश ध्वनि –
भेदज्ञ योगि बृन्द संरक्षण्याः
अनादि मायाऽविद्या कार्य कारण विनोद –
करण पटु-तर कटाक्ष वीक्षण्याः
variations
कमलाम्बिकायाः – कमलाम्बायाः
सच्चिदानन्द-मय परमाद्वैत – सच्चिदानन्द परमाद्वैत
सर्वार्थ साधक पूर्तेः – सर्वार्थ साधक स्फूर्तेः
.
pallavi
SrI kamalAmbikAyAH paraM nahirE rE citta
kshityAdi SivAnta tatva svarUpiNyAH
anupallavi
SrI kaNTha vishNu virincAdi janayitryAH
SivAtmaka viSva kartryAH kArayitryAH
(madhyama kAla sAhityam)
SrI-kara bahirdaSAra cakra sthityAH
sEvita bhairavI bhArgavI bhAratyAH
caraNam
nAda-maya sUkshma rUpa sarva siddhi –
pradAdi daSa SaktyArAdhita mUrtEH
SrOtrAdi daSa karaNAtmaka kuLa –
kauLikAdi bahu vidhOpAsita kIrtEH
abhEda nitya Suddha buddha mukta –
saccidAnanda-maya paramAdvaita sphUrtEH
Adi madhyAnta rahitApramEya
guru guha mOdita sarvArtha sAdhaka pUrtEH
(madhyama kAla sAhityam)
mUlAdi navAdhAra vyAvRtta daSa dhvani –
bhEdajna yOgi bRnda saMrakshaNyAH
anAdi mAyA-avidyA kArya kAraNa vinOda –
karaNa paTu-tara kaTAksha vIkshaNyAH
variations
kamalAmbikAyAH – kamalAmbAyAH
saccidAnanda-maya paramAdvaita – saccidAnanda paramAdvaita
sarvArtha sAdhaka pUrtEH – sarvArtha sAdhaka sphUrtEH
.
പല്ലവി
ശ്രീ കമലാമ്ബികായാഃ പരം നഹിരേ രേ ചിത്ത
ക്ഷിത്യാദി ശിവാന്ത തത്വ സ്വരൂപിണ്യാഃ
അനുപല്ലവി
ശ്രീ കണ്ഠ വിഷ്ണു വിരിഞ്ചാദി ജനയിത്ര്യാഃ
ശിവാത്മക വിശ്വ കര്ത്ര്യാഃ കാരയിത്ര്യാഃ
(മധ്യമ കാല സാഹിത്യമ്)
ശ്രീ-കര ബഹിര്ദശാര ചക്ര സ്ഥിത്യാഃ
സേവിത ഭൈരവീ ഭാര്ഗവീ ഭാരത്യാഃ
ചരണമ്
നാദ-മയ സൂക്ഷ്മ രൂപ സര്വ സിദ്ധി –
പ്രദാദി ദശ ശക്ത്യാരാധിത മൂര്തേഃ
ശ്രോത്രാദി ദശ കരണാത്മക കുള –
കൌളികാദി ബഹു വിധോപാസിത കീര്തേഃ
അഭേദ നിത്യ ശുദ്ധ ബുദ്ധ മുക്ത –
സച്ചിദാനന്ദ-മയ പരമാദ്വൈത സ്ഫൂര്തേഃ
ആദി മധ്യാന്ത രഹിതാപ്രമേയ
ഗുരു ഗുഹ മോദിത സര്വാര്ഥ സാധക പൂര്തേഃ
(മധ്യമ കാല സാഹിത്യമ്)
മൂലാദി നവാധാര വ്യാവൃത്ത ദശ ധ്വനി –
ഭേദജ്ഞ യോഗി ബൃന്ദ സംരക്ഷണ്യാഃ
അനാദി മായാऽവിദ്യാ കാര്യ കാരണ വിനോദ –
കരണ പടു-തര കടാക്ഷ വീക്ഷണ്യാഃ
variations
കമലാമ്ബികായാഃ – കമലാമ്ബായാഃ
സച്ചിദാനന്ദ-മയ പരമാദ്വൈത – സച്ചിദാനന്ദ പരമാദ്വൈത
സര്വാര്ഥ സാധക പൂര്തേഃ – സര്വാര്ഥ സാധക സ്ഫൂര്തേഃ
.
Pallavi:
O mind! There is none other than Kamalamba who is the embodiment of all the tatvas from earth to Shiva.
AnuPallavi :
The one who created Shiva, Vishnu & Brahma; who created the prapancha which is verily Shiva; The one who is also the cause of all that she created; the one who resides in the outer chakra of 10 petals; The one who is attended by Bhairavi,Lakshmi, & Saraswathi;
Charanam :
The subtle essence of sound; The one who is worshipped by the 10 shaktis from Sarvasiddhi prada; The one worshipped by the kula & kaulika methods of worship in the form the senses like the ear & the 10 organs; The absolute;eternal;
Pure; intelligent & free from of satchidananda; The immeasurable without beginning,centre or end; The one who pleases Guruguha, The one who is in the Sarvartha Sadhaka chakra; The one who protects the groups of yogis who know the emanations of the sounds associated with the 9 adharas beginning with Mooladhara. The one whose grace will dispel maya and primordial avidya.
.