Composer: Muttukumaraswamy (முத்துகுமாரச்வாமி) popularly known as Muthuswamy Dikshithar (முத்துஸ்வாமி தீக்ஷிதர் – ముత్తుస్వామీ డిక్షితర్), (March 24, 1775 – October 21, 1835) was born in Tiruvarur (of Thanjavur district of Tamil Nadu) to a Tamil Iyer Brahmin couple Ramaswami Dikshitar and Subbamma, as the eldest son. He also had two younger brothers Baluswami, Chinnaswami and a sister Balambal.Chidambaranatha Yogi was his guru. More…

Raagam: Sahaana

Taalam: Triputa
Diety: Kamalamba Navavarna Kritis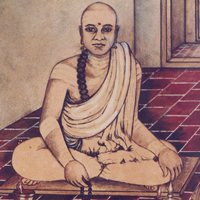 .
Recitals
Album: Unknown | Voice: Dr.S.R. Srinivasa Iyer
Album: Unknown | Voice: P S Lyer

Awaiting Contributions.

We believe this kriti was originally composed in sanskrit. Other languages are for your convenience.
పల్లవి
శ్రీ కమలాంబికాయాం భక్తిం కరోమి
శ్రిత కల్ప వాటికాయాం చండికాయాం జగదంబికాయాం
అనుపల్లవి
రాకా చంద్ర వదనాయాం రాజీవ నయనాయాం
పాకారి నుత చరణాయాం ఆకాశాది కిరణాయాం
(మధ్యమ కాల సాహిత్యం)
హ్రీంకార విపిన హరిణ్యాం హ్రీంకార సు-శరీరిణ్యాం
హ్రీంకార తరు మంజర్యాం హ్రీంకారేశ్వర్యాం గౌర్యాం
చరణం
శరీర త్రయ విలక్షణ సుఖ-తర స్వాత్మానుభోగిన్యాం
విరించి హరీశాన హరి-హయ వేదిత రహస్య యోగిన్యాం
పరాది వాగ్దేవతా రూప వశిన్యాది విభాగిన్యాం
చరాత్మక సర్వ రోగ హర నిరామయ రాజ యోగిన్యాం
(మధ్యమ కాల సాహిత్యం)
కర ధృత వీణా వాదిన్యాం కమలా నగర వినోదిన్యాం
సుర నర ముని జన మోదిన్యాం గురు గుహ వర ప్రసాదిన్యాం
.
பல்லவி
ஸ்ரீ கமலாம்பி3காயாம் ப4க்திம் கரோமி
ஸ்1ரித கல்ப வாடிகாயாம் சண்டி3காயாம் ஜக3த3ம்பி3காயாம்
அனுபல்லவி
ராகா சந்த்3ர வத3னாயாம் ராஜீவ நயனாயாம்
பாகாரி நுத சரணாயாம் ஆகாஸா1தி3 கிரணாயாம்
(மத்4யம கால ஸாஹித்யம்)
ஹ்ரீம்கார விபின ஹரிண்யாம் ஹ்ரீம்கார ஸு-ஸ1ரீரிண்யாம்
ஹ்ரீம்கார தரு மஞ்ஜர்யாம் ஹ்ரீம்காரேஸ்1வர்யாம் கௌ3ர்யாம்
சரணம்
ஸ1ரீர த்ரய விலக்ஷண ஸுக2-தர ஸ்வாத்மானுபோ4கி3ன்யாம்
விரிஞ்சி ஹரீஸா1ன ஹரி-ஹய வேதி3த ரஹஸ்ய யோகி3ன்யாம்
பராதி3 வாக்3தே3வதா ரூப வஸி1ன்யாதி3 விபா4கி3ன்யாம்
சராத்மக ஸர்வ ரோக3 ஹர நிராமய ராஜ யோகி3ன்யாம்
(மத்4யம கால ஸாஹித்யம்)
கர த்4ரு2த வீணா வாதி3ன்யாம் கமலா நக3ர வினோதி3ன்யாம்
ஸுர நர முனி ஜன மோதி3ன்யாம் கு3ரு கு3ஹ வர ப்ரஸாதி3ன்யாம்
.
ಪಲ್ಲವಿ
ಶ್ರೀ ಕಮಲಾಂಬಿಕಾಯಾಂ ಭಕ್ತಿಂ ಕರೋಮಿ
ಶ್ರಿತ ಕಲ್ಪ ವಾಟಿಕಾಯಾಂ ಚಂಡಿಕಾಯಾಂ ಜಗದಂಬಿಕಾಯಾಂ
ಅನುಪಲ್ಲವಿ
ರಾಕಾ ಚಂದ್ರ ವದನಾಯಾಂ ರಾಜೀವ ನಯನಾಯಾಂ
ಪಾಕಾರಿ ನುತ ಚರಣಾಯಾಂ ಆಕಾಶಾದಿ ಕಿರಣಾಯಾಂ
(ಮಧ್ಯಮ ಕಾಲ ಸಾಹಿತ್ಯಂ)
ಹ್ರೀಂಕಾರ ವಿಪಿನ ಹರಿಣ್ಯಾಂ ಹ್ರೀಂಕಾರ ಸು-ಶರೀರಿಣ್ಯಾಂ
ಹ್ರೀಂಕಾರ ತರು ಮಂಜರ್ಯಾಂ ಹ್ರೀಂಕಾರೇಶ್ವರ್ಯಾಂ ಗೌರ್ಯಾಂ
ಚರಣಂ
ಶರೀರ ತ್ರಯ ವಿಲಕ್ಷಣ ಸುಖ-ತರ ಸ್ವಾತ್ಮಾನುಭೋಗಿನ್ಯಾಂ
ವಿರಿಂಚಿ ಹರೀಶಾನ ಹರಿ-ಹಯ ವೇದಿತ ರಹಸ್ಯ ಯೋಗಿನ್ಯಾಂ
ಪರಾದಿ ವಾಗ್ದೇವತಾ ರೂಪ ವಶಿನ್ಯಾದಿ ವಿಭಾಗಿನ್ಯಾಂ
ಚರಾತ್ಮಕ ಸರ್ವ ರೋಗ ಹರ ನಿರಾಮಯ ರಾಜ ಯೋಗಿನ್ಯಾಂ
(ಮಧ್ಯಮ ಕಾಲ ಸಾಹಿತ್ಯಂ)
ಕರ ಧೃತ ವೀಣಾ ವಾದಿನ್ಯಾಂ ಕಮಲಾ ನಗರ ವಿನೋದಿನ್ಯಾಂ
ಸುರ ನರ ಮುನಿ ಜನ ಮೋದಿನ್ಯಾಂ ಗುರು ಗುಹ ವರ ಪ್ರಸಾದಿನ್ಯಾಂ
.
पल्लवि
श्री कमलाम्बिकायां भक्तिं करोमि
श्रित कल्प वाटिकायां चण्डिकायां जगदम्बिकायाम्
अनुपल्लवि
राका चन्द्र वदनायां राजीव नयनायां
पाकारि नुत चरणायां आकाशादि किरणायाम्
(मध्यम काल साहित्यम्)
ह्रींकार विपिन हरिण्यां ह्रींकार सु-शरीरिण्यां
ह्रींकार तरु मञ्जर्यां ह्रींकारेश्वर्यां गौर्याम्
चरणम्
शरीर त्रय विलक्षण सुख-तर स्वात्मानुभोगिन्यां
विरिञ्चि हरीशान हरि-हय वेदित रहस्य योगिन्याम्
परादि वाग्देवता रूप वशिन्यादि विभागिन्यां
चरात्मक सर्व रोग हर निरामय राज योगिन्याम्
(मध्यम काल साहित्यम्)
कर धृत वीणा वादिन्यां कमला नगर विनोदिन्यां
सुर नर मुनि जन मोदिन्यां गुरु गुह वर प्रसादिन्याम्
.
pallavi
SrI kamalAmbikAyAM bhaktiM karOmi
Srita kalpa vATikAyAM caNDikAyAM jagadambikAyAm
anupallavi
rAkA candra vadanAyAM rAjIva nayanAyAM
pAkAri nuta caraNAyAM AkASAdi kiraNAyAm
(madhyama kAla sAhityam)
hrIMkAra vipina hariNyAM hrIMkAra su-SarIriNyAM
hrIMkAra taru manjaryAM hrIMkArESvaryAM gauryAm
caraNam
SarIra traya vilakshaNa sukha-tara svAtmAnubhOginyAM
virinci harISAna hari-haya vEdita rahasya yOginyAm
parAdi vAgdEvatA rUpa vaSinyAdi vibhAginyAM
carAtmaka sarva rOga hara nirAmaya rAja yOginyAm
(madhyama kAla sAhityam)
kara dhRta vINA vAdinyAM kamalA nagara vinOdinyAM
sura nara muni jana mOdinyAM guru guha vara prasAdinyAm
.
പല്ലവി
ശ്രീ കമലാമ്ബികായാം ഭക്തിം കരോമി
ശ്രിത കല്പ വാടികായാം ചണ്ഡികായാം ജഗദമ്ബികായാമ്
അനുപല്ലവി
രാകാ ചന്ദ്ര വദനായാം രാജീവ നയനായാം
പാകാരി നുത ചരണായാം ആകാശാദി കിരണായാമ്
(മധ്യമ കാല സാഹിത്യമ്)
ഹ്രീങ്കാര വിപിന ഹരിണ്യാം ഹ്രീങ്കാര സു-ശരീരിണ്യാം
ഹ്രീങ്കാര തരു മഞ്ജര്യാം ഹ്രീങ്കാരേശ്വര്യാം ഗൌര്യാമ്
ചരണമ്
ശരീര ത്രയ വിലക്ഷണ സുഖ-തര സ്വാത്മാനുഭോഗിന്യാം
വിരിഞ്ചി ഹരീശാന ഹരി-ഹയ വേദിത രഹസ്യ യോഗിന്യാമ്
പരാദി വാഗ്ദേവതാ രൂപ വശിന്യാദി വിഭാഗിന്യാം
ചരാത്മക സര്വ രോഗ ഹര നിരാമയ രാജ യോഗിന്യാമ്
(മധ്യമ കാല സാഹിത്യമ്)
കര ധൃത വീണാ വാദിന്യാം കമലാ നഗര വിനോദിന്യാം
സുര നര മുനി ജന മോദിന്യാം ഗുരു ഗുഹ വര പ്രസാദിന്യാമ്
.
Pallavi:
I am devoted unto kamalambika – the one who is like a garden of wish yielding trees to those who surrender unto her. The one who slays her enemies, the universal mother.
Anupallavi:
The one whose countenance is like the fullmoon, the one whose eyes are like lotuses, the one whose feet are worshipped by Indra – the enemy of demon Paka.The one whose splendour radiates over ether and other elements;
the one who is the female deer in the forests of hrimkara, the one whose body is verily the form of hrimkara mantra, the one who is like the branch of flowers in the tree of hrimkara, the goddess of hrim kara, the golden-hued gauri.
Charanam:
The one whose soul gives bliss that is beyond gross, subtle and causal bodies, the secret yogini power known to brahma, vishnu and shiva and harihaya – Indra- who rules over powers like Vashini the vag-devata, an embodiment of Para and other speech.
The raja yogini who has the power to remove all diseases associated with the body, the one who plays the vina; the one who takes abode in tiruvarur or Kamalanagara. The one who pleases gods, men and sages, the one who gives boons to Guruguha.
.