Composer: Muttukumaraswamy (முத்துகுமாரச்வாமி) popularly known as Muthuswamy Dikshithar (முத்துஸ்வாமி தீக்ஷிதர் – ముత్తుస్వామీ డిక్షితర్), (March 24, 1775 – October 21, 1835) was born in Tiruvarur (of Thanjavur district of Tamil Nadu) to a Tamil Iyer Brahmin couple Ramaswami Dikshitar and Subbamma, as the eldest son. He also had two younger brothers Baluswami, Chinnaswami and a sister Balambal.Chidambaranatha Yogi was his guru. More…

Raagam: Ghanta
Taalam: Adi
Diety: Kamalamba Navavarna Kritis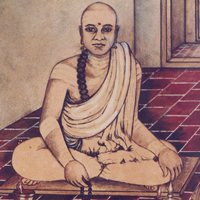 .
Recitals
Album: Unknown | Voice: P S Lyer
Album: Unknown | Voice: D.K.Jayaraman
Album: Unknown | Voice: Ambujam Vedantham

Awaiting Contributions.

We believe this kriti was originally composed in sanskrit. Other languages are for your convenience.
పల్లవి
శ్రీ కమలాంబికే అవావ
శివే కర ధృత శుక శారికే
అనుపల్లవి
లోక పాలిని కపాలిని శూలిని
లోక జనని భగ మాలిని సకృద్-
(మధ్యమ కాల సాహిత్యం)
ఆలోకయ మాం సర్వ సిద్ధి-ప్రదాయికే
త్రిపురాంబికే బాలాంబికే
చరణము
సంతప్త హేమ సన్నిభ దేహే
సదాऽఖండైక రస ప్రవాహే
సంతాప హర త్రికోణ గేహే
సకామేశ్వరి శక్తి సమూహే
సంతతం ముక్తి ఘంటా మణి –
ఘోషాయమాన కవాట ద్వారే
అనంత గురు గుహ విదితే
కరాంగులి నఖోదయ విష్ణు దశావతారే
(మధ్యమ కాల సాహిత్యం)
అంతఃకరణేక్షు కార్ముక శబ్దాది –
పంచ తన్మాత్ర విశిఖాऽత్యంత –
రాగ పాశ ద్వేషాంకుశ ధర –
కరేऽతి రహస్య యోగినీ పరే
variations
ఘంటా – ఘంటారవ
కమలాంబికే అవావ – కమలాంబికేऽవావ
సకామేశ్వరి – సకామేశ్వర
.
பல்லவி
ஸ்ரீ கமலாம்பி3கே அவாவ
ஸி1வே கர த்4ரு2த ஸு1க ஸா1ரிகே
அனுபல்லவி
லோக பாலினி கபாலினி ஸூ1லினி
லோக ஜனனி ப4க3 மாலினி ஸக்ரு2த்3-
(மத்4யம கால ஸாஹித்யம்)
ஆலோகய மாம் ஸர்வ ஸித்3தி4-ப்ரதா3யிகே
த்ரிபுராம்பி3கே பா3லாம்பி3கே
சரணம்
ஸந்தப்த ஹேம ஸன்னிப4 தே3ஹே
ஸதா3ऽக2ண்டை3க ரஸ ப்ரவாஹே
ஸந்தாப ஹர த்ரிகோண கே3ஹே
ஸகாமேஸ்1வரி ஸ1க்தி ஸமூஹே
ஸந்ததம் முக்தி க4ண்டா மணி –
கோ4ஷாயமான கவாட த்3வாரே
அனந்த கு3ரு கு3ஹ விதி3தே
கராங்கு3லி நகோ2த3ய விஷ்ணு த3ஸா1வதாரே
(மத்4யம கால ஸாஹித்யம்)
அந்த:கரணேக்ஷு கார்முக ஸ1ப்3தா3தி3 –
பஞ்ச தன்மாத்ர விஸி1கா2ऽத்யந்த –
ராக3 பாஸ1 த்3வேஷாங்குஸ1 த4ர –
கரேऽதி ரஹஸ்ய யோகி3னீ பரே
variations
க4ண்டா – க4ண்டாரவ
கமலாம்பி3கே அவாவ – கமலாம்பி3கேऽவாவ
ஸகாமேஸ்1வரி – ஸகாமேஸ்1வர
.
ಪಲ್ಲವಿ
ಶ್ರೀ ಕಮಲಾಂಬಿಕೇ ಅವಾವ
ಶಿವೇ ಕರ ಧೃತ ಶುಕ ಶಾರಿಕೇ
ಅನುಪಲ್ಲವಿ
ಲೋಕ ಪಾಲಿನಿ ಕಪಾಲಿನಿ ಶೂಲಿನಿ
ಲೋಕ ಜನನಿ ಭಗ ಮಾಲಿನಿ ಸಕೃದ್-
(ಮಧ್ಯಮ ಕಾಲ ಸಾಹಿತ್ಯಂ)
ಆಲೋಕಯ ಮಾಂ ಸರ್ವ ಸಿದ್ಧಿ-ಪ್ರದಾಯಿಕೇ
ತ್ರಿಪುರಾಂಬಿಕೇ ಬಾಲಾಂಬಿಕೇ
ಚರಣಂ
ಸಂತಪ್ತ ಹೇಮ ಸನ್ನಿಭ ದೇಹೇ
ಸದಾऽಖಂಡೈಕ ರಸ ಪ್ರವಾಹೇ
ಸಂತಾಪ ಹರ ತ್ರಿಕೋಣ ಗೇಹೇ
ಸಕಾಮೇಶ್ವರಿ ಶಕ್ತಿ ಸಮೂಹೇ
ಸಂತತಂ ಮುಕ್ತಿ ಘಂಟಾ ಮಣಿ –
ಘೋಷಾಯಮಾನ ಕವಾಟ ದ್ವಾರೇ
ಅನಂತ ಗುರು ಗುಹ ವಿದಿತೇ
ಕರಾಂಗುಲಿ ನಖೋದಯ ವಿಷ್ಣು ದಶಾವತಾರೇ
(ಮಧ್ಯಮ ಕಾಲ ಸಾಹಿತ್ಯಂ)
ಅಂತಃಕರಣೇಕ್ಷು ಕಾರ್ಮುಕ ಶಬ್ದಾದಿ –
ಪಂಚ ತನ್ಮಾತ್ರ ವಿಶಿಖಾऽತ್ಯಂತ –
ರಾಗ ಪಾಶ ದ್ವೇಷಾಂಕುಶ ಧರ –
ಕರೇऽತಿ ರಹಸ್ಯ ಯೋಗಿನೀ ಪರೇ
variations
ಘಂಟಾ – ಘಂಟಾರವ
ಕಮಲಾಂಬಿಕೇ ಅವಾವ – ಕಮಲಾಂಬಿಕೇऽವಾವ
ಸಕಾಮೇಶ್ವರಿ – ಸಕಾಮೇಶ್ವರ
.
पल्लवि
श्री कमलाम्बिके अवाव
शिवे कर धृत शुक शारिके
अनुपल्लवि
लोक पालिनि कपालिनि शूलिनि
लोक जननि भग मालिनि सकृद्-
(मध्यम काल साहित्यम्)
आलोकय मां सर्व सिद्धि-प्रदायिके
त्रिपुराम्बिके बालाम्बिके
चरणम्
सन्तप्त हेम सन्निभ देहे
सदाऽखण्डैक रस प्रवाहे
सन्ताप हर त्रिकोण गेहे
सकामेश्वरि शक्ति समूहे
सन्ततं मुक्ति घण्टा मणि –
घोषायमान कवाट द्वारे
अनन्त गुरु गुह विदिते
कराङ्गुलि नखोदय विष्णु दशावतारे
(मध्यम काल साहित्यम्)
अन्तःकरणेक्षु कार्मुक शब्दादि –
पञ्च तन्मात्र विशिखाऽत्यन्त –
राग पाश द्वेषाङ्कुश धर –
करेऽति रहस्य योगिनी परे
variations
घण्टा – घण्टारव
कमलाम्बिके अवाव – कमलाम्बिकेऽवाव
सकामेश्वरि – सकामेश्वर
.
pallavi
SrI kamalAmbikE avAva
SivE kara dhRta Suka SArikE
anupallavi
lOka pAlini kapAlini SUlini
lOka janani bhaga mAlini sakRd-
(madhyama kAla sAhityam)
AlOkaya mAM sarva siddhi-pradAyikE
tripurAmbikE bAlAmbikE
caraNam
santapta hEma sannibha dEhE
sadA(a)khaNDaika rasa pravAhE
santApa hara trikONa gEhE
sakAmESvari Sakti samUhE
santataM mukti ghaNTA maNi –
ghOshAyamAna kavATa dvArE
ananta guru guha viditE
karAnguli nakhOdaya vishNu daSAvatArE
(madhyama kAla sAhityam)
antaHkaraNEkshu kArmuka SabdAdi –
panca tanmAtra viSikhA(a)tyanta –
rAga pASa dvEshAnkuSa dhara –
karE(a)ti rahasya yOginI parE
variations
ghaNTA – ghaNTArava
kamalAmbikE avAva – kamalAmbikE(a)vAva
sakAmESvari – sakAmESvara
.
പല്ലവി
ശ്രീ കമലാമ്ബികേ അവാവ
ശിവേ കര ധൃത ശുക ശാരികേ
അനുപല്ലവി
ലോക പാലിനി കപാലിനി ശൂലിനി
ലോക ജനനി ഭഗ മാലിനി സകൃദ്-
(മധ്യമ കാല സാഹിത്യമ്)
ആലോകയ മാം സര്വ സിദ്ധി-പ്രദായികേ
ത്രിപുരാമ്ബികേ ബാലാമ്ബികേ
ചരണമ്
സന്തപ്ത ഹേമ സന്നിഭ ദേഹേ
സദാऽഖണ്ഡൈക രസ പ്രവാഹേ
സന്താപ ഹര ത്രികോണ ഗേഹേ
സകാമേശ്വരി ശക്തി സമൂഹേ
സന്തതം മുക്തി ഘണ്ടാ മണി –
ഘോഷായമാന കവാട ദ്വാരേ
അനന്ത ഗുരു ഗുഹ വിദിതേ
കരാങ്ഗുലി നഖോദയ വിഷ്ണു ദശാവതാരേ
(മധ്യമ കാല സാഹിത്യമ്)
അന്തഃകരണേക്ഷു കാര്മുക ശബ്ദാദി –
പഞ്ച തന്മാത്ര വിശിഖാऽത്യന്ത –
രാഗ പാശ ദ്വേഷാങ്കുശ ധര –
കരേऽതി രഹസ്യ യോഗിനീ പരേ
variations
ഘണ്ടാ – ഘണ്ടാരവ
കമലാമ്ബികേ അവാവ – കമലാമ്ബികേऽവാവ
സകാമേശ്വരി – സകാമേശ്വര
.
Pallavi:
Kamalambika protect me, protect me.The auspicious one! The one who holds the parrot and the maina-bird* in her hands.
AnuPallavi:
The protector of he worlds, the bearer of the trident. The consort of the bearer of the skull. The mother of the worlds. The one who is the garland of sweetness. Glance at me.The giver of all powers! The one known as tripurambika and balambika.
Charanam:
The one whose body is splendorous like molten gold, the one who always is an everflowing bliss, the one who dewells in the triangle with kAmeshwari and other shakthis.
The one whose gate from which the bell of mukti beckons one to salvation. The one known to the eternal guruguha;
the one who produced the 10 incarnations of Vishnu out of her 10 finger-nails.
The one who resides in the mind, as the form which holds a sugarcane, the 5 tanmatras as the arrows, desire as the noose, hatred as the goad;The secret yoga power
.