Composer: Muttukumaraswamy (முத்துகுமாரச்வாமி) popularly known as Muthuswamy Dikshithar (முத்துஸ்வாமி தீக்ஷிதர் – ముత్తుస్వామీ డిక్షితర్), (March 24, 1775 – October 21, 1835) was born in Tiruvarur (of Thanjavur district of Tamil Nadu) to a Tamil Iyer Brahmin couple Ramaswami Dikshitar and Subbamma, as the eldest son. He also had two younger brothers Baluswami, Chinnaswami and a sister Balambal.Chidambaranatha Yogi was his guru. More…
Raagam: Thodi
Taalam: Adi
Diety: Sri Krishna Krithis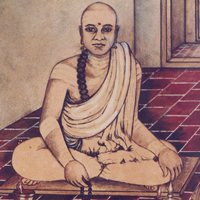 .
Recitals

Awaiting Contributions.


Awaiting Contributions.

We believe this kriti was originally composed in sanskrit. Other languages are for your convenience.
పల్లవి
శ్రీ కృష్ణం భజ మానస సతతం
శ్రిత జన పరిపాలం గోపాలం బాలం
అనుపల్లవి
పాక శాసనాది వినుత చరణం
శోక మోహ భయ హరణం భవ తరణం
చరణము
శంఖ చక్ర గదా పద్మ వన మాలం
వేణు గాన లోలం కృపాలవాలం
కంకణ కేయూర మకుట మండిత –
కమనీయ కనక-మయ చేలం
(మధ్యమ కాల సాహిత్యం)
పంకజాసనాది దేవ మహితం
శ్రీ గురు గుహ విహితం రమా సహితం
పంకజ దళ నయనం వట శయనం
గురు పవన పురాధీశం లోకేశం
.
பல்லவி
ஸ்ரீ க்ரு2ஷ்ணம் ப4ஜ மானஸ ஸததம்
ஸ்1ரித ஜன பரிபாலம் கோ3பாலம் பா3லம்
அனுபல்லவி
பாக ஸா1ஸனாதி3 வினுத சரணம்
ஸோ1க மோஹ ப4ய ஹரணம் ப4வ தரணம்
சரணம்
ஸ1ங்க2 சக்ர க3தா3 பத்3ம வன மாலம்
வேணு கா3ன லோலம் க்ரு2பாலவாலம்
கங்கண கேயூர மகுட மண்டி3த –
கமனீய கனக-மய சேலம்
(மத்4யம கால ஸாஹித்யம்)
பங்கஜாஸனாதி3 தே3வ மஹிதம்
ஸ்ரீ கு3ரு கு3ஹ விஹிதம் ரமா ஸஹிதம்
பங்கஜ த3ள நயனம் வட ஸ1யனம்
கு3ரு பவன புராதீ4ஸ1ம் லோகேஸ1ம்
.
ಪಲ್ಲವಿ
ಶ್ರೀ ಕೃಷ್ಣಂ ಭಜ ಮಾನಸ ಸತತಂ
ಶ್ರಿತ ಜನ ಪರಿಪಾಲಂ ಗೋಪಾಲಂ ಬಾಲಂ
ಅನುಪಲ್ಲವಿ
ಪಾಕ ಶಾಸನಾದಿ ವಿನುತ ಚರಣಂ
ಶೋಕ ಮೋಹ ಭಯ ಹರಣಂ ಭವ ತರಣಂ
ಚರಣಂ
ಶಂಖ ಚಕ್ರ ಗದಾ ಪದ್ಮ ವನ ಮಾಲಂ
ವೇಣು ಗಾನ ಲೋಲಂ ಕೃಪಾಲವಾಲಂ
ಕಂಕಣ ಕೇಯೂರ ಮಕುಟ ಮಂಡಿತ –
ಕಮನೀಯ ಕನಕ-ಮಯ ಚೇಲಂ
(ಮಧ್ಯಮ ಕಾಲ ಸಾಹಿತ್ಯಂ)
ಪಂಕಜಾಸನಾದಿ ದೇವ ಮಹಿತಂ
ಶ್ರೀ ಗುರು ಗುಹ ವಿಹಿತಂ ರಮಾ ಸಹಿತಂ
ಪಂಕಜ ದಳ ನಯನಂ ವಟ ಶಯನಂ
ಗುರು ಪವನ ಪುರಾಧೀಶಂ ಲೋಕೇಶಂ
.
पल्लवि
श्री कृष्णं भज मानस सततं
श्रित जन परिपालं गोपालं बालम्
अनुपल्लवि
पाक शासनादि विनुत चरणं
शोक मोह भय हरणं भव तरणम्
चरणम्
शङ्ख चक्र गदा पद्म वन मालं
वेणु गान लोलं कृपालवालं
कङ्कण केयूर मकुट मण्डित –
कमनीय कनक-मय चेलम्
(मध्यम काल साहित्यम्)
पङ्कजासनादि देव महितं
श्री गुरु गुह विहितं रमा सहितं
पङ्कज दळ नयनं वट शयनं
गुरु पवन पुराधीशं लोकेशम्
.
pallavi
SrI kRshNaM bhaja mAnasa satataM
Srita jana paripAlaM gOpAlaM bAlam
anupallavi
pAka SAsanAdi vinuta caraNaM
SOka mOha bhaya haraNaM bhava taraNam
caraNam
Sankha cakra gadA padma vana mAlaM
vENu gAna lOlaM kRpAlavAlaM
kankaNa kEyUra makuTa maNDita –
kamanIya kanaka-maya cElam
(madhyama kAla sAhityam)
pankajAsanAdi dEva mahitaM
SrI guru guha vihitaM ramA sahitaM
pankaja daLa nayanaM vaTa SayanaM
guru pavana purAdhISaM lOkESam
.
പല്ലവി
ശ്രീ കൃഷ്ണം ഭജ മാനസ സതതം
ശ്രിത ജന പരിപാലം ഗോപാലം ബാലമ്
അനുപല്ലവി
പാക ശാസനാദി വിനുത ചരണം
ശോക മോഹ ഭയ ഹരണം ഭവ തരണമ്
ചരണമ്
ശങ്ഖ ചക്ര ഗദാ പദ്മ വന മാലം
വേണു ഗാന ലോലം കൃപാലവാലം
കങ്കണ കേയൂര മകുട മണ്ഡിത –
കമനീയ കനക-മയ ചേലമ്
(മധ്യമ കാല സാഹിത്യമ്)
പങ്കജാസനാദി ദേവ മഹിതം
ശ്രീ ഗുരു ഗുഹ വിഹിതം രമാ സഹിതം
പങ്കജ ദള നയനം വട ശയനം
ഗുരു പവന പുരാധീശം ലോകേശമ്
.
Pallavi
O Mind, Chant the name of Krishna always, He protects those who seek him. He is the child, The cowherd.
Anupallavi
The feet that are worshipped by the Gods beginning with Indra, the slayer of Paka. The one who removes sorrow, lust and fear. The one who helps us in crossing the samsara sagara.
Charanam
The one who carries the conch, discus, mace and lotus. The one that wears a flower garland. The one who delights in the music of the flute and is greatly compassionate. The one who wears armlets, bracelets and a crown and sports golden garments. The one respected by Brahma and the other Gods. The one pleased by Lord Subrahmanya. The one with Rama (Goddess Lakshmi).
One whose eyes are like lotus petals. The one who reclines on a banyan leaf. Te Lord of Gurupavana Puram.
The protector of the universe.
.