Composer: Muttukumaraswamy (முத்துகுமாரச்வாமி) popularly known as Muthuswamy Dikshithar (முத்துஸ்வாமி தீக்ஷிதர் – ముత్తుస్వామీ డిక్షితర్), (March 24, 1775 – October 21, 1835) was born in Tiruvarur (of Thanjavur district of Tamil Nadu) to a Tamil Iyer Brahmin couple Ramaswami Dikshitar and Subbamma, as the eldest son. He also had two younger brothers Baluswami, Chinnaswami and a sister Balambal.Chidambaranatha Yogi was his guru. More…

Raagam: Rudra Priya
Taalam: MiSra Caapu
Diety: Tiruvarur – Thyagaraja vibhakti Krithis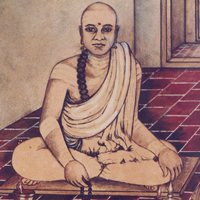 .
Recitals
Album: Unknown | Voice: Neela Ramgopal

Awaiting Contributions.

We believe this kriti was originally composed in sanskrit. Other languages are for your convenience.
పల్లవి
శ్రీ త్యాగరాజస్య భక్తో భవామి
కించిద్జ్ఞోऽప్యతోऽహం సర్వజ్ఞేవాస్మి
అనుపల్లవి
కాత్యాయనీ మోహిత స్వరూపస్య
కామాది వృత్తి హరణ ప్రతాపస్య
భూత్యాభరణాలంకృత గాత్రస్య
బుద్ధ శుద్ధ నిత్యానంద మాత్రస్య
చరణం
అమరేశాది పూజిత సాయంకాలస్య
అతి శుద్ధ మద్దళాది వాద్య లీలస్య
నవ నంద్యాది భక్త జన పాలస్య
నత సురాసుర సంహతి జాలస్య
కమల కల్హార మాలస్య
కాంచన మణి-మయ చేలస్య
కమనీయ గురు గుహ మూలస్య
కమలా పుర కృత లీలస్య
(మధ్యమ కాల సాహిత్యం)
విమల రుద్ర గణికా నర్తన –
వినోద భేద మోద-కరస్య
కమల విడంబన కరస్య
శంకరస్య పుర హరస్య హరస్య
variations
సర్వజ్ఞేవాస్మి – సర్వజ్ఞోవాస్మి – సర్వజ్ఞ ఏవాహం (సర్వజ్ఞోవాస్మి – seems to be error)
భూత్యాభరణాలంకృత – భూతాభరణాలంకృత
వాద్య లీలస్య – వాద్య లోలస్య
సంహతి – సంసతి
.
பல்லவி
ஸ்ரீ த்யாக3ராஜஸ்ய ப4க்தோ ப4வாமி
கிஞ்சித்3க்3ஞோऽப்யதோऽஹம் ஸர்வக்3ஞேவாஸ்மி
அனுபல்லவி
காத்யாயனீ மோஹித ஸ்வரூபஸ்ய
காமாதி3 வ்ரு2த்தி ஹரண ப்ரதாபஸ்ய
பூ4த்யாப4ரணாலங்க்ரு2த கா3த்ரஸ்ய
பு3த்3த4 ஸு1த்3த4 நித்யானந்த3 மாத்ரஸ்ய
சரணம்
அமரேஸா1தி3 பூஜித ஸாயங்காலஸ்ய
அதி ஸு1த்3த4 மத்3த3ளாதி3 வாத்3ய லீலஸ்ய
நவ நந்த்3யாதி3 ப4க்த ஜன பாலஸ்ய
நத ஸுராஸுர ஸம்ஹதி ஜாலஸ்ய
கமல கல்ஹார மாலஸ்ய
காஞ்சன மணி-மய சேலஸ்ய
கமனீய கு3ரு கு3ஹ மூலஸ்ய
கமலா புர க்ரு2த லீலஸ்ய
(மத்4யம கால ஸாஹித்யம்)
விமல ருத்3ர க3ணிகா நர்தன –
வினோத3 பே4த3 மோத3-கரஸ்ய
கமல விட3ம்ப3ன கரஸ்ய
ஸ1ங்கரஸ்ய புர ஹரஸ்ய ஹரஸ்ய
variations
ஸர்வக்3ஞேவாஸ்மி – ஸர்வக்3ஞோவாஸ்மி – ஸர்வக்3ஞ ஏவாஹம் (ஸர்வக்3ஞோவாஸ்மி – seems to be error)
பூ4த்யாப4ரணாலங்க்ரு2த – பூ4தாப4ரணாலங்க்ரு2த
வாத்3ய லீலஸ்ய – வாத்3ய லோலஸ்ய
ஸம்ஹதி – ஸம்ஸதி
.
ಪಲ್ಲವಿ
ಶ್ರೀ ತ್ಯಾಗರಾಜಸ್ಯ ಭಕ್ತೋ ಭವಾಮಿ
ಕಿಂಚಿದ್ಜ್ಞೋऽಪ್ಯತೋऽಹಂ ಸರ್ವಜ್ಞೇವಾಸ್ಮಿ
ಅನುಪಲ್ಲವಿ
ಕಾತ್ಯಾಯನೀ ಮೋಹಿತ ಸ್ವರೂಪಸ್ಯ
ಕಾಮಾದಿ ವೃತ್ತಿ ಹರಣ ಪ್ರತಾಪಸ್ಯ
ಭೂತ್ಯಾಭರಣಾಲಂಕೃತ ಗಾತ್ರಸ್ಯ
ಬುದ್ಧ ಶುದ್ಧ ನಿತ್ಯಾನಂದ ಮಾತ್ರಸ್ಯ
ಚರಣಂ
ಅಮರೇಶಾದಿ ಪೂಜಿತ ಸಾಯಂಕಾಲಸ್ಯ
ಅತಿ ಶುದ್ಧ ಮದ್ದಳಾದಿ ವಾದ್ಯ ಲೀಲಸ್ಯ
ನವ ನಂದ್ಯಾದಿ ಭಕ್ತ ಜನ ಪಾಲಸ್ಯ
ನತ ಸುರಾಸುರ ಸಂಹತಿ ಜಾಲಸ್ಯ
ಕಮಲ ಕಲ್ಹಾರ ಮಾಲಸ್ಯ
ಕಾಂಚನ ಮಣಿ-ಮಯ ಚೇಲಸ್ಯ
ಕಮನೀಯ ಗುರು ಗುಹ ಮೂಲಸ್ಯ
ಕಮಲಾ ಪುರ ಕೃತ ಲೀಲಸ್ಯ
(ಮಧ್ಯಮ ಕಾಲ ಸಾಹಿತ್ಯಂ)
ವಿಮಲ ರುದ್ರ ಗಣಿಕಾ ನರ್ತನ –
ವಿನೋದ ಭೇದ ಮೋದ-ಕರಸ್ಯ
ಕಮಲ ವಿಡಂಬನ ಕರಸ್ಯ
ಶಂಕರಸ್ಯ ಪುರ ಹರಸ್ಯ ಹರಸ್ಯ
variations
ಸರ್ವಜ್ಞೇವಾಸ್ಮಿ – ಸರ್ವಜ್ಞೋವಾಸ್ಮಿ – ಸರ್ವಜ್ಞ ಏವಾಹಂ (ಸರ್ವಜ್ಞೋವಾಸ್ಮಿ – seems to be error)
ಭೂತ್ಯಾಭರಣಾಲಂಕೃತ – ಭೂತಾಭರಣಾಲಂಕೃತ
ವಾದ್ಯ ಲೀಲಸ್ಯ – ವಾದ್ಯ ಲೋಲಸ್ಯ
ಸಂಹತಿ – ಸಂಸತಿ
.
पल्लवि
श्री त्यागराजस्य भक्तो भवामि
किंचिद्ज्ञोऽप्यतोऽहं सर्वज्ञेवास्मि
अनुपल्लवि
कात्यायनी मोहित स्वरूपस्य
कामादि वृत्ति हरण प्रतापस्य
भूत्याभरणालङ्कृत गात्रस्य
बुद्ध शुद्ध नित्यानन्द मात्रस्य
चरणम्
अमरेशादि पूजित सायंकालस्य
अति शुद्ध मद्दळादि वाद्य लीलस्य
नव नन्द्यादि भक्त जन पालस्य
नत सुरासुर संहति जालस्य
कमल कल्हार मालस्य
काञ्चन मणि-मय चेलस्य
कमनीय गुरु गुह मूलस्य
कमला पुर कृत लीलस्य
(मध्यम काल साहित्यम्)
विमल रुद्र गणिका नर्तन –
विनोद भेद मोद-करस्य
कमल विडम्बन करस्य
शङ्करस्य पुर हरस्य हरस्य
variations
सर्वज्ञेवास्मि – सर्वज्ञोवास्मि – सर्वज्ञ एवाहं (सर्वज्ञोवास्मि – seems to be error)
भूत्याभरणालङ्कृत – भूताभरणालङ्कृत
वाद्य लीलस्य – वाद्य लोलस्य
संहति – संसति
.
pallavi
SrI tyAgarAjasya bhaktO bhavAmi
kiMcidjnO(a)pyatO(a)haM sarvajnEvAsmi
anupallavi
kAtyAyanI mOhita svarUpasya
kAmAdi vRtti haraNa pratApasya
bhUtyAbharaNAlankRta gAtrasya
buddha Suddha nityAnanda mAtrasya
caraNam
amarESAdi pUjita sAyaMkAlasya
ati Suddha maddaLAdi vAdya lIlasya
nava nandyAdi bhakta jana pAlasya
nata surAsura saMhati jAlasya
kamala kalhAra mAlasya
kAncana maNi-maya cElasya
kamanIya guru guha mUlasya
kamalA pura kRta lIlasya
(madhyama kAla sAhityam)
vimala rudra gaNikA nartana –
vinOda bhEda mOda-karasya
kamala viDambana karasya
Sankarasya pura harasya harasya
variations
sarvajnEvAsmi – sarvajnOvAsmi – sarvajna EvAhaM (sarvajnOvAsmi – seems to be error)
bhUtyAbharaNAlankRta – bhUtAbharaNAlankRta
vAdya lIlasya – vAdya lOlasya
saMhati – saMsati
.
പല്ലവി
ശ്രീ ത്യാഗരാജസ്യ ഭക്തോ ഭവാമി
കിഞ്ചിദ്ജ്ഞോऽപ്യതോऽഹം സര്വജ്ഞേവാസ്മി
അനുപല്ലവി
കാത്യായനീ മോഹിത സ്വരൂപസ്യ
കാമാദി വൃത്തി ഹരണ പ്രതാപസ്യ
ഭൂത്യാഭരണാലങ്കൃത ഗാത്രസ്യ
ബുദ്ധ ശുദ്ധ നിത്യാനന്ദ മാത്രസ്യ
ചരണമ്
അമരേശാദി പൂജിത സായങ്കാലസ്യ
അതി ശുദ്ധ മദ്ദളാദി വാദ്യ ലീലസ്യ
നവ നന്ദ്യാദി ഭക്ത ജന പാലസ്യ
നത സുരാസുര സംഹതി ജാലസ്യ
കമല കല്ഹാര മാലസ്യ
കാഞ്ചന മണി-മയ ചേലസ്യ
കമനീയ ഗുരു ഗുഹ മൂലസ്യ
കമലാ പുര കൃത ലീലസ്യ
(മധ്യമ കാല സാഹിത്യമ്)
വിമല രുദ്ര ഗണികാ നര്തന –
വിനോദ ഭേദ മോദ-കരസ്യ
കമല വിഡമ്ബന കരസ്യ
ശങ്കരസ്യ പുര ഹരസ്യ ഹരസ്യ
variations
സര്വജ്ഞേവാസ്മി – സര്വജ്ഞോവാസ്മി – സര്വജ്ഞ ഏവാഹം (സര്വജ്ഞോവാസ്മി – seems to be error)
ഭൂത്യാഭരണാലങ്കൃത – ഭൂതാഭരണാലങ്കൃത
വാദ്യ ലീലസ്യ – വാദ്യ ലോലസ്യ
സംഹതി – സംസതി
.
Pallavi
I become the devotee of Lord Tyagaraja.(By virtue of which) I know little but I am all-knowing
Anupallavi
He whose form is fascinating to Goddess Katyayani, He is renowned for annihilating desires. He whose form is anointed with sacred ashes, He is the personification of intelligence, purity, and eternal bliss. He is worshiped in the evenings by Lord Indra and others, enjoys the music of the purest of the shuddhamaddala drums, protects devotees such as Navanandi, and is surrounded by the worshiping Devas as well as Asuras.
Charanam
He who is adorned by garlands of lotus and lilies, wearing a garment of gold studded with gems, He is the progenitor of the handsome Guruguha, sports in Kamalapura, and delights in the various dances performed by the Rudra Ganikas. The beauty of His hands exceeds that of a lotus, he who is Shankara, the destroyer of Tripura, the great Hara.
.