Composer: Muttukumaraswamy (முத்துகுமாரச்வாமி) popularly known as Muthuswamy Dikshithar (முத்துஸ்வாமி தீக்ஷிதர் – ముత్తుస్వామీ డిక్షితర్), (March 24, 1775 – October 21, 1835) was born in Tiruvarur (of Thanjavur district of Tamil Nadu) to a Tamil Iyer Brahmin couple Ramaswami Dikshitar and Subbamma, as the eldest son. He also had two younger brothers Baluswami, Chinnaswami and a sister Balambal.Chidambaranatha Yogi was his guru. More…
Raagam: Sri
Taalam: Rupakam
Diety: Sri Lakshmi Krithis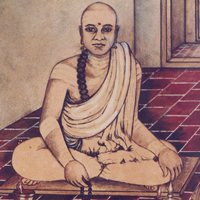 .
Recitals
Album: Unknown | Voice: Madurai Mani Iyer
Album: Unknown | Voice: M.S.Subbalakshmi

Awaiting Contributions.

We believe this kriti was originally composed in sanskrit. Other languages are for your convenience.
పల్లవి
శ్రీ వర లక్ష్మి నమస్తుభ్యం వసు ప్రదే
శ్రీ సారస పదే రస పదే సపదే పదే పదే
అనుపల్లవి
భావజ జనక ప్రాణ వల్లభే సువర్ణాభే
భాను కోటి సమాన ప్రభే భక్త సులభే
(మధ్యమ కాల సాహిత్యం)
సేవక జన పాలిన్యై శ్రిత పంకజ మాలిన్యై
కేవల గుణశాలిన్యై కేశవ హృత్ఖేలిన్యై
చరణం
శ్రావణ పౌర్ణమీ పూర్వస్థ శుక్రవారే –
చారుమతీ ప్రభృతిభిః పూజితాకారే
దేవాది గురు గుహ సమర్పిత మణి-మయ హారే
దీన జన సంరక్షణ నిపుణ కనక ధారే
(మధ్యమ కాల సాహిత్యం)
భావనా భేద చతురే భారతీ సన్నుత వరే
కైవల్య వితరణ పరే కాంక్షిత ఫల ప్రద కరే
.
பல்லவி
ஸ்ரீ வர லக்ஷ்மி நமஸ்துப்4யம் வஸு ப்ரதே3
ஸ்ரீ ஸாரஸ பதே3 ரஸ பதே3 ஸபதே3 பதே3 பதே3
அனுபல்லவி
பா4வஜ ஜனக ப்ராண வல்லபே4 ஸுவர்ணாபே4
பா4னு கோடி ஸமான ப்ரபே4 ப4க்த ஸுலபே4
(மத்4யம கால ஸாஹித்யம்)
ஸேவக ஜன பாலின்யை ஸ்1ரித பங்கஜ மாலின்யை
கேவல கு3ணஸா1லின்யை கேஸ1வ ஹ்ரு2த்கே2லின்யை
சரணம்
ஸ்1ராவண பௌர்ணமீ பூர்வஸ்த2 ஸு1க்ரவாரே –
சாருமதீ ப்ரப்4ரு2திபி4: பூஜிதாகாரே
தே3வாதி3 கு3ரு கு3ஹ ஸமர்பித மணி-மய ஹாரே
தீ3ன ஜன ஸம்ரக்ஷண நிபுண கனக தா4ரே
(மத்4யம கால ஸாஹித்யம்)
பா4வனா பே4த3 சதுரே பா4ரதீ ஸன்னுத வரே
கைவல்ய விதரண பரே காங்க்ஷித ப2ல ப்ரத3 கரே
.
ಪಲ್ಲವಿ
ಶ್ರೀ ವರ ಲಕ್ಷ್ಮಿ ನಮಸ್ತುಭ್ಯಂ ವಸು ಪ್ರದೇ
ಶ್ರೀ ಸಾರಸ ಪದೇ ರಸ ಪದೇ ಸಪದೇ ಪದೇ ಪದೇ
ಅನುಪಲ್ಲವಿ
ಭಾವಜ ಜನಕ ಪ್ರಾಣ ವಲ್ಲಭೇ ಸುವರ್ಣಾಭೇ
ಭಾನು ಕೋಟಿ ಸಮಾನ ಪ್ರಭೇ ಭಕ್ತ ಸುಲಭೇ
(ಮಧ್ಯಮ ಕಾಲ ಸಾಹಿತ್ಯಂ)
ಸೇವಕ ಜನ ಪಾಲಿನ್ಯೈ ಶ್ರಿತ ಪಂಕಜ ಮಾಲಿನ್ಯೈ
ಕೇವಲ ಗುಣಶಾಲಿನ್ಯೈ ಕೇಶವ ಹೃತ್ಖೇಲಿನ್ಯೈ
ಚರಣಂ
ಶ್ರಾವಣ ಪೌರ್ಣಮೀ ಪೂರ್ವಸ್ಥ ಶುಕ್ರವಾರೇ –
ಚಾರುಮತೀ ಪ್ರಭೃತಿಭಿಃ ಪೂಜಿತಾಕಾರೇ
ದೇವಾದಿ ಗುರು ಗುಹ ಸಮರ್ಪಿತ ಮಣಿ-ಮಯ ಹಾರೇ
ದೀನ ಜನ ಸಂರಕ್ಷಣ ನಿಪುಣ ಕನಕ ಧಾರೇ
(ಮಧ್ಯಮ ಕಾಲ ಸಾಹಿತ್ಯಂ)
ಭಾವನಾ ಭೇದ ಚತುರೇ ಭಾರತೀ ಸನ್ನುತ ವರೇ
ಕೈವಲ್ಯ ವಿತರಣ ಪರೇ ಕಾಂಕ್ಷಿತ ಫಲ ಪ್ರದ ಕರೇ
.
पल्लवि
श्री वर लक्ष्मि नमस्तुभ्यं वसु प्रदे
श्री सारस पदे रस पदे सपदे पदे पदे
अनुपल्लवि
भावज जनक प्राण वल्लभे सुवर्णाभे
भानु कोटि समान प्रभे भक्त सुलभे
(मध्यम काल साहित्यम्)
सेवक जन पालिन्यै श्रित पङ्कज मालिन्यै
केवल गुणशालिन्यै केशव हृत्खेलिन्यै
चरणम्
श्रावण पौर्णमी पूर्वस्थ शुक्रवारे –
चारुमती प्रभृतिभिः पूजिताकारे
देवादि गुरु गुह समर्पित मणि-मय हारे
दीन जन संरक्षण निपुण कनक धारे
(मध्यम काल साहित्यम्)
भावना भेद चतुरे भारती सन्नुत वरे
कैवल्य वितरण परे काङ्क्षित फल प्रद करे
.
pallavi
SrI vara lakshmi namastubhyaM vasu pradE
SrI sArasa padE rasa padE sapadE padE padE
anupallavi
bhAvaja janaka prANa vallabhE suvarNAbhE
bhAnu kOTi samAna prabhE bhakta sulabhE
(madhyama kAla sAhityam)
sEvaka jana pAlinyai Srita pankaja mAlinyai
kEvala guNaSAlinyai kESava hRtkhElinyai
caraNam
SrAvaNa paurNamI pUrvastha SukravArE –
cArumatI prabhRtibhiH pUjitAkArE
dEvAdi guru guha samarpita maNi-maya hArE
dIna jana saMrakshaNa nipuNa kanaka dhArE
(madhyama kAla sAhityam)
bhAvanA bhEda caturE bhAratI sannuta varE
kaivalya vitaraNa parE kAGkshita phala prada karE
.
പല്ലവി
ശ്രീ വര ലക്ഷ്മി നമസ്തുഭ്യം വസു പ്രദേ
ശ്രീ സാരസ പദേ രസ പദേ സപദേ പദേ പദേ
അനുപല്ലവി
ഭാവജ ജനക പ്രാണ വല്ലഭേ സുവര്ണാഭേ
ഭാനു കോടി സമാന പ്രഭേ ഭക്ത സുലഭേ
(മധ്യമ കാല സാഹിത്യമ്)
സേവക ജന പാലിന്യൈ ശ്രിത പങ്കജ മാലിന്യൈ
കേവല ഗുണശാലിന്യൈ കേശവ ഹൃത്ഖേലിന്യൈ
ചരണമ്
ശ്രാവണ പൌര്ണമീ പൂര്വസ്ഥ ശുക്രവാരേ –
ചാരുമതീ പ്രഭൃതിഭിഃ പൂജിതാകാരേ
ദേവാദി ഗുരു ഗുഹ സമര്പിത മണി-മയ ഹാരേ
ദീന ജന സംരക്ഷണ നിപുണ കനക ധാരേ
(മധ്യമ കാല സാഹിത്യമ്)
ഭാവനാ ഭേദ ചതുരേ ഭാരതീ സന്നുത വരേ
കൈവല്യ വിതരണ പരേ കാങ്ക്ഷിത ഫല പ്രദ കരേ
.
Pallavi
Salutations unto the auspicious VaraLakshmi!. Bestower of wealth.One with lotus-feet, one whose feet shows the true essence. One whose feet are auspicious.
Anupallavi
Charanam
The one who is dear to Vishnu – the father of Manmatha. The golden-hued one.The one whose radiance is like crores of suns. The one who is easily attainable to her devotees.
.