Composer: Sri Tallapaka Annamacharya (Annamayya అన్నమయ్య) , May 9, 1408 – February 23, 1503 was born to Narayana Suri and Lakkamamba in Tallapaka, a village in current day Kadapa district of Andhra Pradesh. More….
Keerthana No. 6
Copper Sheet No. 2
Pallavi: Tagilanamunu leyatani
(తగిలనమును లేయాతని)
Ragam: Sriragam
Language: Telugu (తెలుగు)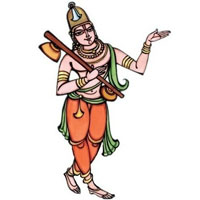 Recitals
Awaiting Contributions.
…
Awaiting Contributions.
[audio: audio-instrumental-file-name.mp3].
This Kriti was originally composed in Telugu. Other languages are for your convenience.
Pallavi
తగిలనమును లేయాతని గందురంటా
మగువ యెవ్వరితోడ మాటాడదిపుడు ||
Charanams
1.అతుల నిరాహరులాతనికి బ్రియులంటా
అతివ నిన్నటినుండి యారగించను
తతినడపుల నుండి తపసు లేయతనికి
హితులంటా వనములో నెడయ దీ తరుణి ||
2.తలకొన్న యతనిపై తలపే పరమంటా
చెలియ చెక్కిటనున్న చెయి దియ్యదు
వలనైన యాతడు దేవతల కొడయడంటా
కలికి రేయిబగలు కనుముయ్యదిపుడు ||
3.అడరిజలములోన నతడుండునంటా
వడియు జెమట దుడువదు మేనను
కడు మంచియతడు వేంకటగిరి విభుడంటా
పడతి యాతనినె గుబ్బలనోత్తనిపుడు ||
.
Pallavi
tagilanamunu lEyAtani gaMduraMTA
maguva yevvaritODa mATADadipuDu ||
Charanams
1.atula nirAharulAtaniki briyulaMTA
ativa ninnaTinuMDi yAragiMchanu
tatinaDapula nuMDi tapasu lEyataniki
hitulaMTA vanamulO neDaya dI taruNi ||
2.talakonna yatanipai talapE paramaMTA
cheliya chekkiTanunna cheyi diyyadu
valanaina yAtaDu dEvatala koDayaDaMTA
kaliki rEyibagalu kanumuyyadipuDu ||
3.aDarijalamulOna nataDuMDunaMTA
vaDiyu jemaTa duDuvadu mEnanu
kaDu maMchiyataDu vEMkaTagiri vibhuDaMTA
paDati yAtanine gubbalanOttanipuDu ||
.
We will update this page , once we find comprehensive
meaning. Feel free to contribute if you know.
.