Composer: Sri Tallapaka Annamacharya (Annamayya అన్నమయ్య) , May 9, 1408 – February 23, 1503 was born to Narayana Suri and Lakkamamba in Tallapaka, a village in current day Kadapa district of Andhra Pradesh. More….
Keerthana No. 39
Copper Sheet No. 708
Pallavi: Tana melechuchu (తన మేలెచూచు)
Ragam: Lalitha
Language: Telugu (తెలుగు)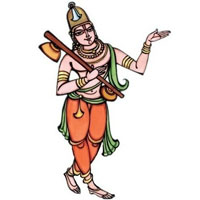 Recitals
Awaiting Contributions.
…
Awaiting Contributions.
[audio: audio-instrumental-file-name.mp3].
This Kriti was originally composed in Telugu. Other languages are for your convenience.
Pallavi
|| తన మేలెచూచు గాక తరుణుల యెడలను
యెనలేని మగవాని నేమనగ వచ్చును ||
Charanams
|| మంత నాన నాకె నీవు మాటలాడే చోటికి
వింతది రా సిగ్గుగాదా విచారించితే
చెంత నీ వెదెర గక చెలి నిందుకు బిల్చేవు
యెంతైనా మగవాని కెక్కడిది తగవు ||
|| గారవాన నాకె నీవు కాగిలించ కుండ గాను
మారు సతితో తొంగిచూడ గోరము గాదా
ఆరీతి వాకిట నుంటే ఆపె దెమ్మనేవు వీడె
మారజవు మగవాడు ఆదికెకు లోగునా ||
|| శ్రీవేంకటేశుడ ఆకె చెయి పట్టి పెండ్లాడగా
సేవ సేయ నొకతెకు సెగ్గెము గాదా
యీ వల నన్నేలితివి యీపె నాపె గూడితివి
కావరపు మగవాని కతలిట్టే కాదా ||
.
Pallavi
|| tana mElechUchu gAka taruNula yeDalanu
yenalEni magavAni nEmanaga vachchunu ||
Charanams
|| maMta nAna nAke nIvu mATalADE chOTiki
viMtadi rA siggugAdA vichAriMchitE
cheMta nI vedera gaka cheli niMduku bilchEvu
yeMtainA magavAni kekkaDidi tagavu ||
|| gAravAna nAke nIvu kAgiliMcha kuMDa gAnu
mAru satitO toMgichUDa gOramu gAdA
ArIti vAkiTa nuMTE Ape demmanEvu vIDe
mArajavu magavADu Adikeku lOgunA ||
|| SrIvEMkaTESuDa Ake cheyi paTTi peMDlADagA
sEva sEya nokateku seggemu gAdA
yI vala nannElitivi yIpe nApe gUDitivi
kAvarapu magavAni kataliTTE kAdA ||
.

We will update this page , once we find comprehensive meaning. Feel free to contribute if you know.
.