Composer: Sri Tallapaka Annamacharya (Annamayya అన్నమయ్య) , May 9, 1408 – February 23, 1503 was born to Narayana Suri and Lakkamamba in Tallapaka, a village in current day Kadapa district of Andhra Pradesh. More….
Keerthana No. 213
Copper Sheet No. 147
Pallavi: Tanalo Numdinahari (తనలో నుండినహరి)
Ragam: Kedara Gowla
Language: Telugu (తెలుగు)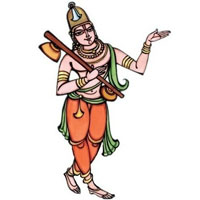 Recitals
Tanalo Numdinahari | తనలో నుండినహరి
Album: Private | Voice: Shobharaju

Awaiting Contributions.
This Kriti was originally composed in Telugu. Other languages are for your convenience.
Pallavi
||తనలో నుండినహరి దా గొలువ డీదేహి | యెనలేక శరణంటే నితడే రక్షించును ||
Charanams
||కోరి ముదిమిమానుపుకొనేయాస మందులంటా | వూరకే చేదులుదిన నొడబడును |
ఆరూఢి మంత్రసిద్ధుడయ్యేననేయాసలను | ఘోరపుబాట్లకు గక్కన నొడబడును||
||యిట్టె యక్షిణి బంపు సేయించుకొనేయాసలను | వొట్టి జీవహింసలకు నొడబడును |
దిట్టతనమున దా నదౄశ్యము సాధించేయాస | జట్టిగ భూతాల బూజించగ నొడబడును ||
||చాపలపుసిరులకై శక్తి గొలిచేYఆసను | వోపి నిందలకునెల్లా నొడబడును |
యేపున శ్రీవేంకటేశు డేలి చేపట్టినదాకా | ఆపరానియాస నెందుకైనా నొడబడును ||
.
Pallavi
||tanalO nuMDinahari dA goluva DIdEhi | yenalEka SaraNaMTE nitaDE rakShiMcunu ||
charanams
||kOri mudimimAnupukonEyAsa maMdulaMTA | vUrakE cEduludina noDabaDunu |
ArUDhi maMtrasiddhuDayyEnanEyAsalanu | GOrapubATlaku gakkana noDabaDunu||
||yiTTe yakShiNi baMpu sEyiMcukonEyAsalanu | voTTi jIvahiMsalaku noDabaDunu |
diTTatanamuna dA nadRuSyamu sAdhiMcEyAsa | jaTTiga BUtAla bUjiMcaga noDabaDunu ||
||cApalapusirulakai Sakti golicEYAsanu | vOpi niMdalakunellA noDabaDunu |
yEpuna SrIvEMkaTESu DEli cEpaTTinadAkA | AparAniyAsa neMdukainA noDabaDunu ||
.

We will update this page , once we find comprehensive meaning. Feel free to contribute if you know.
.