Composer: Sri Tallapaka Annamacharya (Annamayya అన్నమయ్య) , May 9, 1408 – February 23, 1503 was born to Narayana Suri and Lakkamamba in Tallapaka, a village in current day Kadapa district of Andhra Pradesh. More….
Keerthana No.38
Copper Sheet No. 48
Pallavi:Tanivi Diraka Nanu (తనివి దీరక నను)
Ragam: Sriragam
Language: Telugu (తెలుగు)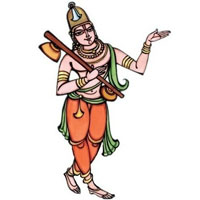 Recitals
Awaiting Contributions.
…
Awaiting Contributions.
[audio: audio-instrumental-file-name.mp3].
This Kriti was originally composed in Telugu. Other languages are for your convenience.
Pallavi
|| తనివి దీరక నను తమకమున నెంతేని | చెనకేవు వద్దు నీ చిత్తమిక నోరి ||
Charanams
|| దంటవై నాచేత దలపించు కొనగ దొర- | కొంటి వింక నిది నీకు కొలది బడునా |
నంటున నాప్రియము నాటిలను నిన్ను నా- | వెంట ద్రిప్పక నిన్ను విడుతునా వోరి ||
|| గబ్బివై నావాలు గనుగొనల నవ్వులకు | నుబ్బేవు నీవు నీ వొడబడికల |
నిబ్బరపు నా వలపు నెలకొన్నయపుడేని | అబ్బురంబగు గర్వమణచనా వోరి ||
|| మెట్టుకొని నీవు నా మెఱుగు బయ్యద చెఱగు | పట్టేవు నీకు నీ పరిణామమా |
దిట్టవై కూడితివి తిరువేంకటేశ్వరుడ | యిట్టట్టు నిన్ను బోనిత్తునా వోరి ||
.
Pallavi
|| tamakamuna neMtEni | cenakEvu vaddu nI cittamika nOri ||
Charanams
|| daMTavai nAcEta dalapiMcu konaga dora- | koMTi viMka nidi nIku koladi baDunA |
naMTuna nApriyamu nATilanu ninnu nA- | veMTa drippaka ninnu viDutunA vOri ||
|| gabbivai nAvAlu ganugonala navvulaku | nubbEvu nIvu nI voDabaDikala |
nibbarapu nA valapu nelakonnayapuDEni | abburaMbagu garvamaNacanA vOri ||
|| meTTukoni nIvu nA merxugu bayyada cerxagu | paTTEvu nIku nI pariNAmamA |
diTTavai kUDitivi tiruvEMkaTESvaruDa | yiTTaTTu ninnu bOnittunA vOri ||
.

We will update this page , once we find comprehensive meaning. Feel free to contribute if you know.
.