Composer: Sri Tallapaka Annamacharya (Annamayya అన్నమయ్య) , May 9, 1408 – February 23, 1503 was born to Narayana Suri and Lakkamamba in Tallapaka, a village in current day Kadapa district of Andhra Pradesh. More….
Keerthana No. 46
Copper Sheet No. 49
Pallavi: Tattadi gudi dhimdhim
(తత్తాడి గుడి ధింధిం)
Ragam: Samantham
Language: Telugu (తెలుగు)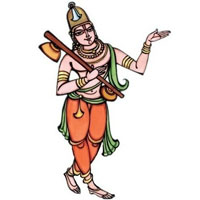 Recitals
Awaiting Contributions.
…
Awaiting Contributions.
[audio: audio-instrumental-file-name.mp3].
This Kriti was originally composed in Telugu. Other languages are for your convenience.
Pallavi
|| తత్తాడి గుడి ధింధిం తకధింధిం
తిత్తి తిత్తితి తితి తితి తితి||
Charanams
|| దానవవదన వితానదాన సం-
ధాన రుధిర నిజపాన మిదం |
నానా భూత గణానాం గానం
దీన జనానాం తిత్తితి తితి ||
|| విమత దనుజమత విభవపరిభవిత
సమధికం తవ శౌర్య మిదం |
ప్రమదా భవ్యం ప్రమదాభరణం
తిమిర నిరసనం తిత్తితి తితి ||
|| తిరువేంకటగిరి దేవనిధానం
పరమామృతరస భాగ్యమిదం |
కరుణావరణం కమలా ధటనం
తిరొ తిరొ తిత్తితి తితి తితి ||
.
Pallavi
|| tattADi guDi dhiMdhiM takadhiMdhiM
titti tittiti titi titi titi||
Charanams
|| dAnavavadana vitAnadAna saM-
dhAna rudhira nijapAna midaM |
nAnA bhUta gaNAnAM gAnaM
dIna janAnAM tittiti titi ||
|| vimata danujamata vibhavaparibhavita
samadhikaM tava Saurya midaM |
pramadA bhavyaM pramadAbharaNaM
timira nirasanaM tittiti titi ||
|| tiruvEMkaTagiri dEvanidhAnaM
paramAmRtarasa bhAgyamidaM |
karuNAvaraNaM kamalA dhaTanaM
tiro tiro tittiti titi titi ||
.

We will update this page , once we find comprehensive meaning. Feel free to contribute if you know.
.