Composer: Sri Tallapaka Annamacharya (Annamayya అన్నమయ్య) , May 9, 1408 – February 23, 1503 was born to Narayana Suri and Lakkamamba in Tallapaka, a village in current day Kadapa district of Andhra Pradesh. More….
Keerthana No. 323
Copper Sheet No. 63
Pallavi: Twameva saranam (త్వమేవ శరణం)
Ragam: Sriragam
Language: Telugu (తెలుగు)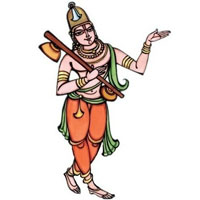 Recitals
Awaiting Contributions.
…
Awaiting Contributions.
[audio: audio-instrumental-file-name.mp3].
This Kriti was originally composed in Telugu. Other languages are for your convenience.
Pallavi
|| త్వమేవ శరణం త్వమేవ శరణం కమలోదర శ్రీజగన్నాథా ||
Charanams
|| వాసుదేవ కృష్ణ వామన నరసింహ శ్రీ సతీశ సరసిజనేత్రా|
భూసురవల్లభ పురుషోత్తమ పీత- కౌశేయవసన జగన్నాథా ||
|| బలభద్రానుజ పరమపురుష దుగ్ధ జలధివిహార కుంజరవరద|
సులభ సుభద్రా సుముఖ సురేశ్వర కలిదోషహరణ జగన్నాథా ||
|| వటపత్రశయన భువనపాలన జంతు- ఘటకారకరణ శృంగారాధిపా|
పటుతర నిత్యవైభవరాయ తిరువేంకటగిరినిలయ జగన్నాథా ||
.
Pallavi
||twameva saranam twameva saranam
kamalodhara sree jagannadha ||
Charanams
|| vAsudEva kRiShNa vAmana narasiMha SrI satISa sarasijanEtrA|
BUsuravallaBa puruShOttama pIta kauSEyavasana jagnnAthA ||
||balaBadrAnuja paramapuruSha dugdha jaladhivihAra kuMjaravarada |
sulaBa suBadrAsumuKa surESvara kalidOShaharaNa jagannAthA ||
||vaTapatraSayana BuvanapAlana jaMtu- GaTakArakaraNa SRuMgArAdhipA|
paTutara nityavaiBavarAya tiruvEM- kaTagirinilaya jagannAthA ||
.

We will update this page , once we find comprehensive meaning. Feel free to contribute if you know.
.