Composer: Muttukumaraswamy (முத்துகுமாரச்வாமி) popularly known as Muthuswamy Dikshithar (முத்துஸ்வாமி தீக்ஷிதர் – ముత్తుస్వామీ డిక్షితర్), (March 24, 1775 – October 21, 1835) was was born in Tiruvarur (of Thanjavur district of Tamil Nadu) to a Tamil Iyer Brahmin couple Ramaswami Dikshitar and Subbamma, as the eldest son. He also had two younger brothers Baluswami, Chinnaswami and a sister Balambal.Chidambaranatha Yogi was his guru. More…

Raagam: Gaula

Taalam: Adi
Diety: Tiruvarur – Thyagaraja vibhakti Krithis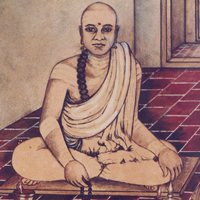 .
Recitals
Album: Unknown | Voice: M.D.Ramanathan
Album: Unknown | Voice: Dr.Semmangudi, R.Srinivasa Iyer
Album: Unknown | Voice: T.M. Krishna

Awaiting Contributions.

We believe this kriti was originally composed in sanskrit. Other languages are for your convenience.
పల్లవి
త్యాగరాజ పాలయాశు మాం
నిత్యానంద కంద సోమాస్కంద వీథి-విటంక
సమష్టి చరణమ్
నాగ రాజ మణి భూషాలంకృత
నగ రాజ సుతార్ధాంగ గౌళాంగ
భోగాది ప్రద శ్రీ నగర స్థిత
భూ-సురాది నుత వల్మీక లింగ
(మధ్యమ కాల సాహిత్యమ్)
శ్రీ గురు గుహ పూజిత వృష తురంగ
శ్రిత జన రక్షణ నిపుణాంతరంగ
భోగి యుత చరణ కర ధృత కురంగ
యోగి విదిత అజపా నటన రంగ
.
பல்லவி
த்யாக3ராஜ பாலயாஸு1 மாம்
நித்யானந்த3 கந்த3 ஸோமாஸ்கந்த3 வீதி2-விடங்க
ஸமஷ்டி சரணம்
நாக3 ராஜ மணி பூ4ஷாலங்க்ரு2த
நக3 ராஜ ஸுதார்தா4ங்க3 கௌ3ளாங்க3
போ4கா3தி3 ப்ரத3 ஸ்ரீ நக3ர ஸ்தி2த
பூ4-ஸுராதி3 நுத வல்மீக லிங்க3
(மத்4யம கால ஸாஹித்யம்)
ஸ்ரீ கு3ரு கு3ஹ பூஜித வ்ரு2ஷ துரங்க3
ஸ்1ரித ஜன ரக்ஷண நிபுணாந்தரங்க3
போ4கி3 யுத சரண கர த்4ரு2த குரங்க3
யோகி3 விதி3த அஜபா நடன ரங்க3
.
ಪಲ್ಲವಿ
ತ್ಯಾಗರಾಜ ಪಾಲಯಾಶು ಮಾಂ
ನಿತ್ಯಾನಂದ ಕಂದ ಸೋಮಾಸ್ಕಂದ ವೀಥಿ-ವಿಟಂಕ
ಸಮಷ್ಟಿ ಚರಣಮ್
ನಾಗ ರಾಜ ಮಣಿ ಭೂಷಾಲಂಕೃತ
ನಗ ರಾಜ ಸುತಾರ್ಧಾಂಗ ಗೌಳಾಂಗ
ಭೋಗಾದಿ ಪ್ರದ ಶ್ರೀ ನಗರ ಸ್ಥಿತ
ಭೂ-ಸುರಾದಿ ನುತ ವಲ್ಮೀಕ ಲಿಂಗ
(ಮಧ್ಯಮ ಕಾಲ ಸಾಹಿತ್ಯಮ್)
ಶ್ರೀ ಗುರು ಗುಹ ಪೂಜಿತ ವೃಷ ತುರಂಗ
ಶ್ರಿತ ಜನ ರಕ್ಷಣ ನಿಪುಣಾಂತರಂಗ
ಭೋಗಿ ಯುತ ಚರಣ ಕರ ಧೃತ ಕುರಂಗ
ಯೋಗಿ ವಿದಿತ ಅಜಪಾ ನಟನ ರಂಗ
.
पल्लवि
त्यागराज पालयाशु मां
नित्यानन्द कन्द सोमास्कन्द वीथि-विटङ्क
समष्टि चरणम्
नाग राज मणि भूषालङ्कृत
नग राज सुतार्धाङ्ग गौळाङ्ग
भोगादि प्रद श्री नगर स्थित
भू-सुरादि नुत वल्मीक लिङ्ग
(मध्यम काल साहित्यम्)
श्री गुरु गुह पूजित वृष तुरङ्ग
श्रित जन रक्षण निपुणान्तरङ्ग
भोगि युत चरण कर धृत कुरङ्ग
योगि विदित अजपा नटन रङ्ग
.
pallavi
tyAgarAja pAlayASu mAM
nityAnanda kanda sOmAskanda vIthi-viTanka
samashTi caraNam
nAga rAja maNi bhUshAlankRta
naga rAja sutArdhAnga gauLAnga
bhOgAdi prada SrI nagara sthita
bhU-surAdi nuta valmIka linga
(madhyama kAla sAhityam)
SrI guru guha pUjita vRsha turanga
Srita jana rakshaNa nipuNAntaranga
bhOgi yuta caraNa kara dhRta kuranga
yOgi vidita ajapA naTana ranga
.
പല്ലവി
ത്യാഗരാജ പാലയാശു മാം
നിത്യാനന്ദ കന്ദ സോമാസ്കന്ദ വീഥി-വിടങ്ക
സമഷ്ടി ചരണമ്
നാഗ രാജ മണി ഭൂഷാലങ്കൃത
നഗ രാജ സുതാര്ധാങ്ഗ ഗൌളാങ്ഗ
ഭോഗാദി പ്രദ ശ്രീ നഗര സ്ഥിത
ഭൂ-സുരാദി നുത വല്മീക ലിങ്ഗ
(മധ്യമ കാല സാഹിത്യമ്)
ശ്രീ ഗുരു ഗുഹ പൂജിത വൃഷ തുരങ്ഗ
ശ്രിത ജന രക്ഷണ നിപുണാന്തരങ്ഗ
ഭോഗി യുത ചരണ കര ധൃത കുരങ്ഗ
യോഗി വിദിത അജപാ നടന രങ്ഗ
.
Pallavi
Tyagaraja, protect me quickly. The source of eternal bliss. The God who is with Uma and Skanda and who is known as VeethiviTanka.
Samashti Charanam:
The one adorned by the kings of serpents; The one who has Parvathi – the daughter of the King of Mountains – as the other half. The white-hued one; The one who dwells in shrinagara which bestows liberation; The termite-hill lingam worshipped by brahmins; The rider of the bull worshipped by the auspicious guruguha; The one whose nature has the expertise of protecting his devotees. The feet which is adorned by serpents; the hands which bear a deer; The one who dances the ajapa natana – the purport of which is realised by yogis.
.