Composer: Muttukumaraswamy (முத்துகுமாரச்வாமி) popularly known as Muthuswamy Dikshithar (முத்துஸ்வாமி தீக்ஷிதர் – ముత్తుస్వామీ డిక్షితర్), (March 24, 1775 – October 21, 1835) was born in Tiruvarur (of Thanjavur district of Tamil Nadu) to a Tamil Iyer Brahmin couple Ramaswami Dikshitar and Subbamma, as the eldest son. He also had two younger brothers Baluswami, Chinnaswami and a sister Balambal.Chidambaranatha Yogi was his guru. More…

Raagam: Saalaga Bhairavi
Taalam: Adi

Diety: Tiruvarur – Thyagaraja vibhakti Krithis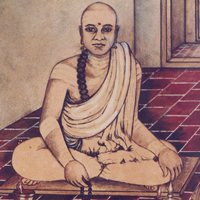 .
Recitals

Awaiting Contributions.

Awaiting Contributions.

We believe this kriti was originally composed in sanskrit. Other languages are for your convenience.
పల్లవి
త్యాగరాజేన సంరక్షితోऽహం
దయా సుధా సాగరేణ శ్రీ
అనుపల్లవి
యాగ శాలాది మహోత్సవేన
యతి వరాద్యుపాసితేన భవేన
(మధ్యమ కాల సాహిత్యమ్)
భోగ భోగ్య ప్రపంచోద్భవేన
భుక్తి ముక్తి ప్రద పరమ శివేన
చరణము
శ్రీ రమణాది పూజిత చరణేన
సృష్ట్యాది పంచ కృత్య కరణేన
హార కటక మకుటాది భరణేన
హాటక క్షేత్రాధికరణేన
(మధ్యమ కాల సాహిత్యమ్)
వీర ఖడ్గ ఖేటాది ధరణేన
వికల్ప విరహితాంతఃకరణేన
మార కాల త్రిపురాది హరణేన
మహా దేవ గురు గుహ స్మరణేన
variations
సాళగభైరవి – దర్బార్
వికల్ప విరహితాంతఃకరణేన – వికల్పాది రహితాంతఃకరణేన
.
பல்லவி
த்யாக3ராஜேன ஸம்ரக்ஷிதோऽஹம்
த3யா ஸுதா4 ஸாக3ரேண ஸ்ரீ
அனுபல்லவி
யாக3 ஸா1லாதி3 மஹோத்ஸவேன
யதி வராத்3யுபாஸிதேன ப4வேன
(மத்4யம கால ஸாஹித்யம்)
போ4க3 போ4க்3ய ப்ரபஞ்சோத்3ப4வேன
பு4க்தி முக்தி ப்ரத3 பரம ஸி1வேன
சரணம்
ஸ்1ரீ ரமணாதி3 பூஜித சரணேன
ஸ்ரு2ஷ்ட்யாதி3 பஞ்ச க்ரு2த்ய கரணேன
ஹார கடக மகுடாதி3 ப4ரணேன
ஹாடக க்ஷேத்ராதி4கரணேன
(மத்4யம கால ஸாஹித்யம்)
வீர க2ட்3க3 கே2டாதி3 த4ரணேன
விகல்ப விரஹிதாந்த:கரணேன
மார கால த்ரிபுராதி3 ஹரணேன
மஹா தே3வ கு3ரு கு3ஹ ஸ்மரணேன
variations
ஸாளக3பை4ரவி – த3ர்பா3ர்
விகல்ப விரஹிதாந்த:கரணேன – விகல்பாதி3 ரஹிதாந்த:கரணேன
.
ಪಲ್ಲವಿ
ತ್ಯಾಗರಾಜೇನ ಸಂರಕ್ಷಿತೋऽಹಂ
ದಯಾ ಸುಧಾ ಸಾಗರೇಣ ಶ್ರೀ
ಅನುಪಲ್ಲವಿ
ಯಾಗ ಶಾಲಾದಿ ಮಹೋತ್ಸವೇನ
ಯತಿ ವರಾದ್ಯುಪಾಸಿತೇನ ಭವೇನ
(ಮಧ್ಯಮ ಕಾಲ ಸಾಹಿತ್ಯಮ್)
ಭೋಗ ಭೋಗ್ಯ ಪ್ರಪಂಚೋದ್ಭವೇನ
ಭುಕ್ತಿ ಮುಕ್ತಿ ಪ್ರದ ಪರಮ ಶಿವೇನ
ಚರಣಮ್
ಶ್ರೀ ರಮಣಾದಿ ಪೂಜಿತ ಚರಣೇನ
ಸೃಷ್ಟ್ಯಾದಿ ಪಂಚ ಕೃತ್ಯ ಕರಣೇನ
ಹಾರ ಕಟಕ ಮಕುಟಾದಿ ಭರಣೇನ
ಹಾಟಕ ಕ್ಷೇತ್ರಾಧಿಕರಣೇನ
(ಮಧ್ಯಮ ಕಾಲ ಸಾಹಿತ್ಯಮ್)
ವೀರ ಖಡ್ಗ ಖೇಟಾದಿ ಧರಣೇನ
ವಿಕಲ್ಪ ವಿರಹಿತಾಂತಃಕರಣೇನ
ಮಾರ ಕಾಲ ತ್ರಿಪುರಾದಿ ಹರಣೇನ
ಮಹಾ ದೇವ ಗುರು ಗುಹ ಸ್ಮರಣೇನ
variations
ಸಾಳಗಭೈರವಿ – ದರ್ಬಾರ್
ವಿಕಲ್ಪ ವಿರಹಿತಾಂತಃಕರಣೇನ – ವಿಕಲ್ಪಾದಿ ರಹಿತಾಂತಃಕರಣೇನ
.
पल्लवि
त्यागराजेन संरक्षितोऽहं
दया सुधा सागरेण श्री
अनुपल्लवि
याग शालादि महोत्सवेन
यति वराद्युपासितेन भवेन
(मध्यम काल साहित्यम्)
भोग भोग्य प्रपञ्चोद्भवेन
भुक्ति मुक्ति प्रद परम शिवेन
चरणम्
श्री रमणादि पूजित चरणेन
सृष्ट्यादि पञ्च कृत्य करणेन
हार कटक मकुटादि भरणेन
हाटक क्षेत्राधिकरणेन
(मध्यम काल साहित्यम्)
वीर खड्ग खेटादि धरणेन
विकल्प विरहितान्तःकरणेन
मार काल त्रिपुरादि हरणेन
महा देव गुरु गुह स्मरणेन
variations
साळगभैरवि – दर्बार्
विकल्प विरहितान्तःकरणेन – विकल्पादि रहितान्तःकरणेन
.
pallavi
tyAgarAjEna saMrakshitO(a)haM
dayA sudhA sAgarENa SrI
anupallavi
yAga SAlAdi mahOtsavEna
yati varAdyupAsitEna bhavEna
(madhyama kAla sAhityam)
bhOga bhOgya prapancOdbhavEna
bhukti mukti prada parama SivEna
caraNam
SrI ramaNAdi pUjita caraNEna
sRshTyAdi panca kRtya karaNEna
hAra kaTaka makuTAdi bharaNEna
hATaka kshEtrAdhikaraNEna
(madhyama kAla sAhityam)
vIra khaDga khETAdi dharaNEna
vikalpa virahitAntaHkaraNEna
mAra kAla tripurAdi haraNEna
mahA dEva guru guha smaraNEna
variations
sALagabhairavi – darbAr
vikalpa virahitAntaHkaraNEna – vikalpAdi rahitAntaHkaraNEna
.
പല്ലവി
ത്യാഗരാജേന സംരക്ഷിതോऽഹം
ദയാ സുധാ സാഗരേണ ശ്രീ
അനുപല്ലവി
യാഗ ശാലാദി മഹോത്സവേന
യതി വരാദ്യുപാസിതേന ഭവേന
(മധ്യമ കാല സാഹിത്യമ്)
ഭോഗ ഭോഗ്യ പ്രപഞ്ചോദ്ഭവേന
ഭുക്തി മുക്തി പ്രദ പരമ ശിവേന
ചരണമ്
ശ്രീ രമണാദി പൂജിത ചരണേന
സൃഷ്ട്യാദി പഞ്ച കൃത്യ കരണേന
ഹാര കടക മകുടാദി ഭരണേന
ഹാടക ക്ഷേത്രാധികരണേന
(മധ്യമ കാല സാഹിത്യമ്)
വീര ഖഡ്ഗ ഖേടാദി ധരണേന
വികല്പ വിരഹിതാന്തഃകരണേന
മാര കാല ത്രിപുരാദി ഹരണേന
മഹാ ദേവ ഗുരു ഗുഹ സ്മരണേന
variations
സാളഗഭൈരവി – ദര്ബാര്‍
വികല്പ വിരഹിതാന്തഃകരണേന – വികല്പാദി രഹിതാന്തഃകരണേന
.
Pallavi
I am protected by Tyagaraja, the Ocean of the nectar of mercy;
Anupallavi
The one who has the ceremonies like the yagashala or sacrifice, the one worshipped by revered saints, the one that is the cause of himself; The one who is this universe which is of the form of the enjoyer and the enjoyed; The Lord who provides enjoyment and liberation.
Charanam
The feet worshipped by the Lord of Lakshmi, the one who performs the 5-fold acts of creation; The one who wears the necklace and crown as ornaments; the one who is the Lord of Hatakakshetra. The brave one who bears the sword & the shield; The one who has a still mind; The one who defeated the cupid, the Lord of death & Tripurasura; The one who thinks about the great Lord guruguha.
.