Composer: Sri Tallapaka Annamacharya (Annamayya అన్నమయ్య) , May 9, 1408 – February 23, 1503 was born to Narayana Suri and Lakkamamba in Tallapaka, a village in current day Kadapa district of Andhra Pradesh. More….
Keerthana No. 75
Copper Sheet No. 313
Pallavi: Unna dindune vokka (ఉన్న దిదునే వొక్క)
Ragam: Bouli
Language: Telugu (తెలుగు)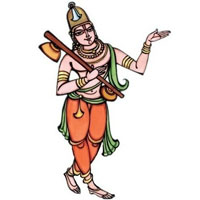 Recitals
Awaiting Contributions.
…
Awaiting Contributions.
[audio: audio-instrumental-file-name.mp3].
This Kriti was originally composed in Telugu. Other languages are for your convenience.
పల్లవి
ఉన్న దిదునే వొక్క విచారము
కన్నది గానుపు ఘనపుణ్యులకు
చరణములు
1.అగపడి పవిత్ర మపవిత్రంబును
జగమొక్కటనే జరగెడిని
పగటున నిది నా భావవికారమొ
జగదీశ్వరునిరచననేరుపులో
2.అలరినజ్ఞానము నజ్ఞానంబును
తలఁ పొక్కటనే తగిలెడిని
చలమున నిది నా సహజపు గుణమో
పెలుచగు శ్రీహరి పెరరేఁపనలో
3.దాహపు నాలో ధర్మ మధర్మము
దేహ మొక్కటనె తిరిగిడిని
శ్రీహరి నాయాత్మ చేరిన ఫలమో
యీహల శ్రీవేంకటేశ్వరు కరుణో
.
Pallavi
unna didunE vokka vicAramu
kannadi gAnupu GanapuNyulaku
Charanams
1.agapaDi pavitra mapavitrambunu
jagamokkaTanE jarageDini
pagaTuna nidi nA BAvavikAramo
jagadISvaruniracananErupulO
2.alarinaj~nAnamu naj~nAnambunu
tala@m pokkaTanE tagileDini
calamuna nidi nA sahajapu guNamO
pelucagu SrIhari perarE@mpanalO
3.dAhapu nAlO dharma madharmamu
dEha mokkaTane tirigiDini
SrIhari nAyAtma cErina PalamO
yIhala SrIvEnkaTESvaru karuNO
.

We will update this page , once we find comprehensive meaning. Feel free to contribute if you know.
.